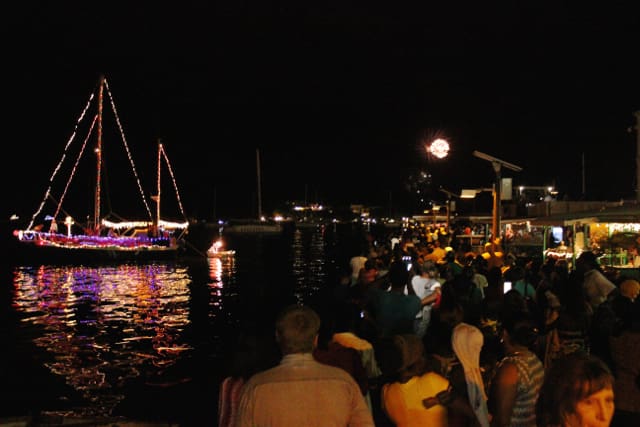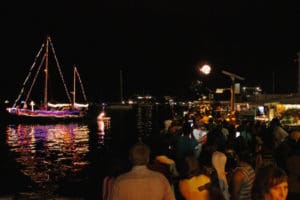 The V.I. government, struggling with a budget crisis and unpaid bills even as celebrations for the centennial of the V.I. transfer from Denmark to the U.S. approached, canceled plans for Transfer Day Centennial fireworks, but the St. Croix Christmas Boat Parade organization has stepped up to help make the pyrotechnics happen.
The Transfer Day Centennial is March 31. Danish and U.S. dignitaries will be on-island and parades and cultural events are scheduled throughout the territory. Along with the ceremonies, music and fun planned in Christiansted that day, local boaters will present an informal procession with flags along the Christiansted boardwalk, followed by fireworks around 7:30 p.m.
The St. Croix Christmas Boat Boat Parade, with its gaily lit vessels and wildly enthusiastic crowds, is not to be missed as the St. Croix Christmas Carnival gets into full swing. That event is put on by Christiansted retailers and, while not a part of the official Carnival calendar, has become an annual extravaganza attended by thousands of residents and holiday visitors.
The group that organizes it each year is taking that same community spirit to the centennial.
Sal Sanpere, chair of the Boat Parade Committee, has offered both to raise money and to provide the fireworks for the day.
Sanpere and the Boat Parade Committee, working with several private donors, have already raised some of the money needed for a fabulous pyrotechnic commemoration of the historic event. Chris Liberatore of Pyrotecnico FX has committed to bring a show that is 35 percent bigger than they have ever done on St. Croix before, according to the Boat Parade Committee.
The boardwalk is the place to be, but for those who cannot be there, the Boat Parade Committee has provided for a live feed from the Caravelle Hotel online at www.stcroixchristmasboatparade.com.
The Boat Parade Committee has given St. Croix the annual lighted boat parade for many years and now asks for help to commemorate this once in a lifetime historic day. A crowd of 5,000 or more is expected, including many who have booked their holiday specifically for this occasion. The committee is asking for donations to help fund the celebration.
Checks can be mailed to Sal Sanpere, c/o Olympic Rent A Car, 1103 Estate Richmond, Christiansted, V.I. 00820.