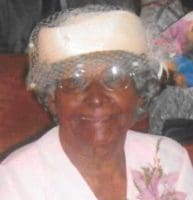 Eleanora Charles Nibbs died on March 13. She was 99 years old.
A viewing will be held at 9 a.m. followed by a funeral service at 10 a.m. on Wednesday, March 22, at Mount Zion Church of God. Interment will be at Western Cemetery No. 1.
She is survived by her sons: Clarence, Alphonse, Austin, Charles and Leando Nibbs; daughters: Phyllis White, Joycelyn Mercer, Beverly Williams and Luoille James; sisters: Enell Smith, Mildred George and Leona Simmonds; son-in-law, Bennie R. White; daughters-in-law: Esmie, Delores, Paulette and Anita; 24 grandchildren; 50 great-grandchildren; and 18 great-great grandchildren.
In lieu of flowers, the family requests that donations be made to the Eleanora Charles Nibbs Educational Learning Center at Mount Zion Church of God. Please make check(s) payable to: Mount Zion Church of God, P.O. Box 8089, St. Thomas VI, 00801.
Professional Funeral Services are entrusted to Turnbull's Funeral Home. Telephone: (340) 779-6565; e-mail: turnbullsfuneralhomevi@yahoo.com