Local history buffs and Alexander Hamilton enthusiasts came out en masse on Thursday night to learn more about the founding father's early years on St. Croix. Organized by The Friends of the St. Croix National Parks, the large turnout was evidence of the growing interest in the historical figure's life and how making his St. Croix connection more visible could benefit the island's tourism sector.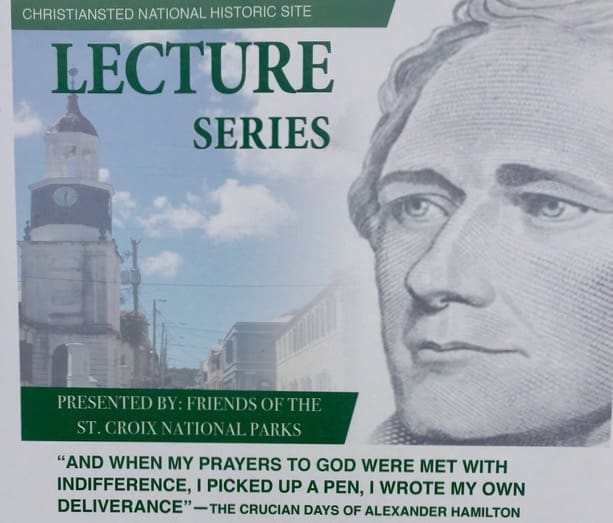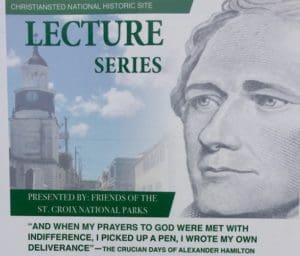 Speaking to a full room of more than 100 people at the Danish West India & Guinea Co. Warehouse on Company Street in Christiansted, archeologist Meredith Hardy, cultural resource program manager for Christiansted National Historic Site, told the audience that Hamilton's early years on St. Croix had a profound impact on his career and founding of the U.S. treasury system.
Dressed and speaking as if he were Hamilton, one of the lecture's attendees told the audience that he had learned the most during his time on St. Croix, that facing a great deal of adversity and coming from humble beginnings shaped his personal beliefs and economic policies.
As a young man growing up on St. Croix in the 1760s, Hamilton was exposed to the trade industry from a very young age and was trusted to manage a trading company in Christiansted by the time he was 13 or 14 years old, Hardy said.
Because Hamilton lived in a bustling port and did business with people from all over the world, he quickly learned how to work with different currencies and speak different languages, which made him an economic whizz for his age and level of education.
Hardy explained that she learned most of this information from doing research as part of a special resource study for the National Park Service to determine if some existing Hamilton-related properties qualified for official recognition, but it was determined they did not meet the criteria.
After being imprisoned in the Fort Christiansted for not living up to "wifely duties," Hamilton's mother Rachel left her first husband and moved to St. Kitts and Nevis, Hardy said. There she met James Hamilton whom she went on to have two children with, including Alexander.
But then a business opportunity brought Hamilton's father to St. Croix in 1765. At this time, Hardy said the island was economically thriving with the government of Denmark buying out the monopoly that had stifled development for many years.
"This island really starts rocking," Hardy said, explaining that over 1,000 ships a year came to the port from Europe, the Americas and other Caribbean islands.
Unable to persuade enough of its countrymen to settle St. Croix, the Danish government encouraged British and Irish people to come to the island, which is why English became the primary language, Hardy said.
When Hamilton's father left the island, for what historians speculate was due to financial issues, Rachel Hamilton opened a small store at 34 Company Street in Christiansted. It was there that Alexander Hamilton learned how to run a business and started clerking for a local trading company on King Street.
"The wharf life, it's crazy, it's bustling – you've got kids running around, there's rich people, there's poor people, there's slaves," Hardy said. She added that Christiansted's dirt roads were heavily trafficked at that time with new development happening in every direction.
Living near the Sunday market where freed slaves came to sell their goods every weekend meant that Hamilton regularly interacted with blacks, an experience that led to his stance as a fierce abolitionist. At that time, St. Croix had about 22,000 slaves, 1,000 freed slaves and 1,000 whites living on it.
Succumbing to yellow fever in 1768, Rachel Hamilton passed away leaving her sons to fend for themselves. Working for the trading company, Alexander Hamilton's abilities earned the respect of the island's businessmen, and many of his writings were published in the local gazette.
One of Hamilton's letters that was published in the paper described the aftermath of a major hurricane. That text is referenced in the award-winning Broadway play "Hamilton," which is now showing in cities around the country.
"Cultural and historical tourism are really what this island has to offer. It gives tourists the chance to almost experience what life was like in the past," said Hardy.
Hardy said that the entire island of St. Croix meets all of the criteria to be designated a Natural Heritage Area, which the NPS defines as "places where historic, cultural and natural resources combine to form cohesive, nationally important landscapes."
Being designated as one could be immensely helpful with tourism, said Hardy, but first Congress must pass a bill. She said there's no telling when that could happen.
The Hamilton buzz is catching on throughout town. For starters, Hardy said the educational exhibits in and around the fort are being redone to play up the Hamilton story.
According to V. Celeste Fahie of Crucian Heritage and Nature Tourism, Hamilton walking tours are being offered Tuesdays and Thursdays in Christiansted.
"There's been a lot of interest in the Hamilton tours. I've had a professor, a librarian and more than one person who has seen the Broadway play," said Fahie.
The writer and star of the play, Lin-Manuel Miranda, who plays Hamilton in the show, intends to visit St. Croix in the future. St. Croix-resident Nina York said she wrote to Miranda and invited him to the Centennial Transfer Day celebrations. He can't make it then but said he'd be happy to come another time, York said.
With interest in Hamilton's life at its height in light of the play's popularity, St. Croix stands to gain from sharing the story of his humble beginning with more and more people. The founding father himself would likely encourage the island to capitalize on it.