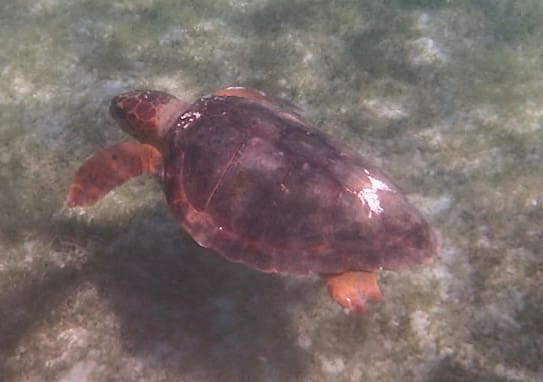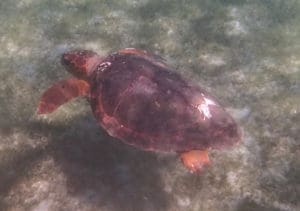 Source reader John Cassell spotted a young loggerhead sea turtle Friday while swimming with a group inside the Brewers Bay no-wake zone.
This may be the first time one has been recorded on video for this area of St. Thomas, according to Cassell.
The U.S. Virgin Islands is home to nesting leatherback, green, loggerhead and hawksbill sea turtles. All are endangered. The hawksbill sea turtle is critically endangered. The loggerhead is not seen as often as some turtles in the territory's environment. Hawksbills, though critically endangered, are often spotted off St. Croix's western and northern shore, for instance.
Unlike the green sea turtle, that feasts on seagrass a loggerhead prefers the meaty crab, lobster, or whelk. Their head appears massive compared to other turtles. This is helpful for housing powerful jaw muscles that crush shells with ease. They can easily reach 300 pounds when fully mature.
As a juvenile with a hardened shell, the biggest threats to it are man-made fishing gear, boat strikes, and ingesting plastic bags. This is one reason why the government of the U.S. Virgin Islands sided to ban one-time-use plastic bags this year.
Loggerheads, though rarely observed here, lay sporadic nests on Buck Island, St. Croix and, only once, one was documented in the National Park's land on St. John, according to Cassell, a member of the UVI Sea Turtle Club.
This is very different from Florida, where some beach cities like Boca Raton received more than 730 loggerhead nests in 2016. Thanks to years of conservation and research, this species population along the East Coast has steadily increased over the last decade.
The nesting season for V.I. sea turtles begins in March and continues through December of each year. Leatherback season is earlier. Hawksbill and green turtles are reaching their peak now. Loggerheads come a little later. Beaches throughout the territory, on St. Thomas, St. John and St. Croix, are all turtle nesting areas.
The turtle was filmed (See video link) It appears injured, possibly by a passing boat, though there is no way to know for certain.
It is illegal to harass, injure, or kill a turtle. Purchasing their shells or eggs is prohibited by the Endangered Species Act.
Anyone who encounter turtles nesting or hatchlings on any St. Croix beach is urged to remember five things:
– All sea turtles are protected throughout the U.S. Virgin Islands under the U.S. Endangered Species Act. Beach users need to closely follow all regulations, especially pertaining to beach fires, dogs, not digging in dry sand and never using tent stakes. Violations are subject to prosecution under civil and criminal laws and charged heavy penalties.
– Drive slow: Boat operators should drive cautiously; sea turtles rise slowly to the surface to breathe, and it takes them several seconds to dive to safety when they hear an approaching motor boat.
– Shield Lights: Bright lights along beaches will disorient nesting adult sea turtles and hatchlings. Coastal property owners are encouraged to modify or discontinue use of outdoor lights.
– Keep your distance: Do not interfere with nesting or hatchling sea turtles; observe from a distance. Do not use flashlights or flash photography.
– If you find an adult or nest or hatchling sea turtle in distress you can contact one of the following parties:
– U.S. Fish and Wildlife Sea Turtle Assistance & Rescue Network 24 hours at: 340-690-0474.
– The V.I. Department of Planning and Natural Resources, at 340-774-3320.
– The vet staff at Coral World Ocean Park is also equipped to transport and care for injured turtles, according to Cassell.