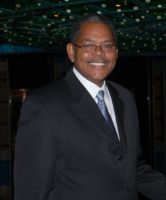 Glenn Arthur Sampson, 68, of Stone Mountain, Ga., passed away peacefully at home surrounded by his loving family and friends on Feb. 5, 2017. He was born on Nov. 14, 1948, in Wakefield to Arthur Sampson and Grace Reels Sampson.
Glenn was the beloved and devoted husband and best friend of Shellie Sampson for over 41 years. He is also survived by his loving children: Glenda (Abraham Sr.) Sampson Julue, Kevin Sampson, Michelle Sampson, and Jennifer (Robert) Sampson Rutherford; his mother, Grace Reels Sampson; his sisters: Avis Monroe, Marcia (Dennis) Hazard and Karen (Marshall) Williams; his grandchildren: Chris, Abraham Jr., Abrianna, Raven and Braxton; his great-grandchildren: Nehemiah and Kahlia; and countless other close family and friends. Glenn is predeceased by his father, Arthur Sampson.
Glenn was a graduate of Central Connecticut State University where he studied business administration. Upon graduation, he moved to St. Thomas, USVI, where he met his wife, Shellie. For 17 years, Glenn worked as a general manager with F.W. Woolworth Department Stores. He and his family later moved to Stone Mountain, Ga. While in Georgia, Glenn worked for the Centers for Disease Control (CDC) and retired on Feb. 28, 2014, as deputy director of the Information Technology Services Office (ITSO).
He loved life and lived it to the fullest. He loved his family and friends and cherished spending as much time with them as possible. He enjoyed many hobbies and activities, including family dinners, traveling, cruising, sailing, photography, leather and woodworking, and watching his favorite sports teams. Glenn was also a jack of all trades and the family and friend "handyman." He had an affinity for technology and tinkering with the latest gadgets, electronic devices and accessories. More than anything, Glenn adored his family and lived for them.
Glenn was a fighter and has fought through many of life's challenges. He received a second chance at life on Nov. 1, 2012, when he was the recipient of a double lung transplant. In appreciation of this life-saving gift, the family respectfully requests that, in lieu of flowers, you make a gift in his memory to Donate Life Georgia or consider signing up to become an organ donor.
Services will be held at Floral Hills Funeral Home, 3150 Lawrenceville Highway, Tucker, GA, 30084 (770-491-3021). Viewings will be held on Friday, Feb. 10, from 4 to 8 p.m. and Saturday, Feb. 11, from noon to 1 p.m. His funeral service will be held on Saturday, Feb. 11, at 1 p.m.
For online messages of condolence, kindly visit www.dignitymemorial.com/floral-hills-funeral-home