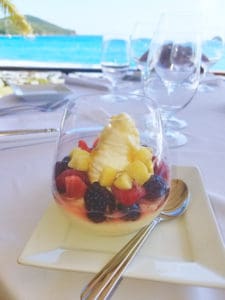 Champagne truffles. Chocolate swirls. Glazed petit fours. Candied violets. If it's pretty, impossibly elegant and deeply sweet, it must be in honor of Valentine's Day.
For generations, lovers and suitors have used such confections to impress the object of their heart's desire. Flowers and poetry aside, nothing says love on February 14 more endearingly than an outlandishly rich dessert.
"I think it comes from the whole sweetheart thing," says Zac Leeman, the chef at Oceana Restaurant in Frenchtown, St. Thomas.
You know, Honey, Honey-bun, Sweetie-pie, Sugar-plum, Sweetness, Baby-cake, Puddin', Muffin, Cupcake, Sugar-lips …
"Everybody loves sweets," Leeman said. "Everybody's always looking for an excuse to eat something sweet."
And special occasions like birthdays and Valentine's Day, just seem to call for a special dessert.
"It's the decadence of it all" that appeals to diners, Leeman said.
"It's a sign of celebration," he added. "Nobody wants a candle on their steak." But they do want to finish their meal with flair.
Leeman's been serving customers distinctive meals capped off with luxurious delicacies for years. His interest in cooking is life-long. His training started at the age of 13 when he began working in the kitchen of a business run by a family friend. Later he attended Johnson and Wales University, the premiere culinary institute, in Providence, Rhode Island. Along the way, he said, he worked under various masters of the kitchen and learned much of his art from them.
He worked at W.A. Frost and Company, a fine dining establishment in St. Paul, Minnesota, before moving to St. Thomas about two years ago. Fellow chef and restaurateur Patricia LeCorte recognized his talent and installed him first at her Grand Cru restaurant and then at Oceana.
"It's all about balance when I cook," Leeman said. So while he likes dishes with a subtle complex of flavor, his desserts are more inclined to "decadence" than straight cloying sweetness.
Take his creation of White Chocolate and Passion Fruit Mousse, topped with macerated berries, fresh whip cream and truffle honey. Despite the daunting description, Leeman insists, "It's not extremely complicated" to fashion.
"This is a spin on a dessert that we do," he said, as he provided the recipe. "I simplified it a little."
Typically he serves the romantic concoction in a tart shell, but for aspiring Valentines without a culinary degree, this version dispenses with the pastry. It also omits the preparation of the truffle honey, suggesting instead a high quality, store-bought honey. Try it yourself. If it doesn't work, you can book a reservation.
White Chocolate Passion Fruit Mousse with berries, whipped cream and honey
For the Mousse
8 oz. white chocolate discs
2 cups heavy whipping cream (used in two parts)
One lemon, zested and juiced
¾ cup passion fruit puree
5 oz. sugar
5 eggs
4 tablespoons butter
Salt, pinch
Heat the white chocolate and half cup of heavy cream (not whipped) in double boiler, stirring occasionally to fully incorporate. Cool completely.
Place lemon, passion fruit, sugar, eggs, pinch of salt, and butter into a heavy-bottomed sauce pot and heat over medium high heat, whisking constantly until mixture reaches the consistency of pudding. Strain through a fine mesh strainer. Cool completely.
Whip remaining 1 ½ cups of heavy cream to stiff peaks. Gently fold in the other two mixtures – the white chocolate and the passion fruit curd, after they are completely cooled. (If still warm, they may wilt the whipped cream.) Refrigerate till ready to combine with other parts of the recipe.
For Macerated Berries
1 pint halved blackberries
1 pint stemmed and quartered strawberries
Juice of one lemon
2 tablespoons sugar
Toss all ingredients in mixing bowl and set aside in refrigerator. The sugar and lemon juice will form a sort of glaze over the berries when the sugar is dissolved.
For Fresh Whipped Cream Topping
1 cup heavy whipping cream
3 tablespoons powdered (confectioner's) sugar
Place cream and sugar in cold mixing bowl and whip to stiff peaks. Leeman suggests using a hand whisk, but says a standing or hand-held electric mixer will also work. Refrigerate until ready to assemble.
Presentation
Layer the three-parts in a large wine goblet, or other fancy bowl, preferably glass, with the mousse on the bottom, then the berries, and topped with the whipped cream. Drizzle a bit of honey over the top.
Makes approximately 4 quarts and serves 8 to 10.