A handful of Eagle scouts met at the Howard Wall Boy Scout Camp on St. Croix's south shore Tuesday night to network and discuss the territory's scouting needs.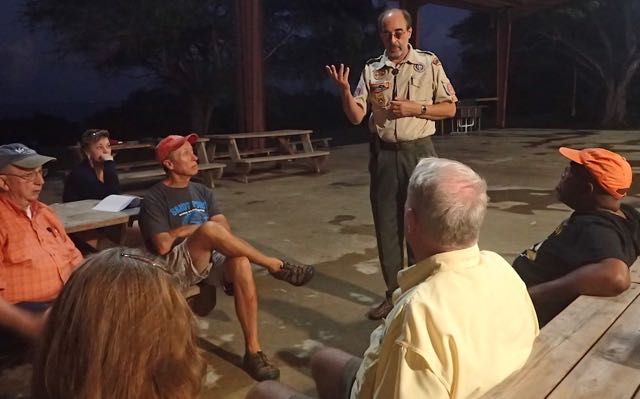 Michael Dow, the Boy Scouts of America's district associate for the Virgin Islands, said the purpose of the informal reception was to meet new Eagle scouts and enlist their help in managing and staffing the territory's Boy Scouts units.
"We need volunteers to lead units. It seems easier to recruit Eagles to do that," he said.
There are around 250 Cub and Boy Scouts in 13 units throughout the territory. Each unit had two leaders or scoutmasters. Scout leaders must be good role models, Dow said, since the mission of the Boy Scouts is to prepare young people to make ethical and moral choices. Leaders must be willing to volunteer an hour or more a week for meetings. In return, leaders earn "vivid and meaningful memories," Dow said.
Scout masters undergo a national background check and then receive youth protection training. Every two years, a 25-30 minute computer course in required.
"We're very conscious about their interaction with the boys," Dow said.
Boy Scout meetings frequently are held in churches and schools and being a leader isn't difficult, Dow said. Parents can easily be trained but fathers don't volunteer often and mothers are frequently working two jobs as a single parent. The parents who do volunteer are usually paired with a more experienced leader.
"There is nothing in the book (training manual) that parents couldn't work with boys on," Dow said.
Help is also needed with travel arrangements, ordering uniforms, summer camp, memberships and fundraising, Dow said, adding that knowledge of scouting is not necessary. All adults who work with the Boy Scouts program are volunteers.
One volunteer is Paul Chakroff, an Eagle scout and environmental consultant who, with his wife, wrote the manual for scouts working to complete their environmental science badge. He now serves as the Eagle representative for youth striving to become Eagle scouts. It takes eight to 10 hours of his time to guide each one through the process.
Chakroff's function is to oversee and approve each step as the prospective Eagle scout selects a project, writes a plan with a budget, fundraises to finance his project, executes the plan and writes a report. One Eagle project was rebuilding the basketball court at St. Joseph's School on St. Croix.
Another volunteer is Dylan Smith, who became an Eagle scout in 1965. He fills in wherever needed – teaching flag folding, leading hikes or attending meetings. Smith said he does it because scouting "was good for me."
Without volunteers, Dow is a one-man show. He is required to organize and monitor all scout units, projects and meetings. He is in the process of organizing a new Boy Scout unit on St. Thomas and a law enforcement post for Explorer, an older group of scouts.
"I'm determined to take scouting to the boys who need scouting," Dow said.
At the end of the meeting, one Eagle scout said he is willing to volunteer even though he has three daughters and no sons. Smith chimed in that his children are all female but through the years have learned how to tie knots and fold the American flag as well as a Boy Scouts.