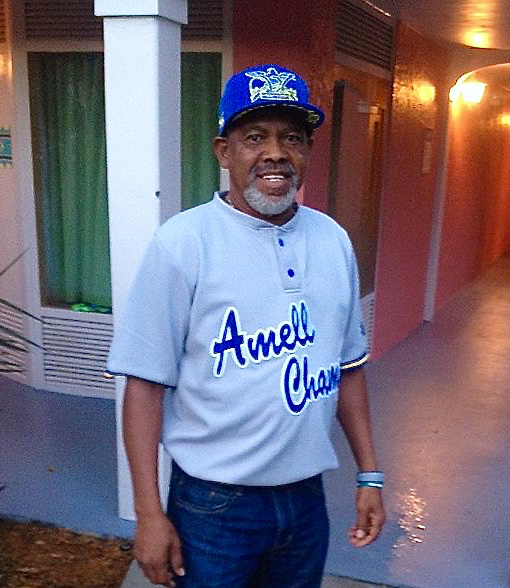 While he's had a professional career in computer operations, what has mattered more to Alcedo Justin Francis is helping to develop a baseball program in the territory that gives younger players, mostly three to five year olds, a meaningful introduction to the sport.
Francis, who has been a fixture in the La Leche and Pee Wee Leagues since 1993, developed his love for baseball while growing up on St. Thomas and, like many still involved in sports on island, played both Pony League and Little League baseball. He continued playing into the military, when he enlisted in 1972 and was stationed in Leavenworth, Kansas.
"I was good, but I was in a predominantly white league, in a white area, and even though there was some negativity from white fans, it was still a great experience," Francis said. "I remember my coach was named Kenny Kinkade and at the time, there were only two blacks on the team, myself and another guy named Byron Jacobs from Oklahoma. So, to reverse some of the sting from the racism, Byron and myself used to teach the coach and affectionately call him 'KKK,' for Kenny Kinkade, and we were able to soften up their ways and they accepted us on the team."
After leaving the military in 1974, Francis came home to work at the Department of Finance as a computer operator, then at the V.I. Telephone Company, before moving back to the mainland in 1978 after the death of former Gov. Cyril E. King. While there, Francis worked at Southern Bell and then AT&T until his retirement in 1992, when he returned to St. Thomas and immediately began coaching baseball.
"Because I had two young sons, I stepped in and assisted the coach in the league they were in and after he left, I became the team manager and have stayed on as the coach ever since," Francis said. "The most gratifying thing about this league is helping the children who are enthusiastic about playing and whenever they're in the street, regardless of who they're with, they always run to you, and hug you and say, 'See Coach Francis.' And that's nice. It's gratifying."
At this level, Francis is giving his players their first interaction with baseball and introducing them to the fundamentals and the fun of playing the game.
"In La Leche, we're not pressed about the runs or the outs," he said. "We just want to make the kids see that they can hit the ball off the tee, run the bases and feel happy that they score. All those players in the Major Leagues now, they once had a mentor that introduced them to the sport, and that's what we as coaches are meant to do."
Francis said one of the first concepts players are introduced to is discipline. And whether they continue playing the sport longterm or not, he said that just instilling discipline and respect goes a long way to making a student become a leader as an adult.
"Respect is the key," Francis added. "Once you find a young child willing to respect their coach, they will respect their parents. They'll grow up to take leadership positions. I see it all the time with students I know that have gone on to the military, or take leadership positions here at home. A couple weeks ago, for example, I was walking through the bleachers during one of these school games and I saw a young lady that came up to me and said, 'You know you coached me when I was five years old?' Things like that are what I'm talking about. She hasn't seen me in years, but that respect they develop for people that are in their life, that never goes away."
Now the vice-president of La Leche League, Francis has been instrumental in getting youth baseball back to Alvin McBean Ballpark on the East End of the island. Once under Sports, Parks and Recreation, youth baseball has moved around in the East, jumping from Smith Bay all the way down to Frenchtown, but Francis said he offered to have it run under the Alvin McBean charter as an alternative to parents who, after work, couldn't make it all the way back home and downtown again.
"I think what this shows us is the real need for sports facilities across the island," Francis said. "In Smith Bay, Nazareth, Addelita Cancryn and Frenchtown, there need to be facilities that are conducive to playing sports, facilities that actually attract kids to the game of baseball."
Francis added that land in Estate Nazareth, from the Ivanna Eudora Kean High School to the National Guard armory, was once earmarked for a sports complex. In order for that project to happen, the government has to get involved and make developing a strong sports program a top priority, he said.
"That's how I grew up playing baseball," he said. "We used to have to walk from Pearson Garden to Griffith Ballpark and it was all sponsored by Sports, Parks and Recreation back in the day. We need more involvement. We need people to adopt our parks and improve our facilities. It's got to be a community affair."
Francis does his part during the week by coaching league games and running practices during the week, but says his dedication comes from loving what he does.
"I'm an asthmatic," he said. "And I'm out there in the dirt. Can you imagine that? Sometimes I leave just to end up in the hospital, but I still go out every day. You can call me a knucklehead. But I love it. And I love the kids."