At a press conference this week, Gov. Kenneth Mapp announced he had signed seven public exigency contracts for road repairs on St. Thomas and St. Croix and said residents in nearby neighborhoods, who could be affected by the projects, would be notified about possible start dates within two weeks.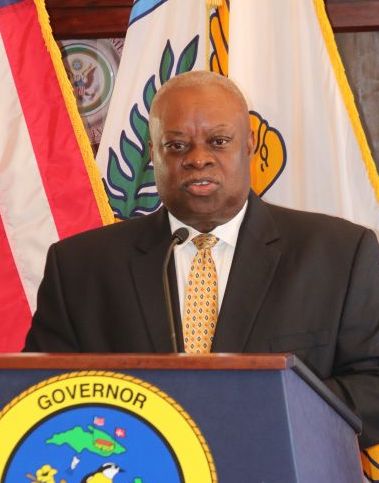 Coming at the tail end of a press conference called Thursday to discuss the increase in a reward being offered for new information in the Dec. 14 murder of a toddler on St. Thomas, Mapp said that he had invoked public exigency to deal with the "havoc wreaked on the road system in the territory" after the recent heavy rains.
"Now that the weather is giving us a break, we're ready to launch," he said Thursday, adding that the seven contracts were just the beginning of the repairs to come. While he did not disclose the dollar amount of the contracts or who they were being awarded to, Mapp said that work would soon begin on the Melvin Evans Highway and Williams Delight Main Street on St. Croix, along with the Moravian Highway, the Cyril E. King Airport road, the Nicholas "Nick" Friday Memorial Drive, Weymouth Rhymer Highway and Harwood Highway on St. Thomas.
Within two weeks, the departments of Property and Procurement and Public Works will be issuing notices to proceed, Mapp said. Two contracts with Parson Brinckerhoff and Standard Consultants for general engineering services were also signed in order to "hasten" the production of blueprints needed to do the actual road construction, he added.
"It doesn't make sense to patch (the roads), as the rain is just going to take that off," Mapp explained. "So what we have to do is cut sections of the roads out, completely repair and rebuild, and add adequate drainage."
Upcoming public exigency contracts will also cover repairs for North Street, Estate Mountain Road and Round 709 (in front of the Ricardo Richards Elementary School) on St. Croix, and phase II of the Coki Point repair project on St. Thomas.
Mapp said he would be sitting down with Public Works and federal highway system officials to "reprioritize" a number of other repair and construction projects, including a $9 million endeavor that would finally put the "Bridge to Nowhere," part of Turpentine Run in Estate Nadir, into commission.
"Very early next year, you will actually see work taking place to put that bridge actually into work and to get that flood control process and that roadwork started so it could be completed," Mapp said.