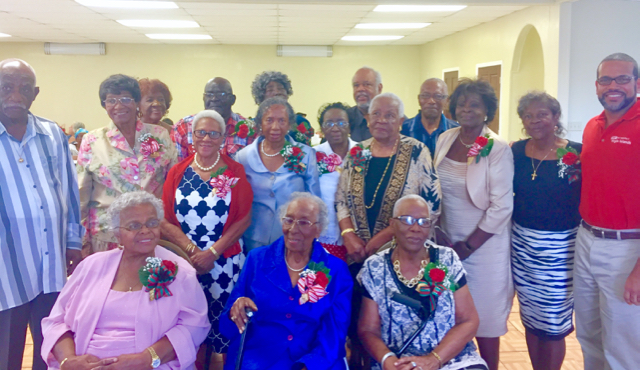 During a ceremony to recognize longtime members for their spirit of volunteerism on Sunday afternoon, Troy Shuster, the new V.I. state director for the American Association of Retired Persons (AARP), announced the organization will have a greater community presence on St. Thomas and St. John.
Shuster explained that while independently incorporated AARP chapters have been active in the St. Thomas and St. John district for decades, the state-sponsored association hasn't been as involved as it has on St. Croix.
Strengthening community presence on the island will mean more funding for community outreach and advocacy on the two islands. Starting in the second quarter of 2017, Shuster said, St. Thomas and St. John will have an annual calendar of events that will be promoted to increase community participation.
Zumba classes and informational expos will be added to the agenda and the St. Thomas and St. John district will participate in the AARP's National Day of Service in September.
"It's a whole new era for AARP in the Virgin Islands," said Shuster, who also serves as volunteer vice president for the local St. Croix AARP chapter and leads community outreach volunteer in St. Croix.
One of the state organization's other goals will to be bring in younger volunteers in the age range of 45 to 60 years old in order to develop a synergistic relationship with the more senior volunteers, Shuster explained.
Shuster made the announcements during the annual Christmas Celebration and Recognition Ceremony of the St. Thomas AARP Chapter 3138, which was held at the Foster Plaza Banquet Hall at East End Lumber in Anna's Retreat on St. Thomas. The recognition ceremony and lunch drew more than 100 people, with many family members present to help pay tribute to the honorees.
The ceremony honored members who have volunteered for the chapter since its inception in 1979 and who are now in their 80s and 90s, including Cleone Beverhoudt, Joyce Brady, Mavis Brady, Gladys Brown, Joyce Caron, Eslyn Chesterfield, Rita Cole, Ivy Creque, Ellen Daniel, Ariel Farrington, Islyn Hennessey, Bernice Jackson, Keith James, Angelita Jennings, Mary John, Joseph Klein, Lucia Monsanto, Edward Phillips, Millicent Rivera, Janet Smalls, Ira Trant, Calvin Turnbull, Elodia Turnbull, Gladys Todman and Berneza Williams.
According to chapter president Angela P. Jean-Baptiste, the members have played a significant role in the community by donating their time, skills and expertise over the years and by serving as executive officers, board members and chairpersons.
"They were the trailblazers for this chapter and they've played a pivotal role in shaping its direction while having fun," Jean-Baptiste said. "All of these members have promoted a philosophy of productive aging and have lived AARP's motto, 'To serve, not to be served.'"
Honoree Joyce Coron said, "I am very pleased to be honored today by the AARP and to serve this organization over the years. We have given our service to the elderly and the homeless and have volunteered at schools too."
Shuster also recognized Eslyn Chesterfield, Ellen Daniel, Gladys Todman, Esther Walters-Simmonds, Naomi Monsanto, May Richardson, Myrtle Roberts, Valberg Reovan, Joyce Caron, Judith Steele and Angela P. Jean-Baptiste for volunteering for at least one state-level event during the last year.
AARP is a nonprofit organization with a membership of almost 38 million that advocates for retired people and promotes issues relevant to them such as healthcare, financial security and personal fulfillment. The organization also focuses on creating livable communities for people more than 50 years old.