*Correction-See Editor's Note*Early Thursday morning after a nearly 16-hour Committee of the Whole discussion, the V.I. Legislature voted to approve Gov. Kenneth Mapp's plan to change V.I. casino laws to let slot machine operator VIGL Operations run both the St. Thomas and St. Croix horse racing tracks and set up slot machine parlors at both tracks.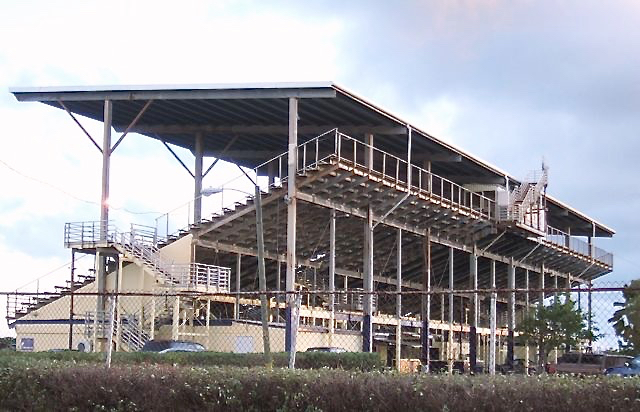 The changes to V.I. law also increase the taxes on racetrack slot machine revenues, subsidizing race purses, and temporarily reduce Divi Carina Bay Casino's taxes from 12 percent to 8 percent of revenues.
Originally, the legislation also consolidated the territory's two horse racing commissions, but that portion was separated into another bill that was held for the time being.
Horsemen and Mapp administration officials testified strongly in support, citing the potential for more races, more money for purses and improvements to the tracks.
Officials with Southland Gaming, the company that operates slot machine-like video lottery terminals on St. Thomas and St. John and retailers that depend on VLT revenues testified against it, saying there is a limited pool of gamblers on each island and the change would "cannibalize" the revenues they and the V.I. Lottery receive now. Under current law, casino gambling is only legal on St. Croix. But Southland has a contract for slot machine-like VLTs on St. Thomas and St. John.
No one from Lottery was present to testify about the impact the change would have on revenues Lottery provides to an array of government programs.
The Senate also approved a franchise agreement proposed by Mapp that gives VIGL a 20-year franchise and lease on the racetracks. VIGL is required to invest $27 million on a long list of specific improvements to the tracks and also requires VIGL to post a $25 million performance bond. The performance bond will not be posted until after plans are proposed by VIGL and approved by the government and all building and other permits are in place for at least one track. TRAXCO, which operated the St. Croix track until recently, would resume control for up to two years, under the terms of a side agreement, while those plans are finalized.
An amendment adopted after 2:30 a.m. Thursday removed sections that its legal counsel had flagged for problems with language and legal sufficiency. It removed extensive anti-doping provisions, with senators saying they could address them separately at a later date.
Several senators questioned why there was a need to rush the legislation through, but most ultimately voted to approve the two bills: one to change V.I. laws and the other to approve the lease and franchise agreement for VIGL.
"I am more comfortable than when we began but I do wish we had more time for vetting," Sen. Myron Jackson said.
"I don't know what's the haste. I haven't heard about any reason why it should be done in short order or why it shouldn't go to committee and I think that if we are going to do justice to the people of the community and this territory, we should act responsibly and put it on the jurisdiction of the committee, the committee of jurisdiction and let us vet it properly," Sen. Justin Harrigan said.
"It is in the best interest of no one if it is rushed," Sen. Tregenza Roach said.
Sens. Jean Forde and Positive Nelson also said the legislation could use more review, with Forde saying he regretted that no one from Lottery was there to testify.
Sen. Nereida "Nellie" Rivera-O'Reilly questioned whether those opposed to the plan had "ulterior motives" and recalled that Southland Gaming, which opposes the plan, has a contract for VLTs on St. Thomas and St. John that she said was "negotiated behind closed doors" and runs through 2028. She also said Southland had settled litigation with the V.I. government over paying gross receipts taxes.
Rivera-O'Reilly said she "knows it to be true" that VIGL will invest $27 million and said it already had a good record, with its investments in the Caravelle Hotel in Christiansted, where it operates a slot machine parlor.
"If you run through Christiansted town you will see a much different Christiansted than was there six months ago. … Yes there is a risk, but I think this is a risk worth taking," Rivera-O'Reilly said.
On delaying the bill for more consideration, Sen. Novelle Francis said "justice delayed is justice denied."
Forde moved to hold the two bills for more vetting but was voted down. Voting to hold the bills were: Forde, Harrigan, Nelson, Roach, Sens. Marvin Blyden and Myron Jackson. Voting not to hold the bills were Francis, Rivera-O'Reilly, Sens. Kenneth Gittens, Clifford Graham, Neville James, Almando "Rocky" Liburd, Sammuel Sanes and Kurt Vialet. Sen. Janette Millin Young was absent.
Voting to approve the legislation changing V.I. law to allow casino type slot machines on St. Thomas were Blyden, Forde, Francis, Gittens, Graham, Jackson, James, Liburd, Nelson, Rivera-O'Reilly, Sanes and Vialet. Voting no were Harrigan and Roach. Millin Young was absent.
Voting to approve the lease and franchise agreement were Blyden, Forde, Francis, Gittens, Graham, Jackson, James, Liburd, Rivera-O'Reilly, Sanes and Vialet. Voting no were Harrigan, Nelson and Roach. Millin Young was absent.