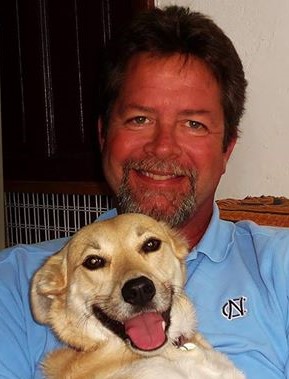 Jonathan Floyd McGee, age 52, husband, best friend and beloved soul-mate of Maysharon Marin, died suddenly on Tuesday, Nov. 22, at Roy L. Schneider Hospital on St. Thomas.
Jonathan was born on Dec. 12, 1963 in Chapel Hill, North Carolina, to Peggy Wood McGee (McClure Hall) and Connie Mac McGee, who both preceded him in death. He was the fourth of five children: Michael, Melissa (Donny Womble/Clarence Smith), Patrick (Linda), and Shannon (Roger) Ward. He was preceded in death by loving brother Michael and brother-in-law and dear friend Donny.
Jonathan attended the North Carolina School of Telephony (Affiliate of Central Carolina College) in Sanford, N.C., where he graduated on the Dean's List in 1984. Upon graduation, he moved to St. Thomas and had a long career in the telecommunications and cable television industry. This led to eventual work with Choice Communications LLC, where he worked for many years. His passionate concern for customer service led to his appointment as vice president of Antilles Wireless Cable TV Co. from 1997 to 1999.
Here on St. Thomas, Jonathan met Marysharon Marin, and together they enjoyed more than 30 loving, fun-filled years. Jonathan loved the Virgin Islands where he and Marysharon resided and identified as life-long "Northsiders."
Jonathan's passionate love of music was often seen in his exuberant dancing and joyful revelry with family and friends. He had a quick wit and a love of family and good food. Beach parties and holiday gatherings will miss Jonathan's famous pimiento cheese, chocolate cheesecake and Carolina BBQ. He will long be remembered for his talent, patience and enthusiasm in the kitchen. Jonathan will also be remembered as a longtime president of The Underwater Sports Club of St. Thomas, and for his love and legendary talent at bocce. He was a fervent fan and devoted follower of all things North Carolina, but especially Tarheel basketball.
"Uncle Jonnyboy" will be dearly missed by his many nieces and nephews to whom he was the best uncle of all time. He will also be missed by his island friends and family. His gentle nature was epitomized by kindness to all animals but especially to his devoted dog Gurly. Jonny's charming and often mischievous grin will be sorely missed by all who knew this fine southern gentleman.
Details of a memorial will be published at a later date.