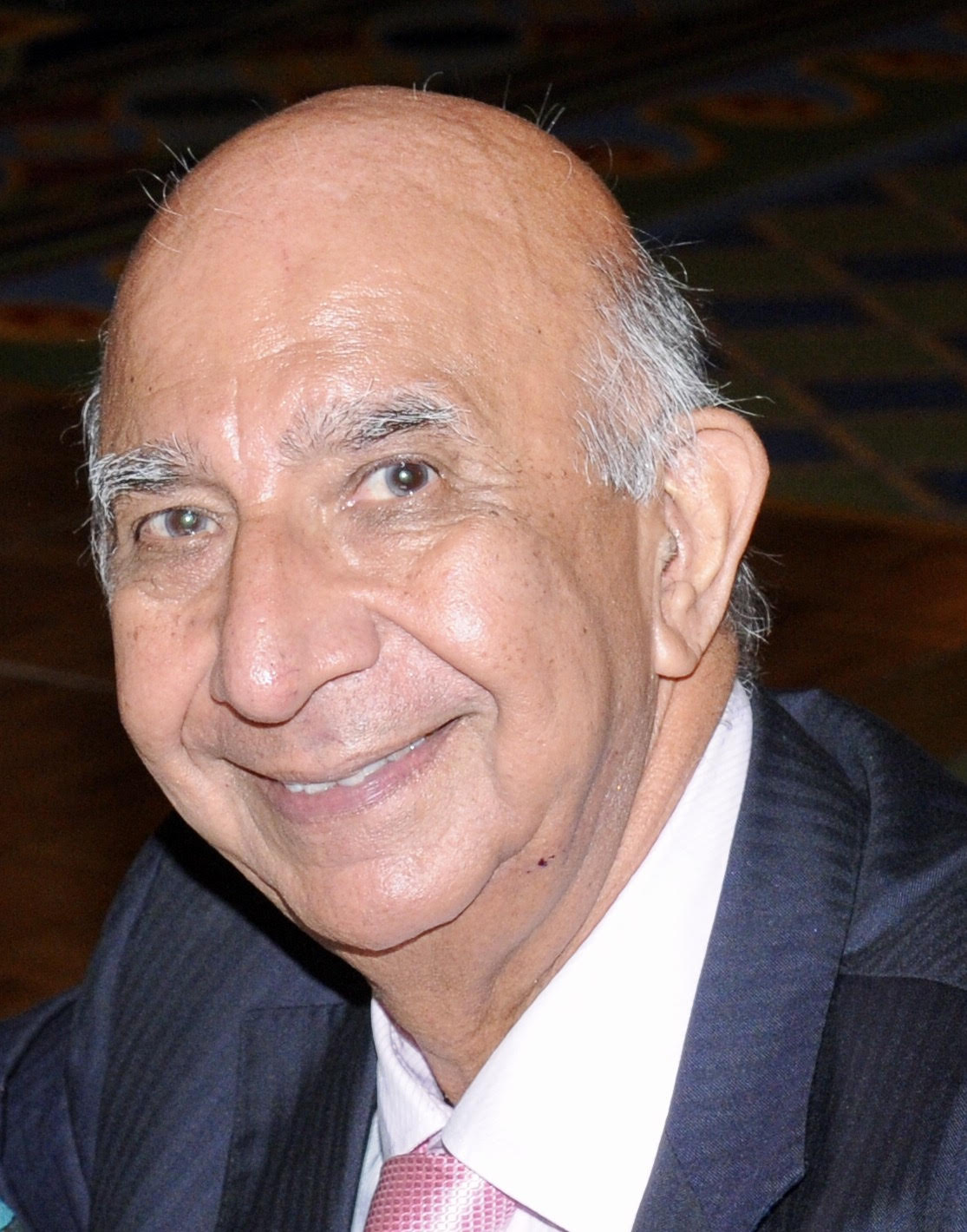 News of the death of St. Thomas businessman, community leader and philanthropist Mulchand Mulo Alwani, 79, spread quickly through the Virgin Islands Sunday, as friends and associates expressed sadness at his loss.
He died in Baptist Hospital in Miami Saturday, after battling cancer for nearly a year. His grown children Papita and Vinod were with him "holding his hand," according to family friend Pash Daswani.
The news of his death struck a sad note across the community.
"I'm just sorry to hear that," was the reaction from Samuel Topp, a long-time media personality now working in Government House public relations. "Mulo Alwani was a solid citizen, a good man. It's a loss. I'm just sorry to hear that … He was a perfect gentleman."
"I thought he was just the kindest person," said Maria Hodge, who served many years with Alwani on the governing board of the Schneider Regional Medical Center. "He was a joy to work with. He was a really hard worker for the hospital. I thought very highly of him."
Alwani was appointed to the hospital board in 2007. A government press release at that time contained a brief biography which said he had been born in Damascus, Syria, and moved to St. Thomas in 1977, opening Artistic Jewelers. He remained its president until 2003.
He held leadership positions and was active in an array of non-profit organizations, perhaps most notably the India Association of the Virgin Islands. The organization was chartered the year before he arrived in the Virgin Islands and he was a prominent member from the earliest years. Daswani, who is currently vice president, said Alwani served two stints as president, once in the 1980s and a second term beginning in 2002 and continuing until his death.
He was also involved in Rotary, the St. Thomas-St. John Chamber of Commerce, Partners for Health and the Community Foundation of the Virgin Islands. He was a past master of Harmonic Lodge No. 356 EC. In 1995 he was honored with the Community Service Award by the St. Thomas-St. John Chamber of Commerce. In 2014, he received the Peacemaker Award from the Family Resource Center.
Community activist and former hotel industry leader Mary Gleason said she first met Alwani when she was helping him arrange functions for the India Association at Frenchman's Reef Resort. Over the years, she worked with him on various community projects and came to consider him a friend. She remembered "his integrity, his presence" and said, "It's just heartbreaking and an unbelievable loss to this community."
Dee Brown, president of CFVI, said she feels the loss both professionally and personally.
"Mulo was a dear friend," she said, one of the first she and her husband Richard made when they arrived on St. Thomas more than 20 years ago. They were also close with his wife, Saria, who died in 2010.
"He and Saria were such enormous spirits, and so very humble about their generosity," she said. "Mulo served as a board member of CFVI and he and Saria were a package deal for CFVI, doing whatever they could to help in so many different ways. I can't process the loss for us personally – and for our community. We were so very fortunate to have had them in our lives!"
Daswani said Alwani taught him a lot.
"He was more than a mentor. He was more like a father to me," Daswani said.
Known for his soft speech and calm demeanor, Alwani would rein Daswani in if he got angry, the younger man recalled.
"He'd put me in check," Daswani said, adding that Alwani would tell him: "Just calm down and do the right thing."
Alwani supported many causes, but Daswani said, "His main goal was education."
Each year the India Association gives two four-year scholarships to students attending the University of the Virgin Islands. There has been discussion of changing the donation, but Alwani fought to keep it, Daswani said.
Besides his children, Alwani is survived by two grandchildren, Ania and Nikko.
Arrangements are pending.