Local health care personal and policymakers met all day Thursday to learn about climate change's impacts on human health and to identify knowledge gaps that affect the territory's ability to address such issues.
Organized by the Virgin Islands Caribbean Exploratory Research Center, the meeting was held at the both campuses of the University of the Virgin Islands with video conferencing connecting participants and speakers on St. Croix and St. Thomas.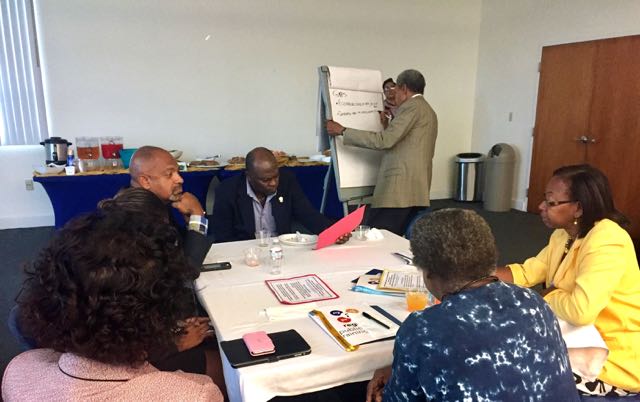 Titled "Assessing Information Needs for Climate Change Adaptation to Ensure Optimal Public Health in the U.S. Virgin Islands," CERC invited decision-makers, government health officials, health providers, scientists, educators and members of the public health support community to attend the meeting. Between the two campuses, around 35 people were in attendance.
Participants heard from a handful of speakers who specialize in climate change and public health, including former UVI president LaVerne Ragster, territorial epidemiologist Esther Ellis and J. Fitzroy Henry, professor of public health and nutrition at the University of Technology in Jamaica.
Ragster expressed the importance of identifying public health-related data sources to be able to determine what information the territory has and what it still needs to collect.
"It's time to assess the territory's readiness for climate change at both an institutional and individual level," Ragster said.
According to Ragster, UVI will be assisting with the development of the territory's climate change plan by doing data collection and scientific analysis. The adaptation plan is the result of an executive order from Gov. Kenneth Mapp and is being developed by a council with representatives from multiple sectors.
Henry, who traveled from Jamaica to present at the meeting, talked about climate change's impact on public health and food security in the Caribbean.
"When you look at all the impacts, you see how broad climate change is and how it affects all aspects of society," Henry said.
Henry explained that tropical storms, floods and droughts are the biggest climate issues facing the region. Climate models predict more frequent and intense hurricanes, as well as more tropical storms that will develop into major hurricanes in shorter time periods than before.
The social conditions people live in have a major impacts on their health Henry said. That means disparities matter, since people of lower socioeconomic status who live in risk-prone areas will be more exposed to climate change impacts, such as during heat waves and major flooding events.
"Climate change exacerbates the divide between those who have resources and don't," Henry said and added that catastrophic weather events can lead to greater incidence of depression in populations that suffer the most. In example he cited increased rates of suicide in farming communities after major floods and during drought conditions.
Shifting temperatures and rain patterns can also decrease local agricultural production, which by extension can lead to greater dependency on food imports. Since it's common for processed, nutrient dense foods to be shipped in, climate change could exacerbate already high obesity rates that are characteristic of small islands.
"We know what is coming, so what do we do now? If we don't quantify, we don't know," Henry concluded, stressing the importance of gathering reliable and comparable data.
Collecting data on disease and incidence of illness helps officials estimate the magnitude of a problem and is crucial to making informed public health policy changes.
Ellis explained that epidemiologists use a number of sources for health data, including medical, administrative and police records, some of which can be geographical in nature to help identify clusters during an outbreak.
"I'm working to make sure we get funding for collecting that data, but there are some areas we could do better in," Ellis said. "We are on track to get our surveillance systems on par with other territories and U.S. states in the near future."
In discussion groups, attendees voiced concerns about the lack of a functional data repository. Collectively, they said that developing an integrated data management system would ease access and analysis. Currently the territory's hospitals, insurance companies, the V.I. Department of Health and the Centers for Disease Control and Prevention collect health data separately.
Sens. Tregenza Roach, Janette Millin Young and Novelle Francis attended the meeting and Sens. Marvin Blyden, Jean Forde, Justin Harrigan and Sammuel Sanes sent representatives from their offices.