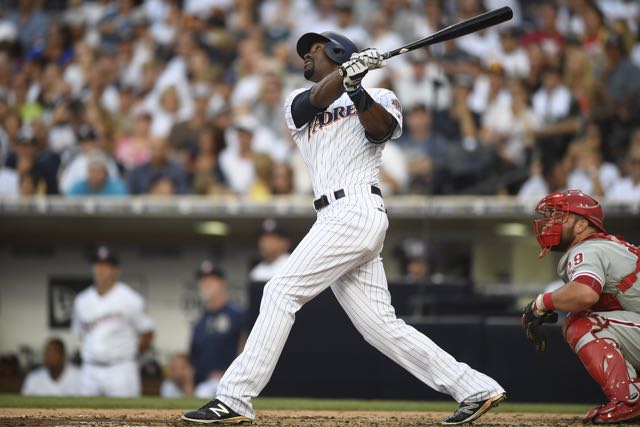 Jabari Blash has come a long way from the days when he was picking mangoes and genips by the side of the road in Bordeaux.
"During mango season, my friends and I would find them and try to sell them, just for something to do and to make a few dollars," Blash said last week, soon after returning home to St. Thomas from Arizona, where he was rehabilitating the sprained left middle finger he injured in August.
Blash's injury cut short a roller-coaster rookie campaign in the big leagues that saw the 27-year-old outfielder make a major league roster out of spring training after playing in the minor leagues for six seasons.
So how did Blash feel when he finally made his regular season debut for the San Diego Padres in an April 4 game against the Los Angeles Dodgers?
"That moment when I ran on the field, I had chills," Blash says. "I normally don't get anxious, but with every step I took, I was shaking.
"To this day, I haven't let the reality kick in yet," he continued.
Just as big a thrill was the day his mother first saw him in action at Petco Park in San Diego.
"She always saw the best in me," says Blash of his mother, who works as a post office manager on St. Thomas. "Every child wants their parent to be proud of him or her."
"Both my mother and father worked hard to move us out of the Pearson Gardens to give me and my siblings a better life," he says, reminiscing about his early years. "My roots are still there."
Blash's grandmother still resides in the housing community. "I try to visit her as often as I can," he says.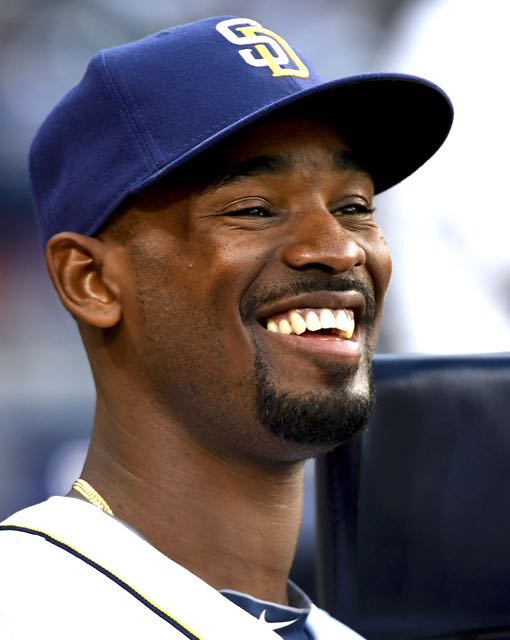 On Aug. 19, he suffered the season-ending thumb injury.
His final statistics for his rookie year were: in 71 at bats, he collected 12 hits, including three home runs and two doubles, and drove in five runs. He walked 11 times and stole one base.
With the World Series beginning on Tuesday, and the Padres long eliminated from post-season competition, Blash was on-island to "start his vacation.
"I don't want to brag," he joked last week, "but I'm up at 6 a.m. and on the beach."
Blash's life wasn't always a day at the beach. In the 29th round of the 2007 Major League Baseball draft, the Chicago White Sox drafted him out of Charlotte Amalie High School – where he played the trumpet in the high school's marching band. Blash didn't sign with the club but instead attended Alcorn State University in Mississippi, where he reportedly sat out an entire academic year due to questions surrounding his transcript.
Blash then transferred to Miami Dade Community College, where the head baseball coach, Stephen Alan Hertz, was a former MLB player himself.
"You could see his potential. You could see the talent was definitely there," Hertz told a caller earlier this month. At 6'5" and 235 pounds, Blash "had a good eye at the plate, he could run and he had good speed. And he had great power. Some of his homeruns for us went a distance of 450 feet."
Blash hit .353 and had 10 homeruns for the Miami-Dade Sharks in only 102 at bats in 2008.
Now retired, the 71-year-old Hertz says he recognized early on that, despite his physical gifts, that Blash was going to be what baseball scouts call "a project.
"He drew a lot of walks but he struck out a fair amount of times too," recalled Hertz. "Jabari needed to be more mentally prepared to play the game. I just wish I had pushed him harder."
Hertz added that "a lot of the kids from the Virgin Islands are very laid back and immature. Their heads aren't in the game all the time."
Blash is the first to admit he lost interest in the game after elementary school. "I kicked baseball to the curb," he says. "St. Thomas is a small island and, if nobody showed up to play, I just hung around with my friends."
Darren Canton, the founder and director of the Virgin Island Future Stars Baseball program, agrees with Hertz's characterization of Blash.
"He was slow, lazy and immature," says Canton, who now is one of Blash's biggest fans. "But he was always strong."
An associate scout for the Arizona Diamondbacks, Canton met Blash in 2005 when he was just a sophomore at CAHS. They were introduced through one of his Pee Wee and Little League coaches, Jason Joseph.
"He wasn't a great player but he was very athletic," says Canton. "Most of all, Jabari needed strength and conditioning. So I focused on that.
"And that's when he started improving. Actually he's never stopped improving," says Canton. "And over time, he developed into a draftable talent."
Following his first year playing ball for Hertz, Blash was drafted by the Texas Rangers in the ninth round of MLB's 2009 draft. He again chose not to sign and returned to the Sharks for more seasoning.
In 2010, Blash finally signed with the Seattle Mariners, who selected him in the eighth round of that year's MLB draft.
In the Mariners' organization, Blash played in places like Virginia, Washington, Iowa, Tennessee and California as he tried to move up on the team's depth charts.
"I never doubted myself," Blash says of that time. "Like everyone in the minors, I just waited for my opportunity."
Last year, Blash hit a reported .640 for the Mariners' Triple A team, the Tacoma Rainiers. Curiously, however, the Mariners exposed him to the Rule 5 Draft.
According to MLB.com, a team that selects a player in the Rule 5 Draft pays $50,000 to the team from which he was selected. The receiving team must then keep the player on the Major League 25-man roster for the entirety of the next season; once a player is selected, he is automatically assigned to his new organization's 40-man roster.
The Oakland Athletics selected Blash sixth overall in the December 2015 Rule 5 draft – and then traded him to the Padres.
Though he didn't participate in the Padres' Future Game, Blash was invited to a Future Stars Baseball practice on Oct. 18 at Lionel Roberts Stadium by Canton, whose annual showcase for MLB scouts was held Oct. 15.
Blash says he offered encouragement to Canton's roster of young ballplayers.
"I represent the Virgin Islands now, just like Jharel (Cotton), and we're both paving the way so other young kids can hopefully make it to the big leagues," Blash said. "We want them to know it's possible for players from here to have the same opportunities both of us had."