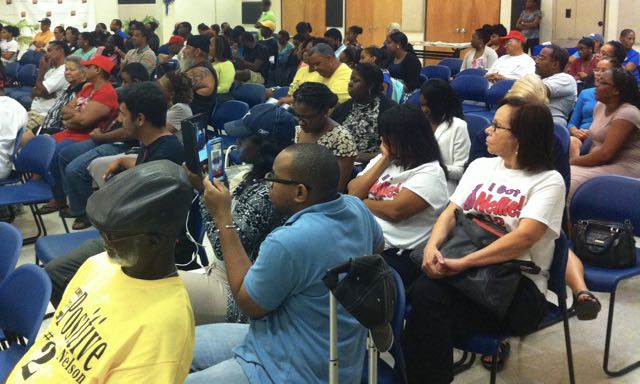 Ten senatorial candidates spoke to an audience of about 150 Wednesday evening on the Albert A. Sheen Campus of the University of the Virgin Islands on St. Croix in its Great Hall.
The two candidates in the United States presidential race might have benefitted from watching the decorum and the civility the Virgin Islands candidates exercised. Still, there was that moment – a heated exchange between Alicia Hansen and Neville James, about exactly how the nursing program came about at UVI.
For the most part, however, candidates stuck to answering the questions posed by moderator Albert Bryan, former Labor commissioner, and treated each other with respect.
All the candidates, after giving a brief synopsis of why they were running, answered two questions. The first question concerned whether the candidate would support expanding scholarship programs. The second concerned revitalizing the local economy.
After those questions were answered, student questions were picked randomly from a basket and asked of individual candidates – one question, one answer from one candidate. These questions covered a wide range going from how to solve problems at GERS to how to promote sports tourism.
What follows are brief summaries of how the candidates presented themselves before the random questioning began.
Incumbent Sen. Nereida "Nellie" Rivera-O'Reilly pointed to her record as a senator and the passage of two laws – one to sell bonds to raise $250 million for infrastructure repair and another to rescue the hospitals.
Terrence D. Joseph said he was passionate about finding solutions and had a history of community involvement and lobbied for more money for education.
Incumbent Sen. Kurt Vialet said he has always worked to make sure that St. Croix always got its fair share when funds were expended and was instrumental in plans to get a sports center built on UVI's St. Croix campus.
Incumbent Sen. Sammuel Sanes said his effort to work as a team with other senators produced positive results and that he had a special concern to help people with disabilities.
Incumbent Sen. Positive Nelson said, "We are in a critical time and need critical thinkers." He mentioned his efforts to allow a hemp industry to develop in the Virgin Islands.
Incumbent Sen. Novelle Francis Jr. emphasized his long years of experience in the Police Department and the role of education. He said, "Students with a bright future rarely take a dark path."
Robert B. Moorhead said he was the only Republican running. He said Virgin Islanders have to quit bringing in other people to do "our work."
Danny Emmanuel talked about his youth and how he thought it was time for his generation to step forward and get involved as public sector leaders.
Former Sen. Alicia "Chucky" Hansen said, "My agenda is the agenda of the people." She asked voters to look at her record.
Incumbent Sen. Neville James also emphasized his record of five terms in the Senate. He said, "The primary focus should be us working together fighting for St. Croix.
Student Government Association, Golden Key International Honor Society and Student Activities hosted the forum that ran from 7 to 9:30 p.m.
The forum was designed, according to organizers, "to allow candidates and the constituents they serve the opportunity to come together to hear, learn and understand from each other."