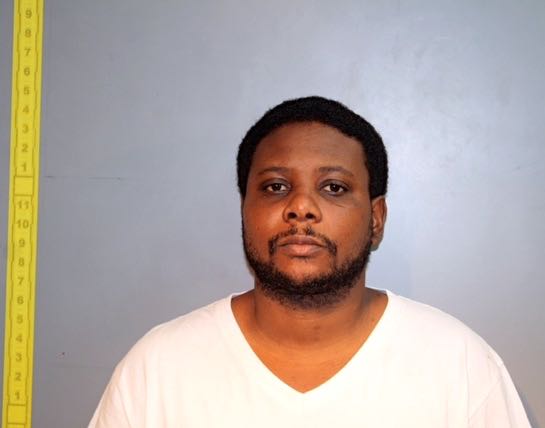 Virgin Islands Police Officer Francis Williams was arrested at 1:45 p.m. Thursday and charged with murder in the deaths of fellow officers Lesha Lammy and Kai Javois, whose bodies were discovered a month ago, shot to death at Hams Bluff Beach on St. Croix.
Gov. Kenneth Mapp announced the arrest at a brief news conference Wednesday afternoon at Government House on St. Thomas.
Williams was charged with 11 counts, including first-degree murder, first-degree assault, false imprisonment, stalking/domestic violence, aggravated assault/domestic violence, and using a dangerous weapon during the commission of a crime. Bail was set at $2 million pending his advice of rights hearing.
Mapp did not discuss details of the case or how police came to suspect Williams. He expressed condolences to the families of the two slain officers and reminded people that Williams, like all criminal suspects, is "innocent until proven guilty."
Mapp also discussed the drug smuggling case against Neal Chesterfield, who was a law enforcement officer assigned to provide security at Government House beginning during the previous administration. Chesterfield was arrested at the Cyril E. King Airport when officials discovered more than 21 kilograms of cocaine and $26,000 in cash in his carry-on luggage.
Mapp said Chesterfield never worked the personal security for either the governor or lieutenant governor, nor did he travel with either of them.
The governor said the federal Drug Enforcement Administration said Chesterfield had been arrested Saturday afternoon after he told airport security he was going to do advance work for a Mapp trip in the next few days and used his ID to bypass airport inspection.
However, it was his failure to follow normal protocols for such activities that first drew attention to him, Mapp said.
It was not the first time recently that executive security at Government House had been affected by drugs, the governor said, divulging that an officer who had been found dead on duty had apparently been using narcotics.
"Several months ago, you may recall, one of the uniformed officers here at Government House was found dead by his relieving officer. We did not make public then, but I will make public now, that that officer literally keeled over, face down, into cocaine that he was using and died of a massive heart attack," Mapp said.
"We can't have people parading and masquerading around the building and the officers, persons who are living a life of crime and masquerading, using their badges and their guns and the trust we impose upon them," Mapp said.
The governor said all security personnel assigned to the governor and lieutenant governor as well as all uniformed personnel will be subject to a security clearance performed by the federal government. He said in the future all members of the security service, including drivers, will be required to be officers of the V.I. Police Department (Chesterfield was a V.I. Port Authority officer.)
"It's important simply because we are involved in many high-level meetings and discussions having to do with security and law enforcement, matters affecting the people of the Virgin Islands," he said.
He also noted that guests, officials and employees expect the office of the chief executive to be a safe environment.