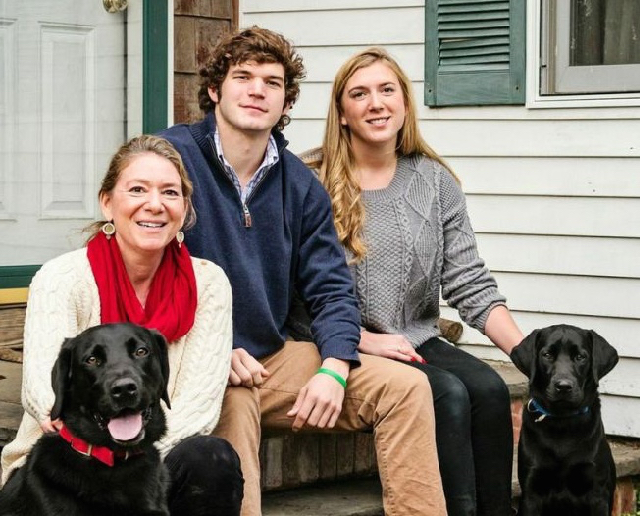 The academic year opened with new leadership at the helm of St. Thomas' largest private school, but Antilles School students and faculty aren't likely to notice any sudden or radical shifts.
New Head of School Elizabeth (Liz) Morrison is promising a steady hand and a gradual approach to improvements on existing strengths. She's brought a lot of experience to the task.
"I'm heading on year 29" as an educator, Morrison said. Those years have been spent as a teacher, coach, counselor and high-ranking administrator in private schools. Most recently, she was assistant Head of School at Millbrook School in New York.
She said she wanted to advance in her career, but didn't want to move just anywhere there was an opening.
"I needed it to be a philosophical match," she said.
So while the Antilles search committee scrutinized her, she satisfied herself that the school was one she could represent and lead.
It was a bit of a leap to move to the Virgin Islands when she had spent most of her life on the East Coast, but Morrison said she's comfortable with the change.
"It was the right time in my life to take on a new adventure," she said.
Her son and daughter are grown and "pretty well launched." Her husband, Tom, is a corporate pilot, "so his place of work is the world." He has relatives who have lived on St. Thomas for 30 years, and Morrison said she got a lot of information about the practicalities of island living before she made the leap. If there were any surprises, in fact, it was that there were so few differences to life stateside.
Morrison said many things attracted her to Antilles, starting with its basic philosophy of "educating the child as a whole child."
That approach starts in pre-school and goes right up through college counseling.
"I think we offer an excellent academic program," Morrison said.
Antilles is on a par with the best independent schools across the country, she said. That's evidenced in part by the fact that nearly all graduates go on to college, many of them to prestigious institutions.
But a big name school isn't for everyone. Even a stellar scholar isn't necessarily happy in an Ivy League school. There are other considerations, such as the student's non-academic interests.
"It's about the magic of the match," Morrison said.
While there are many similarities between Antilles and the other schools where Morrison has served, there are some differences.
"The diversity of students here is greater, much greater," she said, adding that it is one of the strengths she wants to build on. "It lends itself to a much more culturally rich medium."
She views the concept of "island time" as distinctly positive too. In the States, the pressure is so great on young people that it leads to large numbers of medicated students, she said. At Antilles, there's more of a balance, a healthy acceptance that leads to self-confidence. People seem to appreciate that condition and want to preserve it, she added. "They aren't saying 'bring on the frenzy.'"
When she speaks with groups, Morrison said she often asks how many people changed their college major and/or their career. From the common reaction, she estimates about 80 percent of people do. So a good education isn't just preparing students for a career, it's helping them to know how to make good choices. It sets the stage for future success.
"You want them to leave (high school) having something in them being sparked," Morrison said.
She also believes character building is a part of education. She said it frightens her to think of young people heading into the world without a well developed sense of empathy and compassion and the understanding that there is something bigger than themselves. For that reason, she said she wants to expand on the school's diversity and its mission of creating global citizens.
Morrison described herself as a prime example of the 80 percent. Coming from a family of educators, she always heard she should go into teaching. But she wanted to be different and she set out on a completely different path.
She earned a bachelor of science degree in kinesiology at the University of Pennsylvania, where she was a star on the lacrosse team. She planned to become an expert in bio-mechanical foot strike and design athletic shoes.
But along the way, she coached lacrosse at a private high school academy and discovered her teaching talent. She earned a master's degree in education and went to work at Berwick Academy in Maine, where she coached and taught math in middle school and high school.
"I fell in love with it, and never looked back," she said.
She moved forward, becoming chairman of the math department at Oakwood Friends School in New York, then taking the position of assistant head of school at Millbrook, where she also served as dean of students, academic dean and director of college counseling. The switch from teacher to administrator was not made lightly.
"I worried about leaving the classroom," Morrison said, because it could mean losing the close ties to her students that she had always maintained. But she sought connections with the students. It helped that she was coaching and directing college counseling and that she would occasionally fill in as a substitute teacher.
"I would always take the opportunity when a math teacher was needed."
She may have to look harder for that type of opportunity at Antilles, where she has climbed even higher up the administration ladder and further from the classroom. But she is intent on making the connection. She met recently with student leaders and said she plans a series of meetings with seniors in small groups, perhaps over lunch or dinner, where she can get to know them and they can get to know her.
"I'm going to start with them," she said.
She'd like to reach out to younger students too, but knows she has to be realistic about time management. And she has a lot of other people to get to know, both within the school and in the wider community.
"I want to be impactful," she said. But you can't move things forward until you have a firm understanding of where you are. To get her bearings, Morrison plans to get to know St. Thomas, and especially the people who – in one way or another – have an investment in Antilles' success.