"Start, fight, kick, punch, punch, block," yelled St. Croix Sen. Positive Nelson. He was in his other incarnation, not a lawmaker but a taekwondo instructor, addressing two young combatants in the mirrored aerobics room at the Beeston Hill Fitness Center.
It doesn't sound like words of peace, but that is what Nelson promotes in the teaching of this martial art (he called the ultimate sport) – inner peace.
Nelson has been involved in taekwondo (also known as Tae  Kwon  Do) for 26 years. But this art of self-defense, which originated in Korea, goes back much further – with roots more 2,000 years in the past. The name is a Korean description of the art – Tae  (foot), Kwon  (hand), Do  (art).
Nelson's own struggle for inner peace, back in St. Augustine College in North Carolina 26 years ago, is what brought him to taekwondo. He was playing basketball with other islanders when some local thugs, in greater numbers, drew down on Nelson and his friends and gave them a beating. He said his first response was to go get a gun and get revenge. More thoughts and remembering that his sister was taking a martial arts class brought him to a better answer.
Now he would like to bring that answer to troubled youths on St. Croix.
"Taekwondo teaches not to fight unless you absolutely have to," Nelson said. "We live by a code and a lifestyle. I see the value and role it can play with juvenile delinquency."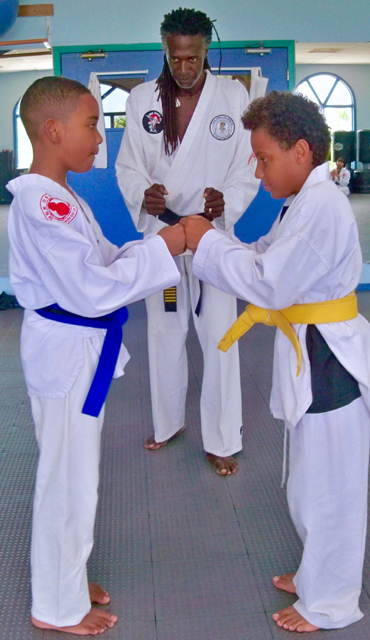 He emphasizes to all his students that using their art as a weapon is "the very last resort." For all the yelling about punches and kicks in the classes, there is little contact between the combatants. The high kicks just go into the air and the snappy punches always end short of the opponent's body.
"We don't emphasize the physical," Nelson said. "We emphasize the mental – control of one's mind." Taekwondo has helped him subdue his own anger sometimes, he said.
When Nelson came back to St. Croix after college he became a teacher in the public schools. With fellow teacher Eustace James, he started King Cobra Taekwondo. He has progressed to fifth-degree black belt. Over the years he said he has seen many students come to the class unsure of themselves and leave confident of their minds and bodies. He said he does not like to hear youngsters get labeled with things like ADD. He said those labels sometimes become crutches.
"Sometimes a youngster needs someone to kick that crutch away from them," Nelson said.
Students at the Beeston Hill class appeared to be enjoying it.
Zharick Romero, 11, has been in the class for three years and is a blue belt. She said some things in the class are hard to master and other things aren't too hard for her.
"The class is fun," Romero added, after helping a yellow belt with his cata, a routine. She added taekwondo is beneficial because she could protect herself in danger.
Andre Brady, 20, said taekwondo is a good martial art to practice for exercise. The stretching and everything the class does help him stay limber and healthy.
Nelson said he would like to see the sport in an after-school program. He offers free classes from 5 to 6 p.m. Tuesday and Thursday at the McBean Clock Tower by the fort in Frederiksted in his Positive Connections Program.
The classes at Beeston Hill are from 7:30 to 8:45 p.m. Monday and Wednesday and noon to 2 p.m. Saturday. More information is available by calling Beeston Hill Fitness at 340-778-5144 or Nelson at 340-690-1748.