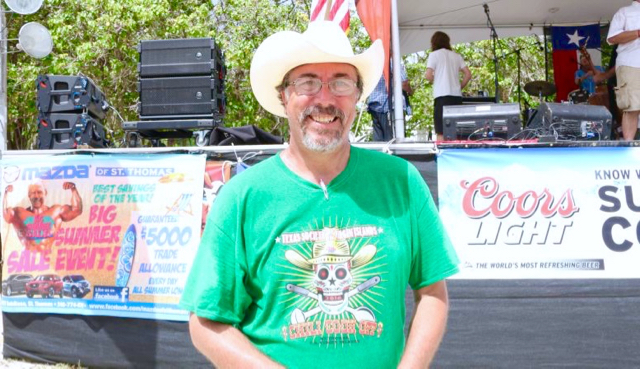 While dark clouds covered Brewers Beach on St. Thomas Sunday, the annual Texas Society of the Virgin Islands' annual Chili Cook-off went off without a hitch and brought hundreds of residents out for a day on the sand in support of six local charities.
Texas Society President and "Big Pepper" Erik Ackerson described the annual event as the largest day-long fundraiser in the territory, which, this time around benefitted Dial a Ride, 340 Boxing, the Family Resource Center, the Boys and Girls Club, St. Thomas Sail and Power Squadron and St. Thomas Rescue.
Proceeds are based on registration fees from upwards of 80 booths that were manned Sunday by a variety of different organizations, clubs, businesses and non-profits, all of whom said they were excited to show off their cooking skills, spread the word about their services, and connect with the community.
Some booths, such as Betsy's Bar, have been participating in the cook-off for almost two decades. Bar owner Betsy Sheehan said she looks forward each year to having fun on the beach and seeing friends from around the island.
"We used to do an elaborate show, but we've since toned it down a bit, though not with the chili," she said. While Sheehan wouldn't give away her recipe, she did say that part of the fun of participating is winning, which the bar often does.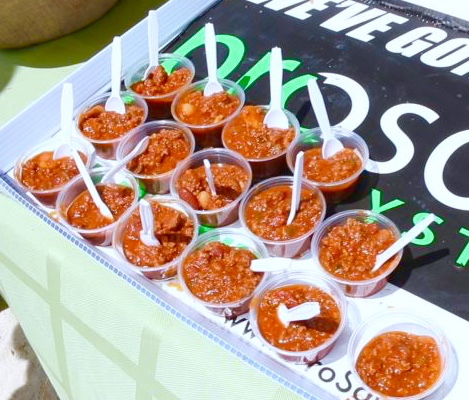 "Not to brag, but it really is the best," she said. "We really do win quite often, but even without that, it's great being out here, listening to the great music. The event is always organized very well, and it's fun to talk to all the people that come up to the booth."
Mixed in with the veterans this year were several first timers, who said they were relying on old family recipes, or those passed down within different clubs for "generations."
"This is my grandmother's recipe from 50 years ago and we just tweaked it a little bit," said a member of one organization from the American Legion Post 90 group. A first-time entrant, the Post 90 group said they didn't expect to win, but were hoping at least for a "People's Choice Award" for flavor and taste.
Nearby, Sean Georges and Brandon Richardson from Omega Psi Phi fraternity said their first-time chili sold out within minutes of set up. While they also didn't want to share their ingredients, Richardson said the secret to the chili was in the spices, and mixing salty with sweet to get a combined taste.
"We had a good cook, who was excellent, and just being who we are, one of the biggest ingredients was friendship, and that has been passed on for more than 100 years, starting with our founders," Georges added.
The Rotary Club of Charlotte Amalie had set up an informational booth at the event last year, but decided this time to actually enter the competition. Club volunteer Steven Sather was brought on board as the group's chef and he said Sunday that his strategy was using top sirloin instead of ground beef, combined with pork, along with 17 different chili powders and thickening agents.
"Top sirloin doesn't break down as easily as ground beef and the pork blends with the spices at the back of the mouth," he said. "And that's what we were going for, a long lingering burn, and so far everyone's been liking it. A few people have even come back for seconds."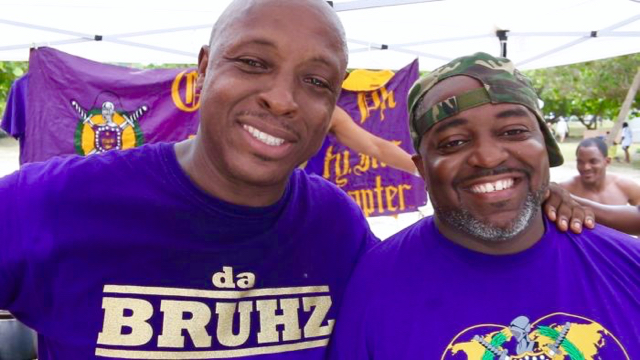 Rotary officials said they also used the event to educate event goers on the club's causes, which includes raising money to send local students to the University of the Virgin Islands, and to support the club's adopted school, Ulla F. Muller Elementary.
Speaking later, "Big Pepper" Ackerson said the real secret to cooking competition chili is "practice, practice, practice."
"It's like spaghetti sauce: everyone has their own family recipe … that they think they make the best of, and here, it's all about bragging rights," he said. "Everybody thinks that they can make chili, but there are a few factors to think about out here, like beach conditions. We also do this on a camp stove, so the best way of learning how to do this and getting prepared is to really go into your backyard and experience cooking outside, which is really not as easy as cooking in your own kitchen. It takes a lot of patience."
Ackerson added event, now in its 32nd year, took approximately 16 weeks to put together this year, with at least 24 volunteers meeting once every week.
"The most important part of this are the beneficiaries," he added. "As bad as our economy feels, imagine how our beneficiaries are doing. What keeps this going is the fact that every dollar we've raised outside expenses goes to them, and that's a great feeling."