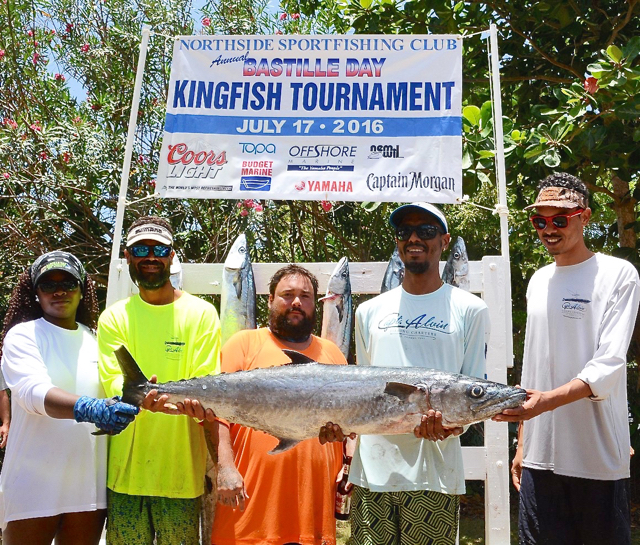 Hull Bay was bustling with energy and speculation on Sunday during the 28th Annual Bastille Day Kingfish Tournament as the crowd tried to size up who caught the largest fish.
Proud fishermen lined up for photos in front of the tournament's photo-op board, but when the winners were announced at 8 p.m. no one could top Gilbert Laban's 37.55-pounder kingfish, which earned him $2,000 in cash and other prizes. Laban also won the Best Male Angler award, with the catch of two fish that had a combined weight of 53.05-pounds.
"We left out of Frenchtown and stayed south heading towards French Cap," said Laban, who has fished the tournament many times. In 2013, he hooked the largest kingfish, with boat captain Alvin Turbe at the helm. Turbe, who captained Laban this year too, earned the Best Captain award with his boat's catch of six kingfish.
"The first fish we caught was small," Laban recalled. "Then around 7 a.m. I hooked it. We knew it was a nice fish, so I just took my time reeling it in. I'd have to say our secret to success was having fun. It was a great day."
Kathy Stiehler won second place for largest kingfish with a 30.60-pounder and Tamika Turbe, who also scored Best Female Angler by catching seven fish at 73.65 pounds, reeled the third largest kingfish at 20.85-pounds.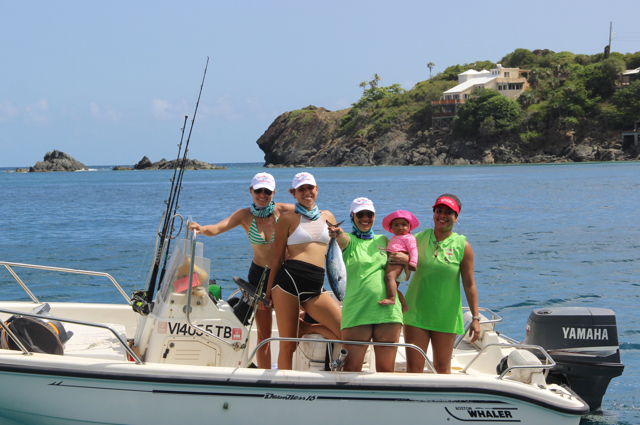 "I said I wanted to catch at least one fish today so I wouldn't be the only one on the boat without one," Stiehler said.
A total of 62 boats and 224 anglers, including 32 junior angles, participated in the tournament, catching 82 fish – 588.65 pounds total – of which 22 were kingfish.
Since the Northside Sportfishing Club first organized it in 1987, the tournament has became a staple of St. Thomas' French Heritage Week.
"It started because the original organizers wanted to plan a celebration event for the Northside community," said Jessica LaPlace, one of eight event organizers. She added the event is free for anyone who wants to attend.
As the tournament ended, crowds gathered at Hull Bay Hideaway to spend time with friends and family and dine on local cuisine, such as curried chicken and stewed mutton. Cool Session Brass played during the afternoon and Dem Fellas band took the stage in the evening.
"It's the main event that happens on the Northside and it's an opportunity for friends and family to get together," said Catherine Bryan, another event organizer. "Some people who have moved away from the area come from as far away as Florida to attend."
Bryan said that the event extends beyond the French community, since it also benefits multiple organizations as well.
Proceeds from the event are donated to Joseph Sibilly School, St. Thomas Rescue, Civil Air Patrol and Nana Baby Children's Home. Six college scholarships are awarded for technical school as well. Since the tournament's inception, the Bastille Day Kingfish Tournament has raised more than $160,000 for community organizations.
Because the event is well established it gets support from the Department of Public Works and community members for road and beach cleanup.
Bryan said that, "The beach will be returned to cleaner than it was before the tournament."
The tournament also supports scientific research, since the fish that aren't eaten are donated to researchers from the Dauphin Island Sea Lab in Alabama for ciguatoxin research. Coral World took the rest of the unwanted fish to feed its animals.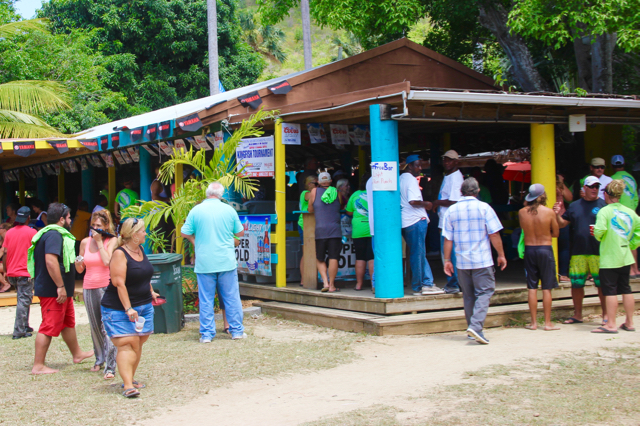 "We're taking unwanted fish that could have too many toxins, so we can do scientific research on how much is in each part of the fish," said Jesse Gwinn, a post graduate ecotoxicology researcher from the lab. "We can do a lot with one fish and this really helps supports our research, since toxicology research is expensive."
The 28th Bastille Day Kingfish Tournament is sponsored by Coors Light and Captain Morgan, distributed by Bellows International; Offshore Marine; NEMWIL, managed in the USVI by Red Hook Agencies, Inc.; TOPA Insurance Services Inc.; Budget Marine; and Caribbean Gifts & Things.
Full results:
Largest Kingfish: 1st – Gilbert Laban, 37.55 pounds aboard Emanuel; 2nd – Kathy Stiehler, 30.60, Double Header; 3rd, – Tamika Turbe, 20.85, Emanuel; 4th –Julian Magras, 16.45, Reel-M-In.
Best Boat – Sea Weasel, Capt. Rick Gonzalez, 13 fish.
Best Captain – Capt. Alvin Turbe aboard Emanuel, 6 kingfish.
Best Female – Tamika Turbe, 73.65 pounds, Emanuel.
Best Male – Gilbert Laban, 53.05 pounds, Emanuel.
Best Junior Male – Hobie James, 14.60 pounds, Hushpuppy.
Best Junior Female – Angelique LaPlace, 23.65 pounds, Virgin Coast.
Largest Barracuda – Kelli Ledee, 16.65 pounds, In & Out.
Largest Bonito – Kathy Stiehler, 4.80 pounds, Double Header.
Largest Mackerel – Scott Patterson, 8.60 pounds, Sea Weasel.