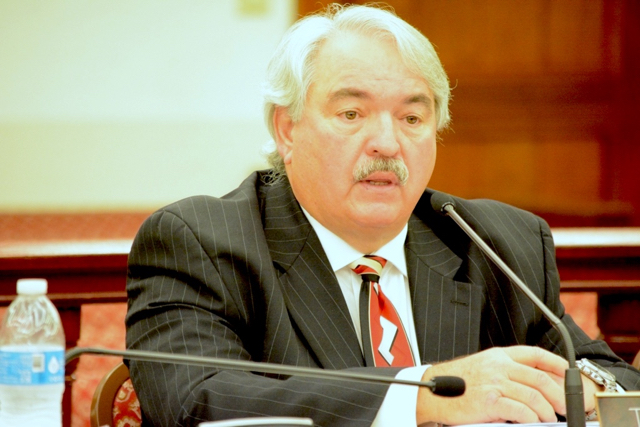 V.I. Superior Court Judge Michael Dunston is suing Gov. Kenneth Mapp to reverse Mapp's removal of Dunston as presiding judge, arguing V.I. law does not allow the governor to change his tenure in office nor to reduce his pay.
On June 18, Mapp announced he is removing V.I. Superior Court Judge Michael Dunston from the position of presiding judge, replacing him with Judge Harold Willocks, effective June 26. Under the terms of Mapp's order, Dunston would still be a judge but no longer the administrative executive of the V.I. Superior Court.
Mapp cited V.I. law as his legal authority for the action. The laws explicitly states the governor selects the Superior Court presiding judge. But it does not say the governor can remove a presiding judge or change their term in office; only that the governor can name one.
The passage of V.I. law Mapp cited, (Title 4, Section 71) says in part that the governor "shall designate one of the judges of the court to serve as presiding judge of the court to preside for such term, perform such duties, and exercise such authority as may be otherwise provided by law, or by rules of the court."
In his complaint filed Wednesday in U.S. District Court, Dunston argued that his term as presiding judge is defined by his term in office, and so is a six year term starting Sept. 26, 2013. He also points to a passage of V.I. law saying "[n]o judge's compensation shall be reduced during his term of office without his consent." The presiding judge's salary is $162,000 while the other judgets receive $10,000 less than that, Dunston said in his complaint. He argues that removing him from the position of presiding judge therefore is an illegal reduction in his compensation.
Dunston also said Mapp is retaliating for "political opposition to the now pending Court Unification Bill (merging certain administrative functions of the Supreme Court and Superior Court)," and docket backlogs. He argues the action is a violation of separation of powers and a "severe encroachment upon the independence of the Virgin Islands judiciary."
He asked the court to declare Mapp's action removing him to be unlawful and "of no force and effect," and to enjoin Mapp from trying to remove him unilaterally in the future.
Government House had not filed any response as of Thursday, and no court date had been scheduled.