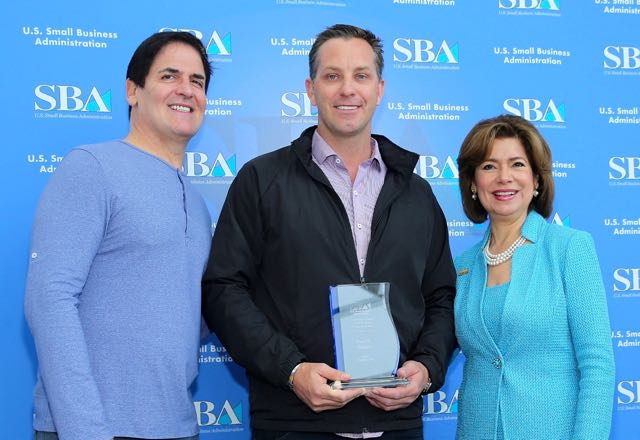 It took less than two years for Ryan Skinner to make a name for himself in the local marine industry through his work with Flagship, an affiliate of the Virgin Islands Charteryacht League.
Named the 2016 Virgin Islands Small Business Person of the Year by the U.S. Small Business Administration, Skinner traveled to Washington, D.C., in May to accept the award. The ceremony honored awardees from each state and featured sports mogul and media personality Mark Cuban of the T.V. series Shark Tank as the keynote speaker.
This week Skinner is being recognized again as part of the territory's celebration of Small Business Week, which begins Monday. Each year, the V.I. Small Business Development Center partners with SBA to host a series of workshops and other activities throughout the week on all three islands. This year the Department of Planning and Natural Resources is also getting into the act.
The three entities sponsor awards in various categories, including environmental stewardship, entrepreneurship, and small business advocate and support.
For Skinner, the award is a testimony to his ability to adapt and succeed.
Originally from southern California, Skinner said he first came to the territory in 2003 to attend the University of the Virgin Islands, where he earned a bachelor's degree in communications and then, in 2008, his master's degree in education.
"That's when the economy tanked," he said. Without viable job offers in his field, but undaunted, he eventually did what any young man would want to do: He started sailing around the Caribbean.
No doubt Skinner gained valuable experience that translated into practical knowledge when he returned to St. Thomas, sold his boat and then bought Flagship in November 2014.
The business has been around for decades. First known as Homeport in 1968, it was the first clearinghouse for charter boats in the Caribbean, Skinner said. In the early 1980s, VICL acquired it and the two entities have maintained a close association ever since.
With its office located in Yacht Haven Grande Marina, Flagship acts for charter boats rather like the MLS (Multiple Listing Service) does for real estate, Skinner said. "It's a buffer" between the yacht owner and the person who charters the yacht. Perhaps its chief service is accepting escrow payments between the two.
But it also offers a host of other services to yacht owners who are members, including marketing, calendar management, photocopying and other secretarial services, mail and package forwarding, advice and assistance with compliance with government operating requirements, and monitoring legislation affecting the industry and, said Skinner, generally "just helping people get things done."
Once he took over, his emphasis was on improving the business and especially on "making it more efficient," Skinner said. To do that, he restructured it into an LLC. In the past, it was operated by a five-person board, and often one or more members would be out of the territory when decisions needed to be made. Now "we decide what we want to do."
He also replaced the office services, renovated the office space and put in actual mailboxes for members, thus eliminating the need for them to wait for their mail. The website has been updated and Skinner said the system will be completely automated.
Members and people who come and go in the office have noticed.
"They've seen the transformation," Skinner said. And word gets around.
"We've doubled our fleet since we took over," he said. "We have 45 boats in our fleet right now."
That's just the kind of thing the national SBA and the local SBDC like to hear. The center, which operates out of the University of the Virgin Islands, offers technical assistance to small business owners. The administration, which maintains an office in the territory, provides loans to start ups and small businesses.
SBDC Director John Osoinach said both organizations consider awardees, looking at such factors as job growth, sales revenue increases, expansion of facilities and of product lines, and general strengthening of a business.
Other awardees being honored this week are:
– Jihad and Jawad Idheileh, owners of Carlos Furniture on St. Croix as entrepreneur of the year, by SBA;
– Banco Popular, bank of the year, by SBA;
– Medically Minded LLC, small business of the year for St. Thomas-St. John, by SBDC;
– SF General Maintenance Services LLC, small business of the year for St. Croix, by SBDC;
– Julita de Leon PLLC, entrepreneurial success St. Thomas-St. John, by SBDC;
– JK1 Investments LLC (Carib Sun Energy), entrepreneurial success St. Croix by SBDC;
– Dion Gouws, small business champion, St. Thomas-St. John, by SBDC;
– Paul Flemming, small business champion, St. Croix, by SBDC;
– Sen. Janette Millin Young, small business advocate of the year, by SBDC;
– Budget Super Service Center, environmental stewardship, St. Thomas, by DPNR;
– Mason Auto Body Repair, environmental stewardship, St. Croix, by DPNR;
– E-C Service Station, environmental stewardship, St. John, by DPNR.