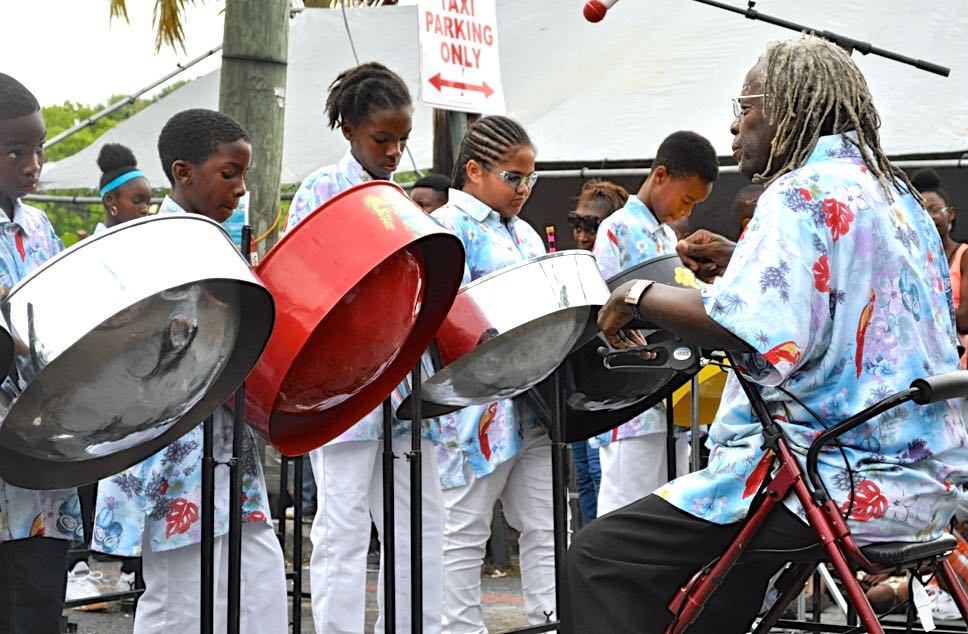 St. John Festival 2016 got off to a lively start on Saturday as steel pan renditions of old carnival favorites and new pop songs filled Franklin Powell Park in Cruz Bay for this year's Pan-O-Rama steel band showcase.
Ten bands made up of mostly middle and high school students claimed the park and waterfront for the evening to share their talents with residents and visitors, lending a "block party" atmosphere to Cruz Bay.
"The students not only played, they performed," said Liston "Matey" Sewer, director of two of the evening's performing bands, the Bertha B. Boschulte Middle School Burning Blazers and the Joseph A. Gomez Elementary Pan Busters.
Sewer said his bands had been practicing for the event since the beginning of the year and incorporated elements of showmanship into their performance, including crowd-pleasing tricks with their mallets.
Four St. Thomas school bands played before St. John's own Love City Pan Dragons began their set, which longtime Pan Dragon volunteer Elaine Penn said included the Burning Flames tune "Old Time Calypso" and "Rhythm Train" by Cool Sessions Brass Band.
"We're the host band because we're the only steel band on St. John," said Penn. "When we play on St. Thomas, we are used to being the only band from St. John. This time we don't have to go very far."
While the Pan Dragons had the clear hometown advantage, visiting bands from St. Thomas also pleased the crowd with their enthusiasm and gifts on the steel pan.
"I just love music," said instructor for the Wess Stars Band Andre Malone. "My father was a musician who played pan and guitars, and I grew up with a tenor pan in my house. This is a just a part of me."
Wess Stars is a steel orchestra out of the St. Thomas public housing community Kerwin Terrace, according to Malone, who said it mostly plays with borrowed and refurbished instruments.
The young musicians wash cars to raise money to keep the band going, he said, while adults in the neighborhood put on food sales to finance its activities.
Malone said the band's "the only thing going on in Kerwin Terrace basically. The pan practice room becomes a hangout for all the little kids to come hang around."
One of the largest bands playing Saturday was the V.I. Superior Court Rising Stars. Instructor and arranger Leroi Simmonds said the band would be playing its St. Thomas Carnival 2016 repertoire for the evening, a set list including the single "Locked Away" by St. Thomas musical heroes Rock City.
Simmonds said he enjoys the way music brings people together and causes many of life's struggles to temporarily melt away.
"It's fun. You forget all your troubles," he said. "You're just in that moment and everything is all good."
Also playing in Cruz Bay Saturday were bands from Lockhart Elementary School and Ulla F. Muller Elementary School, as well as the St. Thomas All Stars and Pan in Motion.
Sponsors for Pan-O-Rama included the V.I. Department of Property and Procurement, the V.I. Water and Power Authority, Varlack Ventures, Crowley Shipping, the Captain Vic and the V.I. Police Department.
St. John's festival village, which has this year been dubbed "Varlackville" after the noted local family, opens on June 28.