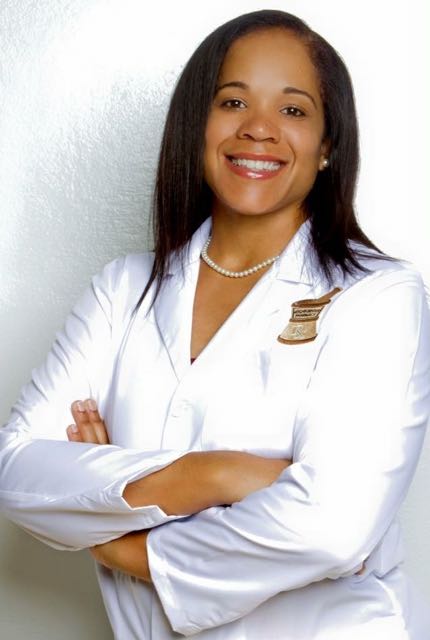 Jewels of the Virgin Isles is a monthly feature series profiling Virgin Islanders in the diaspora who are excelling in their respective fields and/or positively representing the USVI abroad.
The concept of a neighborhood pharmacy may be a fading memory in today's world of "big box" stores like Wal-Mart and Target, but in the U.S. Virgin Islands, it is a staple of society that still holds strong. On the island of St. Croix, local pharmacist Kisha Christian is making her mark and changing the way residents fill their prescriptions.
As the owner of Neighborhood Pharmacy, which opened in August 2015, Christian has tapped into her corporate experience as a Target pharmacist to bring technology, delivery and drive-through service to the community. Located in Frederiksted, on the western end of St. Croix, Christian is using her skills to create a customer-friendly, professional experience for her clients.
"I knew since I was a child I wanted to be a pharmacist because I wanted to help people. One of my first influences was probably my cousin's dad, Angel LeBron, who owned Nisky Pharmacy on St. Thomas," says Christian, who also gained experience in other pharmacies on-island during high school.
The 1994 graduate of St. Joseph High School left St. Croix and immediately began her studies in pharmacy at the University of Florida in Gainesville. However, life threw a bit of a curve ball when she faced open discrimination because of her race and then again when she became pregnant with her first daughter at the age of 20. Disenchanted with Gainesville, but still, fueled by her passion to fulfill her dreams, Christian transferred to the University of Georgia and earned her doctor of pharmacy degree in 2004, now with two young daughters to care for.
Failure was never an option for Christian, who attributes her accomplishments to her resilience, work ethic and compassion for others. She also credits her parents, Kathleen (a retired teacher) and Charles Christian (a retired corrections officer), with instilling the value of education and setting goals. Specifically, she says her dad, who held a ninth degree black belt in Karate, taught her and her brother how to be disciplined and focused at a very young age.
"The discipline came from my dad … he never gave us belts [to show advancement in Karate], he just made us spar with older people," she says, adding she also developed a desire to give back while participating in weekly community service activities as a student at St. Joseph's.
It has not been an easy road for Christian to see her dreams come to fruition but she says she continually draws inspiration from her children and her parents, whom she says "always help me to face the obstacles of my life."
"They have supported me from day one when I came to them, letting them know I wanted to open a pharmacy on-island. Despite all my struggles, including having two of my daughters before I finished college, I feel as though I wouldn't be who I am today if I hadn't had those experiences."
Christian's early mentor in Target's pharmacy division was another Virgin Islands-born pharmacist who helped her to learn her craft. Unfortunately, after being overlooked on more than one occasion for promotions within the Target establishment while in Georgia, Christian formulated her five-year plan in 2009 to open the Neighborhood Pharmacy and hasn't looked back since.
"During my tenure at Target, owning my own pharmacy was way beyond my immediate plans. When the disappointments happened, though, I felt that this was God telling me to get it together and do what I needed to do [to learn the business and prepare]," Christian states.
She proceeded to put her strategy in place and worked her plan. "I don't just jump up and do things. I put a plan in place and think the process through." Christian also utilizes a vision board and proudly states that she has almost fulfilled every desire on it.
Staying true to her community-minded spirit, Christian connects with the neighborhood by donating items to assist local organizations. She also dreams of opening a nonprofit pharmacy that would cater to uninsured residents.
"This is home for me. I've always been a person to help others and see the best for everybody. I am just me, doing what I love."
Today, Christian is exactly where she is destined to be, in the place of her birth, surrounded by family, close to the ocean and living out her purpose. She resides on St. Croix with her three daughters, Marisha, Shamara and Makia Butcher.
Nugget for V.I. Youth: "Some things take longer than others, but giving up is not the option if you really want it. I was just a girl with a dream. If you put your mind to it, you can achieve it."
Little Known/Fun Fact(s): "Everyone knows that I love adventure. I scuba dive. I have sky dived and swam with sharks. But my alter ego is to be a professional bartender so I can mix drinks, talk and meet people all day.
__
Loán Sewer is a marketing and tourism branding consultant and proud Virgin Islander who resides in Charlotte, N.C. Follow her on Twitter @LoAnSewer or e-mail her at info@gobiconsulting.com.