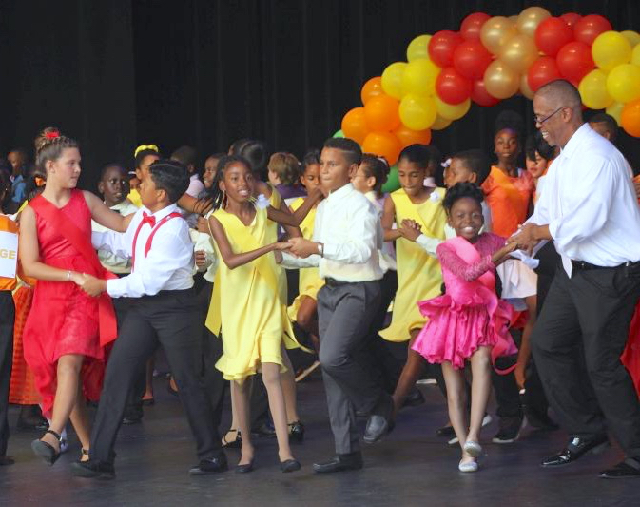 After a two-hour dance off between eight St. Thomas-St. John schools, the red team from Antilles emerged Saturday as the winner of this year's Dancing Classrooms Virgin Islands' Colors of the Rainbow.
The program involves 11schools in the district, and teams from eight of them were invited to compete Saturday at the Reichhold. Along with Antilles, the teams taking part were from Yvonne Milliner-Bowsky Elementary School, Leonard Dober Elementary, E. Benjamin Oliver Elementary, Gladys A. Abraham Elementary, Lockhart Elementary, Ulla F. Muller Elementary, and St. John's Gifft Hill School.
Each team has spent the last 10 weeks learning everything from waltz to swing. Each year teams gather on the big stage at the Reichhold Center for the Arts to show off their new skills.
Dressed in their individual school colors, each team had its own cheering section of family, friends and supporters, who screamed and waved streamers or signs while a panel of three judges on stage evaluated the teams during each segment. The 10-week curriculum is not only designed to teach students about the dance steps, but also dance etiquette, and announcers said they would be judged on a strict criteria, including movement, rhythm, and elegance.
"When they go in, many of them are nervous, mostly about having to touch one another," said Dancing Classrooms Global Program Director Rodney Lopez, Saturday's master of ceremonies. "But when they emerge, they are ladies and gentlemen, they are elegant and confident, and that is what this program is all about."
Taking the gold this year was the Antilles red team, whose fifth grade students also recently wrapped up their season at school with a parent recital. Fifth grade teacher Jamie Truax said Saturday that the program has brought about an "amazing" transformation in how the students relate to one another.
"I'm so proud of all of their hard work," Truax said on stage as the team took pictures with the first place trophy. "We worked during their lunch almost every day, from the time we did our culminating event at school until now, so it was like four days a week since March, and they've grown so much. They started out afraid to touch each other, they didn't want to dance at all, the boys and the girls thought it was weird, but now they've become a team, they're best friends."
Members of the team agreed with Truax's sentiments, and said Saturday that their favorite moments of the competition were actually watching one another perform.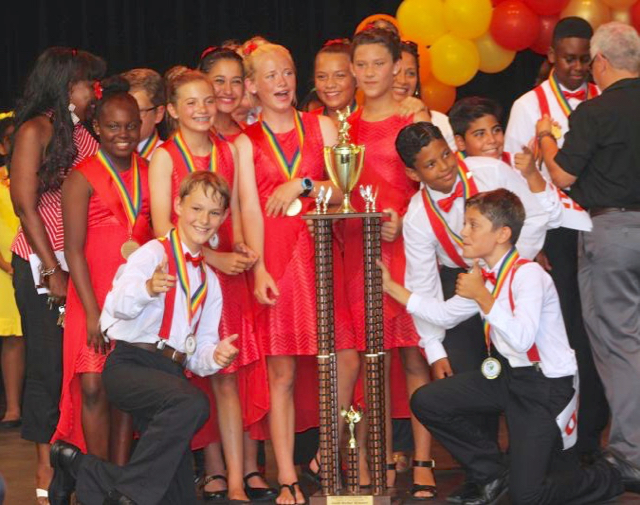 "We all danced our hearts out, we really did our best together and we really got it done when it counted," Antilles fifth grader Cle'jae Hodge said.
Winning silver this year were the teams from Ulla F. Muller, E. Benjamin Oliver and Gifft Hill, whose students looked like accomplished professionals as they moved around the stage during the two rounds Saturday. Bronze winning Gladys Abraham, Leonard Dober, Bowsky and Lockhart elementary schools were also on point.
"I think this is just a fantastic program, it really demonstrates to our students the importance of sportsmanship, particularly when they participate in a competition like this," Muller assistant principal Kimbolie Torres said Saturday. "And the students during the 10 weeks, you can see how they've matured. They went into this reluctantly and came out with and gained some self-confidence. My favorite moment today was just seeing the initial excitement that everyone came out with, like they were all saying, 'we did it, we're here and we're going to show everyone what we've learned.'"
For Zaytoun, another benefit of the program is seeing how many parents come out in support of the students at each end of the year performance. Saturday's event was packed, and Zaytoun said more than uniting the students, Dancing Classrooms is able to bring together whole communities.
"The parents, that's my favorite part of it, because they begin to see their children in a different light," she said. "Especially when it comes to the young men and how they treat the ladies, it's wonderful seeing that evolution in the students and how much the parents enjoy watching their children perform."
Based in New York City, Dancing Classrooms provides elementary and middle schools across the nation with a comprehensive ballroom dance curriculum that has reached more than 2,000 public and private school students on St. Thomas-St. John since 2009 through the efforts of Dancing Classrooms Virgin Islands Executive Director Katie Zaytoun.