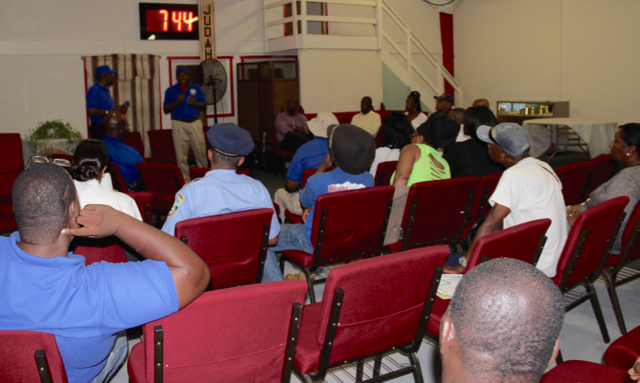 Starting Tuesday, May 3, the Community and Police Association and the Smith Bay Neighborhood Association on St. Thomas are calling for a territorywide, two-week cease-fire to stem the tide of violence.
Bruce Flamon, former president and founder of CAPA, said that in the last 21 weeks the territory has seen 22 murders. (21 weeks dates back to Dec. 7.)
"Most of the murders are retaliatory, gang-related or drug-related and are being committed by local young men who have a sense of hopelessness," said Flamon, who presided over the meeting.
A cease-fire would give the community time to design an action plan to prevent murders that have become all too common, he said.
The plan is to alert the public about the ceasefire through news coverage, social media and letters to community groups, but a number of the meeting's attendees questioned how effective the call would be without first speaking with gang leaders.
Eugene D. Farrell, a senior policy advisor for justice and law enforcement in the Office of the Governor, stressed the importance of meeting gang members who are perpetuating violence on their turfs. Farrell said that to have a successful truce, you have to meet with the leaders in person.
"People want to see crime stop, but no body will step up to the plate," Farrell said.
Samuel Weekes, pastor of the Paradise Covenant Ministry Church, said he is willing to meet with gang leaders to help stop the violence and he's already reached out to community members who can put him in touch with some of them.
Sen. Marvin Blyden agreed that gangs must be met on their turf, but added that young people also need alternatives to a life of crime through more available options for skills trainings like carpentry, plumbing and masonry.
Two educators expressed their need for adequate support when they have problem students who show potential for future violent behavior.
Georglyn Joseph Williams, a special education teacher, and Elvis Richardson, assistant principal at Addelita Cancryn Junior High School, said they report situations to the Department of Human Services, but haven't always received the necessary help for their students.
"Nobody listens to the schools. Nobody comes into the schools to deal with these things," Richardson said.
During the ceasefire, CAPA will lead an amnesty program to take back illegal guns and other weapons with no questions asked. Those interested can learn more about the program by calling Flamon at 340-513-4041.
CAPA is also creating a website that will list all of the mentorship and training programs that are available to youths in need of guidance. By locating all of this information in one place, CAPA hopes more people will learn that these programs exist.
Flamon said the idea for the ceasefire came from CAPA members watching the movie "Barbershop 2," which uses a similar tactic to curb violence in the community. In the movie, community members and even famous basketball players use social media to show their support for a citywide ceasefire.
Because the movie packs a powerful message, Flamon is encouraging all families to go out and see the film. He reminded that the movies are only $4.50 on Tuesdays at Caribbean Cinemas on St. Thomas.
"It's amazing we can use this movie to help positively influence our young people," Flamon said.