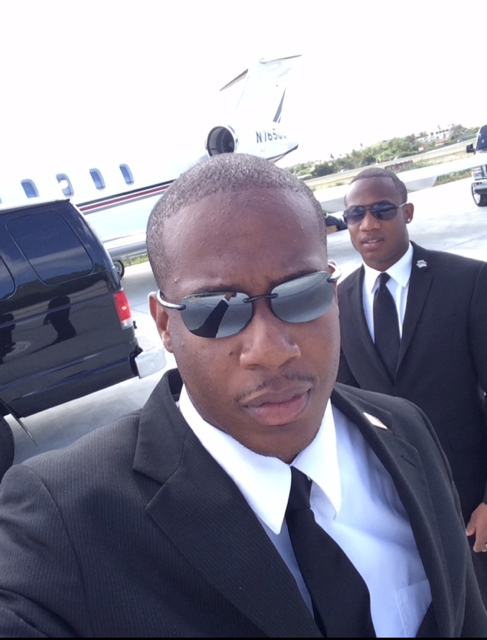 Perry Trotman was still a newcomer in the taxi and tour business when he received the highest local honor from the tourism industry, the Tommy Star Award, in 2011. But then, he'd had a great mentor. His dad, Stanley Trotman, who operates the "Love Cab," won the award the year before.
With a young family and a successful business, the younger Trotman has good reason to feel satisfied. But he's far from ready to sit back and enjoy the ride. He's a man on the move, with plans to expand his enterprise and branch into new territory.
After he graduated from Charlotte Amalie High School in 2003, Trotman joined the Army.
"I did two tours in Iraq and one in Haiti," he said. "We did force protection and security."
He also spent time in Puerto Rico, focused on transportation services. In addition to his active duty, he spent years in the reserves.
When he first returned home, he said, "I noticed St. Thomas didn't really have an official corporate transportation service." And he decided he could fill that void.
Enter Presidential Taxi, doing business as Presidential Limousine. The small fleet consists of luxury sedans and SUVs and executive vans.
During Carnival Week Trotman was busy chauffeuring national radio star Tom Joyner and friends around the island. Among the other celebrities he's met in his vehicle are Gladys Knight, Charlie Wilson, Faith Evans and Vice President Joe Biden.
He said his customers appreciate the fact that "the locals are not star struck." The rich and famous can enjoy a vacation without sacrificing their privacy.
And all his customers – even the not so rich and not so famous – enjoy the beaches, the culture, and the ease of travel to an island that is American.
Trotman can relate. He said his life abroad has helped him view the island as a tourist does.
"I look at St. Thomas in a whole new light now," he said. "I appreciate it more."
Family is a big part of life for Trotman. The oldest of three sons, he said he was named for the nickname his father carried from childhood. Then "they got stuck on the P's." The second brother is Perrez and the third, Peron.
Trotman said his younger brother joined the military after he did and then followed him into the transportation business.
"He pretty much walked in my footsteps," he said. Perrez is now vice president of Presidential Limousine.
Meanwhile, the youngest brother is in the Air Force.
Trotman married his high school sweetheart, Al'lina. They have a five-year old daughter, A'mai, and a seven-year old son, Py're. "That's the 2009 version of Perry," Trotman joked.
When he isn't working, Trotman said, "I hang out with the kids … Most of my spare time is spent at the beach just relaxing."
But there isn't a whole lot of spare time.
One of the things his father taught him, Trotman said, is "Service is everything pretty much in a nutshell." Another is "Just follow your dream and you can't lose."
And he has big dreams. His current business is "just the base," he said.
He's already started developing a business to take advantage of a niche market, secure transportation, or executive protection.
"I'm a certified protection agent," he said. There are people who need security when they travel and may not come to the Virgin Islands without it. "We want to give them peace of mind" and assure them they can visit the islands.
He's drawing on military and ex-military personnel and said he has about 10 people lined up to staff the business. Eventually he hopes to serve all of the U.S. Virgin Islands and the British Virgin Islands as well, but will "start with one place and build it up." He's aiming for the fall of this year for the roll-out.