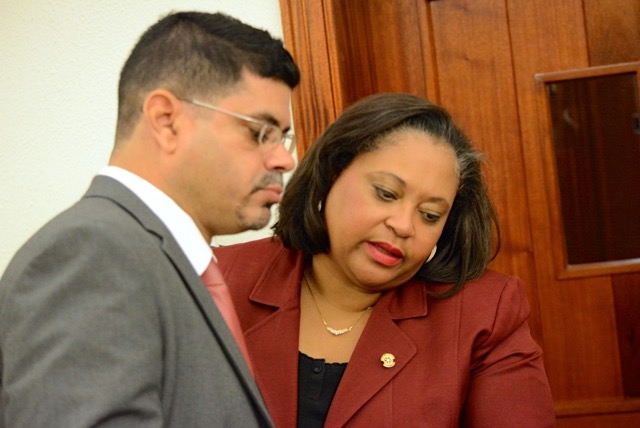 Senators voted to approve an increase in taxes on cigarettes from its current 35 percent to 45 percent per carton, raising about half a million dollars in new revenue for the cash-strapped government, during session Thursday.
Senators also approved a bill to allow smoking in "cigar factories" that make and sell cigars and tobacco products, along with a slew of legislation affecting everything from probate law to crimes while wearing body armor.
The cigarette tax increase sponsored by Sen. Sammuel Sanes [Bill 31-0023] would generate about $435,000 in new revenue per year, with $377,000 from new cigarette excise tax revenue and $57,000 in new gross receipts tax revenue, according to an analysis by the V.I. Bureau of Economic Research.
The St. Thomas Chamber of Commerce opposes the measure.
Most senators supported the measure.
Sen. Janette Millin Young supplied the sole "no" vote, echoing the concerns of the Chamber that tourists may buy cigarettes elsewhere in the Caribbean.
"The amount we may earn I don't think justifies what we may lose."
Supporters pointed to limits on how many cigarettes cruise passengers can buy elsewhere, studies suggesting cigarette purchases are not much affected by small price changes, and the fact that V.I. prices will remain low.
"If you compare the price of cigarettes here and in Puerto Rico, they pay $62 to $65 whereas we pay $22 to $25, so it is still cheaper," Sanes said.
Senators also approved a bill [Bill 31-0115] sponsored by Sen. Jean Forde to relax V.I. public smoking restrictions to allow a "cigar factory" to operate a smoking, and possibly smoking and drinking, lounge for adults only. The bill would require such a business to have at least one cigar roller employed making cigars.
It also repeals the exemption from excise taxes on cigars. It will increase the cigar excise tax to 25 percent and require signs saying smoking is allowed and warning of the dangers of smoking.
The law relaxes a 2011 law restricting smoking within 20 feet of any business where indoor or outdoor service is being provided.
Current V.I. law allows smoking in private residences, unless they are used for child day care or hospice care. People may smoke in private clubs, private vehicles and retail tobacco outlets, so that a "cigar factory" that is also a retail tobacco outlet set up for adult smoking indoors may already be legal.
The bill appears to envision such establishments will sell alcohol, although it does not explicitly authorize it. It says that such a "factory" must employ cigar rollers and roll its own cigars; and that "not more than 60 percent" of the business' revenue can come from "sales other than cigar and tobacco products, such as … liquor and other beverages."
Another measure approved Thursday, [Bill No. 31-0179] sponsored by Sen. Almando "Rocky" Liburd, would change V.I. law to put a time limit of 180 days for an employee to file discrimination complaints with the V.I. Public Employees Relations Board. The bill was cosponsored by Sens. Justin Harrigan and. Myron Jackson.
Other legislation approved Thursday:
– gives government employees three hours paid time off to give blood;
– authorizes the transfer of Ditch Witch trenchers left over from the V.I. Next Generation Network's fiber optic project to the Department of Public Works;
– makes the theft of a minor's identity an aggravated offense and increases the penalties for aggravated identify theft;
– requires listing of federal grants applied for along with budget submissions;
– requires hospitals to give certain information to designated patient caregivers when patients leave the hospital;
– makes it a separate crime to commit a crime while wearing body armor;
– requires drivers and car dealerships to place license plates on both the front and rear of vehicles, instead of just the rear as is done now;
– requires the Health Department to compile a biannual report of all deaths to ensure that health, property tax and other benefits do not continue after the death of the proper recipient;
– reforms probate law to make it easier to leave bank accounts to the person the deceased wished to;
– increases the threshold between misdemeanor petit larceny and felony grand larceny from $100 to $500;
– encourages enforcement of an existing law making those responsible for damaging roads with heavy equipment liable to pay for repairs by splitting the proceeds from a $500 fine between the V.I. Police Department and the Department of Public Works;
– and clarifies that anyone who damages a public road is liable for the cost of repair and potentially subject to up to a $1,000 fine.
The Senate voted to hold legislation that would have exempted the judiciary from recent increases in pension contributions, and a bill to require landlords to prove they had paid taxes on rental income before filing an eviction notice.
Session continues Friday with more bills and resolutions under consideration.