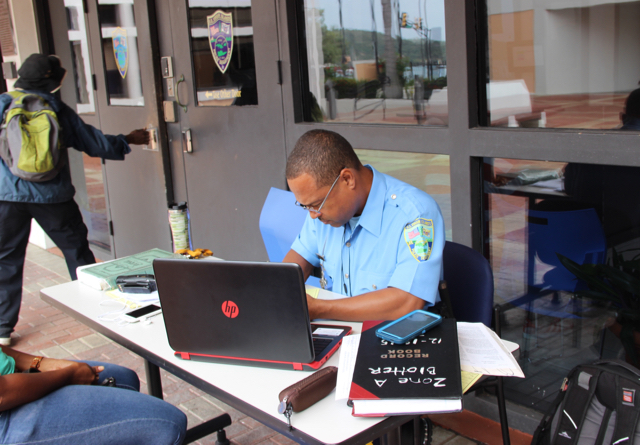 For reportedly the third time in a year, police officers who work at the Alexander A. Farrelly Justice Center in downtown Charlotte Amalie on St. Thomas are complaining of a foul odor in the building.
After an officer worked outside on Monday to avoid the odor, the Police Benevolent Association, V.I. Police Department, the V.I. Bureau of Corrections, and the V.I. Division of Occupational Safety and Health are meeting in the coming weeks to find a long-term solution to the issue.
Lisa Samuel, president of the PBA's St. Thomas-St. John District, said that a number of officers and other workers started noticing the raw sewage smell last Friday.
"We thought there might be feces building up in the basement and this isn't the first time. We're worried about our health and safety," Samuel said, noting there have been similar issues before.
Samuel said that some personnel who work at the center were concerned about the odor and where it was coming from. When the Source visited the building on Monday morning, cleaning compounds appeared to mask the smell.
Samuel said that a V.I. DOSH inspector came to the building Tuesday and identified clogged toilets in the building's jail as the source of the odor, a fact she said was confirmed by maintenance personnel who work in the building.
Andrews said that this was the first his office has heard of the issue, and added that a union representative tried to reach V.I. DOSH last Friday but did not leave a message. He said his department was not notified of two similar issues that police union representatives claimed happened last year.
The Source repeatedly attempted to make contact with the Office of the Police Commissioner on Monday and Tuesday, but did not receive any comment.
"We want to solve this issue, so business can move forward. We shouldn't have issues like this each time there's a surge at the jail," Samuel concluded.