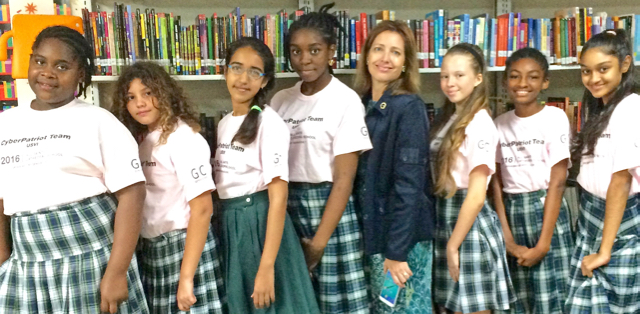 A group of 11 to 13 year old girls at All Saints Cathedral School are learning skills that may save your life in the future. They are members of the all-girl V.I. Kings Cyber Patriot team, the first and only Virgin Islands team participating in an international Cyber Patriot program.
The program is run by the U.S. Air Force Association, which hosts an annual National Youth Cyber Defense Competition. The team is coached by school librarian Rebecca Hoffart., and it could not be more important in her eyes.
"If you read the 2015 yearend news summaries," she said, "you may have noticed that last year was called "the year of hacks."'
Many high-profile hacking attacks hit the news in a big way, even at our national government's Office of Personnel Management, where sensitive data including fingerprints for more than 21 million federal employees and their family members were stored. The IRS, 15 million T-Mobile customers, and even a trusted password manager (LastPass) all were attacked.
Many national and international organizations, such as Code.org, GirlsWhoCode, BlackGirlsCode, and the National Center for Women and Information Technology, have recognized the critical importance of getting girls involved in Computer Science.
"I'm very passionate about that," Hoffart said. "We don't have enough young women of ethnic diversity participating in programs like this."
The Cyper Patriot program offers free registration for teams consisting entirely of girls, considered a minority team.
"This is the team's second year," she said. "Last year we came within a breath of the semifinal, despite being the first Virgin Islands team ever to represent in the international event. This year we have gone one better and officially received placement in the semifinal."
Last year's team, she said, did include boys, but the waiver of the entrance fee was the deciding factor this year.
And they practice. The competition is not for the weak of heart. The girls practice their skills twice a week in three or four hour sessions.
The team also received Cyber Patriot training in a Cyber Camp, organized by the University of the Virgin Islands and supported by a grant from the Cybersecurity Consortium of the Department of Energy's National Nuclear Security Administration Minority Serving Institutions Partnerships Program.
The competition puts teams of high school and middle school students in the position of newly hired IT professionals tasked with managing the network of a small company. In the rounds of competition, teams are given a set of virtual images that represent operating systems and are tasked with finding security vulnerabilities within the images and hardening the system while maintaining critical services. These are accomplished in six-hour sessions.
"Basically, Hoffart said, "what they do is put them in the shoes of an IT professional, in a real working environment. They use virtual computer systems during the competition round, and these are opened up. They investigate where these systems are vulnerable using spyware. For instance, some of these systems have permissions they are not supposed to have for an entry level user. That could be a problem. They are asked to investigate how they would make a server more secure, 'hardening' it's called, toughening up the defenses." she said.
The team members are: 11-year olds Mimi Boumedine and Iyana Frett; 12-year-olds, Kaylin Wallen, Drishti Tejwani and Sakhshi Parwani; and 13-year-olds J'Synyah Hyndman and Angela Blake.
On a recent afternoon they are seated comfortably on a rug on the floor of the All Saints library. All are clad in bright pink T-shirts supplied by the Genius Cove, a V.I. IT company, which is primary sponsor of the team. There are actually seven members, with an alternate backup, if needed to step in.
They are positioned like quiet little Buddhas. Until the conversation starts. They are more than eager to talk about their challenges.
So, how does the process begin?
"We would have different operating systems we're working on. It might be Ubuntu, Windows 7, Windows 8, or something different, and each team would work on a different system. We work in teams of two."
"There are three different virtual machines to work on, so we make teams that sit next to each other and talk together about what to do."
"Then," another member says, "we would look at the users, look for an unauthorized person, an entry level person maybe."
"We also download applications that are free off the Internet, such as MalwareBytes, and run those to make sure that what we are working with is secure," another offers.
There is a point system in place, Hoffart said. "Points are awarded as they progress, so they have an idea if they are going in the right direction."
They have an almost adult attitude about their challenges, a sort of adult aplomb, taking for granted their knowledge. They are comfortable with one another. Most of them have known each other since the first grade. They behave together like old married couples, almost finishing each others' sentences.
"We've been together for a long time, and we like it," another volunteers.
Do they have any outside interests?
"Well," one says, "I like marine biology." Another studies the saxophone.
But the bottom line is computer science. One girl got to the heart of the matter. "If I could do math all day, I would," she said.
Asked whether the girls would consider themselves "nerdy," Hoffart appeared surprised.
"I would say no, they do not consider themselves nerdy at all. The conception of tech-savvy individuals as 'nerdy' has changed a great deal People working in the tech field today are highly paid and respected in our culture, and this effect impacts young people as well."
"They have varied interests,: she said, "They go out for sports. They are interested in music, the arts."
They all plan, at this stage of the game, to pursue an IT career. They are very young, but they are focused. And they, at this early stage, have their eyes on the biggies. They said they would apply for internships at Microsoft or Google, or one of the tech companies. Eventually.
Hoffart, who has been the school librarian since 2000, also teaches computer skills in the elementary grades, even kindergarten.
"Using applications, sequencing, order, decision making, core concepts," she tosses off mater of factly.
Saturday, the team had an almost seven-hour session at UVI.
"It went very well," Hoffart said, "But we had some tough challenges with the malware that we had to get rid of. It was an official practice round."
Teams compete for the top placement within their state and region, and the top teams in the nation earn all-expenses paid trips to Washington, D.C. for the National Finals Competition, where they can earn national recognition and scholarship money.
The semifinals are Feb. 20 on St. Thomas. They will compete internationally against 230 teams in middle school division. Hoffart doesn't know yet if the semifinals will be held at UVI or All Saints School.
More information on the competition is online at www.uscyberpatriot.org.