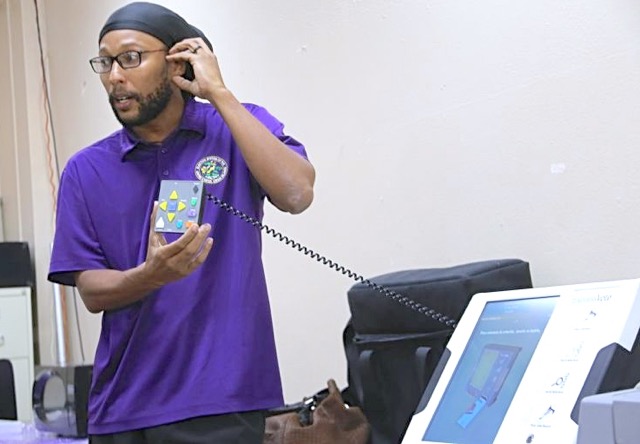 A couple months of school outreach has allowed the St. Thomas-St. John District to register four students to vote, but officials said this week they are hoping that another round of visits will see increased numbers and convince students to vote at home instead of participating in the 2016 presidential election.
So far, St. Thomas-St. John board members and the board's administrative assistant Angel Bolques have been to Antilles School, Ivanna Eudora Kean, University of the Virgin Islands and the St. Thomas Seventh Day Adventist School.
Each presentation, which lasts approximately a half hour, is meant to help juniors and seniors learn about the voting process and, according to Bolques, "the importance of voicing and voting their opinion."
The target is students that are 18 years old, or 17 year olds that will be 18 by the time of the next general election.
"So far, the process has been smooth and received well by the students," Bolques said at this week's visit to Seventh Day Adventist School. "The students are getting excited about the voting process, which is important to us, and while we have only registered about four students, we do hope for that number to go up as we continue to do this."
Bolques said many of the target students are getting ready to head to college on the mainland, just as the national presidential race is heating up.
"They probably want to get a piece of the action and they're thinking twice about voting here or not," he said.
Working to convince them, board members Alecia Wells and Lydia Hendricks explained to students what positions in the territory are elected, such as senators or the governor, and what impact those elected officials have on the state of the territory.
V.I. senators have the power to deal with important educational issues and Wells encouraged students to pay attention to upcoming hearings, or keep track of the news, so they could know who to vote for, Wells said this week.
"When you're doing class elections here at school, other students will come and tell you what they are going to do for you and the school, but they won't be able to get anything done unless you for vote for them," Wells said. "It's the same thing with our senators, governor and lieutenant governor; they have the ability to make decisions for the people and this territory and we want you to participate so we can have good leaders that help everyone in the territory so we can all achieve."
Bolques also gave students a rundown of the different voting machines the territory has used over the years, leading up to the Express Vote machine that is being introduced this year.
The Express Vote has features for the blind and hearing impaired, it can read the ballot out loud, and it uses touch screen calibration to make voting easy, Bolques said.
"When most of us use our cell phones, it's all touch screen technology, so everybody's used to this right now," Bolques said. "There's also an upgrade to this on the market where you vote by phone, using a link that you can scan your phone over and confirm your selections."
Students also get the chance to test the machines out themselves and Elections officials went over all the documents they will need to bring in to the system's offices in order to be able to register to vote.
Bolques said next week, the board will be heading to Gifft Hill School on St. John, Charlotte Amalie High School and Sts. Peter and Paul before heading back to finish up at Eudora Kean.