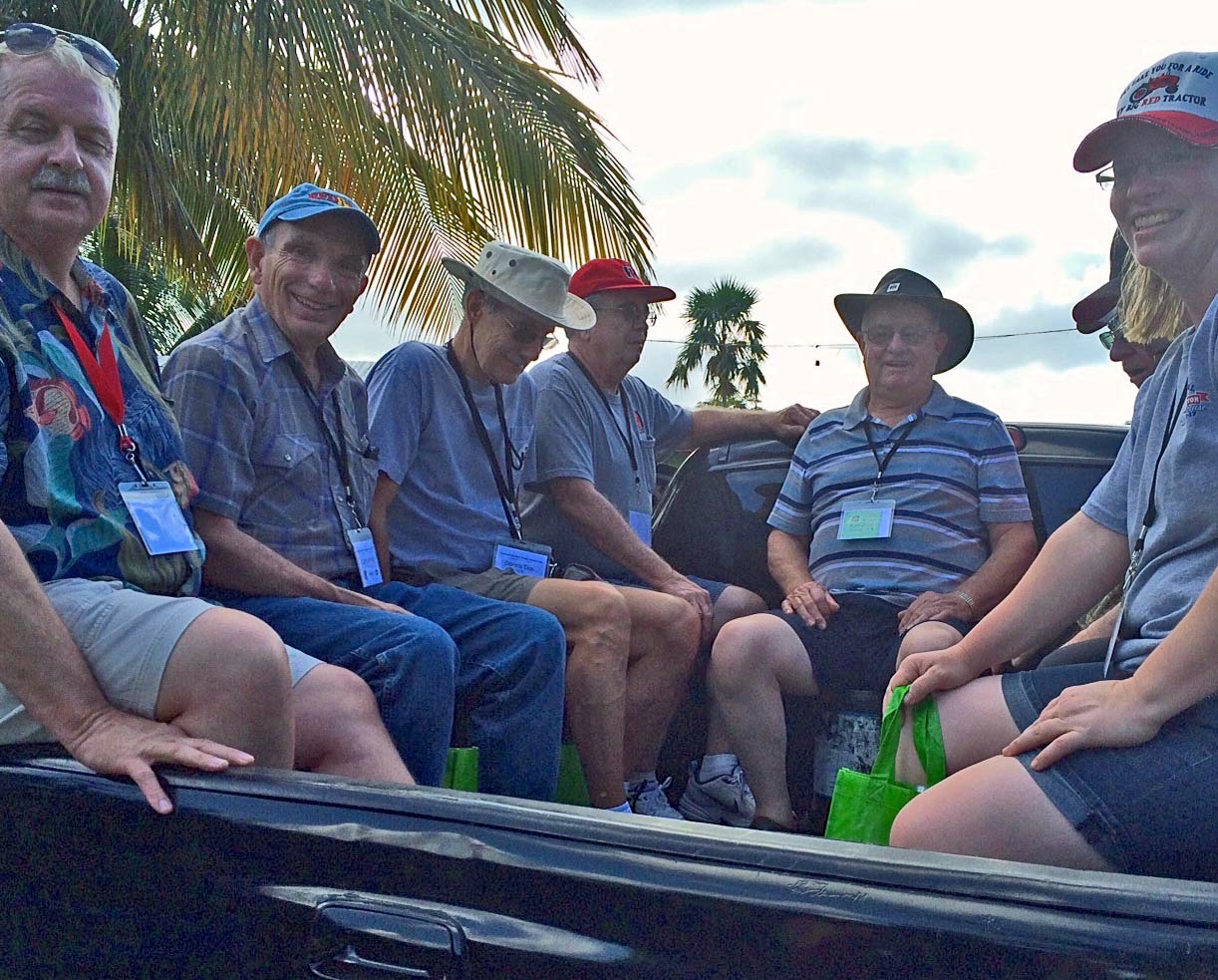 About 75 U.S. farmers were the guests of the Bordeaux farming community Wednesday afternoon to compare notes on local farming versus stateside.
It was a mutually beneficial exchange. The statesiders were full of wonder and questions, and the local farmers were happy to oblige.
The farmers who hailed from Michigan to Colorado, leaving almost no state unrepresented, were on a cruise aboard the Royal Caribbean Freedom of the Seas, offered by the national television show "Small Town, Big Deal" and sponsored by Vintage Tractors.
"What's this tree?" one of the newcomers asked, pointing to a Moringa growing on the Bordeaux hillside. "I'll go get you some leaves," said a Bordeaux farmer, as the group gathered around.
"This is a called the tree of life," said farmer Willie Edmond. "It heals everything. In fact, Fidel Castro used it and he's pretty old now."
"Really?" asked farmer Larry Minnis. "
Well, that's what they say," Edmond replied.
Eldridge "Sparky Thomas, president of "We Grow Foods," which hosted the group, spoke about the differences in local farming. "We have 200 acres, and I know that's nothing to you, but we have an advantage – we can farm 365 days a year."
Thomas spoke about local fruits and vegetables, everything from bok choy to mangoes and pineapple, and how difficult it is to grown things in our soil.
"We till by hand," he said, lamenting our lack of equipment.
Thomas said he wished they would have been here this weekend for the annual Bordeaux Vegan Food Fair. "Then you'd really get an idea of what we can do," he said.
Kevin and Trudy Bell, from Keeneburg, Co., marveled at the unity of the farmers. "I've never seen anything like this," Kevin Bell said looking at the market itself, with all the gaily colored booths.
"We don't have anything like this. We might have a farmers market in a parking lot but nothing like this. You know, farmers are independent by nature."
Bell was visiting with his parents Bill and Carol Bell, retired farmers. He said they grew different crops, sugar beets, corn, alfalfa and barley for Coors Brewing Company.
Benita Samuel of We Grow Foods offered tours of a few farms if anyone was game enough to climb into the back of her pickup. She immediately had her hands full as the statesiders clambered aboard. The entire Bell family was first on.
Amid cautions to drive carefully from some wives who remained, they took off down the hillside.
Samuel said later they really enjoyed the tour. "We visited three farms. On one we showed them how to cut sugar cane and gave them some, and then we had sorrel drinks at my farm. They were really impressed. They said they had never seen such hard-working farmers!"
Billie Crawford, of Topsails, which conducted the tour, said she was delighted to show another side of St. Thomas. "Our beaches are wonderful, but it was so thrilling to be able to show what the farmers do," she said.
Writing a text to Samuel, Crawford said, "Thanks to you all, these farmers will take the insights you shared with them to view St. Thomas as not just another tourist destination solely beaches, but much, much more."