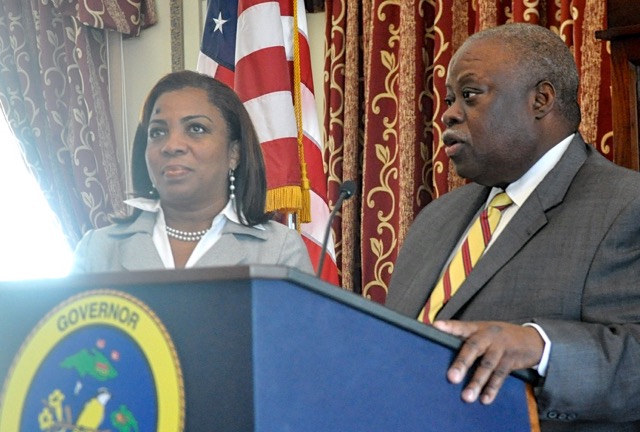 At a press conference held at Government House on Tuesday, Gov. Kenneth Mapp announced the implementation of owed salary increases for 1,008 government employees in seven different departments effective Jan. 1, 2016. More increases will follow shortly, the governor said.
The pay increases, which are owed under the stipulations of current collective bargaining agreements that have long been postponed, come primarily as a result of the V.I. Government's deal with Arclight Capital Partners LLC for the sale of the former Hovensa facility on St. Croix.
Mapp said that revenue brought in from the Arclight deal should allow the government to fund its day-to-day operations, not including capital projects and infrastructure investments, for at least three fiscal years without having to borrow money. Some of the windfall has already been used to issue back-owed income tax refunds, make payment on the government's line of credit, and fulfill outstanding streetlight obligations to the V.I Water and Power Authority.
"There is some growth in the revenue stream. We are resolving some issues of monies that are owed to us and we believe that we can at a certain level allow an increase in the budget of the Government of the Virgin Islands without busting the budget," said Mapp.
The first government salary increases, amounting to approximately $7.4 million, will be implemented for employees working in the Bureau of Internal Revenue, the Division of Personnel, the V.I. Police Department, the Department of Licensing and Consumer Affairs, the V.I. Fire Service, the Department of Agriculture and the Department of Finance.
"These are the first seven government agencies that we have been able to reconcile and can say with some assurance exactly what is owed," said Mapp. "We will now begin the process of implementing the increases pursuant to those collective bargaining agreements that are enforced and where monies are outstanding."
Some employees affected by the increase have not received a raise in 10 years according to Mapp. He said the implementation does not affect money owed to government employees retroactively, but aims only to bring salaries up to date with current agreements.
In addition to meeting collective bargaining agreements for unionized employees, Mapp has instructed his financial team to do an analysis of nonunionized workers in the same seven departments to see what is owed them based on a merit system.
Mapp said further raises will be rolled out by department, but he was not willing Tuesday to say which ones will be included in the next round of increases.
"I can say with reasonable confidence that in very short order we will be announcing additional agencies," he said.
Mapp's announcement followed his introduction of Natalie Nelson Tang How, his nomination for the position of chief labor negotiator within the Office of Collective Bargaining. Previous Chief Negotiator, Valdemar Hill Jr. retired in October. Attorney Joss Springette has served in the position in the interim.
Tang How is a lawyer based on St. Croix with a concentration in labor, employment and civil rights law. She served as legal counsel and director of labor relations for the V.I. Department of Labor from 1996 to 1999.
Also at Tuesday's press conference, Mapp introduced Government House's new director of communications, Nicole Bollentini, former chief of staff for Sen. Almando "Rocky" Liburd and communications director for former Sen. Shawn Michael Malone.