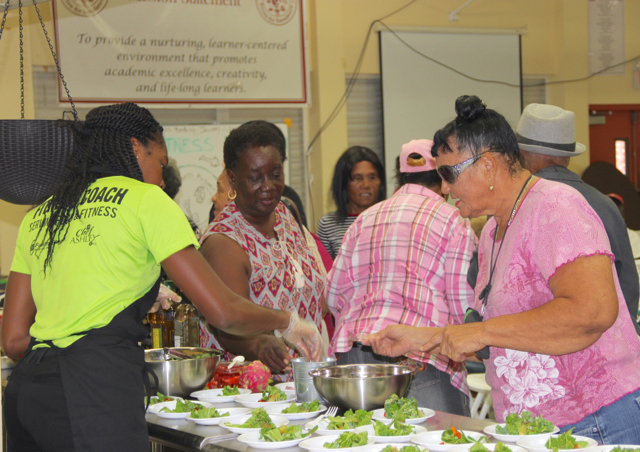 Hundreds of V.I. government retirees invested in their health and wellness by attending a produce giveaway and cooking demonstration on St. Thomas on Saturday morning.
The "Providing Wellness with Fruits and Vegetables" event was sponsored by the Virgin Islands Government Employees Services Commission Health Insurance Board and UnitedHealthcare insurance company, in partnership with Government Retirees United for Fairness, Greenridge Guavaberry Farm and V.I. Fitness Kitchen.
All V.I. government retirees over 65 years old were encouraged to attend the health fair. According to the event's organizers, there are about 2,000 government retirees on St. Thomas and St. John. More than 350 of them attended Saturday morning's event.
Hosted at Addelita Cancryn Junior High School, retirees were treated to a reusable grocery bag full of an assortment of fresh items such as kale, spinach, avocado, eggplant, sweet peppers, green onions, lemongrass, bananas and bush tea.
The produce was provided by Greenridge Guavaberry Farm, a family-owned-and-operated 17-acre farm in Estate Bordeaux on St. Thomas. The farm's owners wrote a proposal to UnitedHealthcare to get funding and support for the fruit and vegetable giveaway.
"After working for the V.I. Department of Agriculture for over 30 years, my father wanted to provide fresh, local produce to the people of the Virgin Islands," said Alani Henneman Todman, vice president of Greenridge Guavaberry Farm and daughter of its founder, Myron Henneman.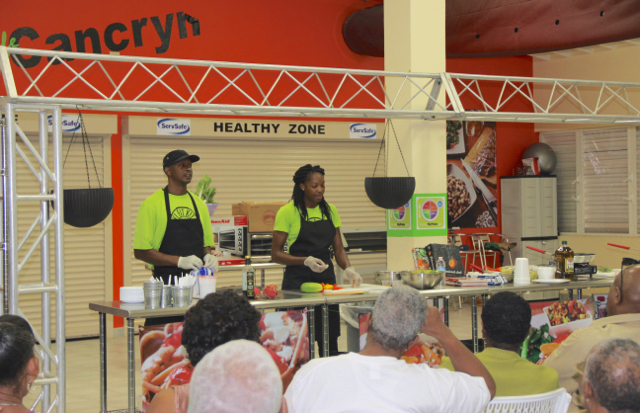 After retirees received their produce bags, chef Ashley Allen Jr. and fitness coach Elaine Joseph of V.I. Fitness Kitchen, gave a lively cooking demonstration in which retirees were instructed on how to prepare healthier food, including what the best types of salts and oils are to use.
Allen Jr. and Joseph prepared a fresh lamb stew with carrots and potatoes, accompanied by a salad dressed with a homemade sorrel vinaigrette, which seemed well received by attendees. Retirees were also given recipe cards with ideas for what to do with the produce they received.
"Chef Ashley cooks with lots of fresh herbs, spices and olive oil, because they're good for you," Barbara Isaac, GRUFF board member, said. "We weren't fed a lot of vegetables as children in the Virgin Islands, so this an adjustment for a lot of us," she said.
To make vegetables more appealing, Allen Jr. recommends adding curry spice to vegetables and trying to always balance sour and sweet tastes to make food more palatable. He also said a little cornstarch does the trick for sealing more moisture into meats like chicken, so they don't dry out.
"We're very excited about the turnout and by how engaged people were by the cooking demonstration. They asked lots of questions about how to prepare food more healthily and they want the event to happen next year," said Beverly Joseph, chairperson for the GESC Health Insurance Board.
Celia McEvoy, a retired government educator and assistant principal, felt the cooking demonstration was really informative.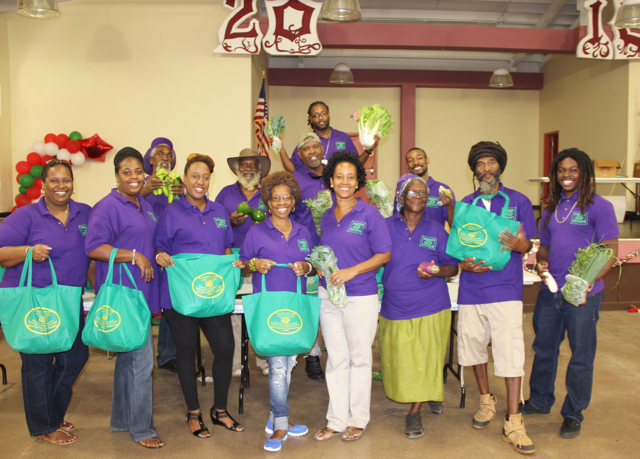 "I learned that I bought the wrong oil from the store, corn oil, and I didn't know about the different health values of salt and that we should stay away from the iodized kind," McEvoy said, adding that she plans to implement these new tips into her daily diet.
The event's organizers emphasized the importance of their sponsors and partners.
"We can't thank United Healthcare, GRUFF and Guavaberry Farm enough for participating in the event and we hope it happens again next year. GRUFF is really instrumental in reaching out to the government retiree population" said Lori Anderson, retiree representative on the GESC Health Insurance Board.
A similar produce giveaway and cooking demonstration held Friday on St. John drew about 60 government retirees.
Sponsored by UnitedHealthcare's wellness program, V.I. Fitness Kitchen will hold exercise and cooking classes for government retirees older than 65 starting in January. The classes were first run from July to November of this year with great success and turnout.
More information about the fitness and cooking classes is available by calling Lori Anderson at 340-693-3810 or Barbara Isaac at 340-690-1704.