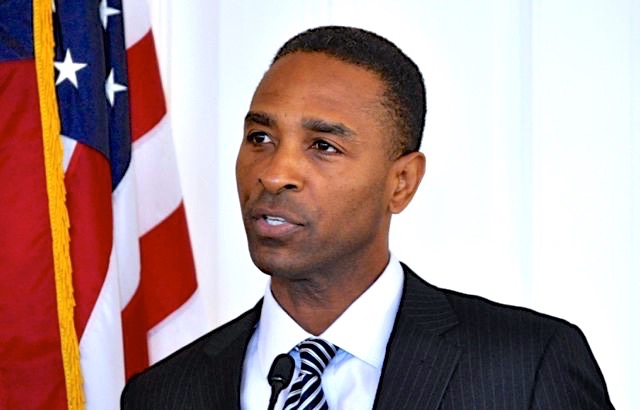 The Legislature confirmed Attorney General Claude Walker, who has been serving in an acting capacity since August, along with several of Gov. Kenneth Mapp's nominees to top departmental posts and volunteer commissions and boards during session on Tuesday.
"I won't let you down," Walker said after the confirmation vote. "I think you've had a fair opportunity to see some of the ideas that I have." He pointed to his decision to file suit against Hovensa and its owners for breach of contract and said that action helped lead to a much more lucrative sale for the territory.
"A year ago this body was looking at selling Hess for $40 million – chump change. Tomorrow you are going to consider whether it should be sold to ArcLight for $800 million. That was a direct result of the lawsuit filed Sept. 12 against Hess, because we took the position Hess violated the laws of the Virgin Islands," Walker said.
Walker was a prosecutor in the V.I. Department of Justice from 2007 until 2011, when he left to work as senior legal counsel for ScotiaBank USVI. In 2014, Walker was associate regional counsel for litigation at the U.S. Department of Housing and Urban Development. He has also worked in Washington, D.C., as an environmental attorney at the U.S. Environmental Protection Agency and as a policy advisor at the U.S. Department of the Treasury's Office of Terrorism and Financial Intelligence. He has a law degree from Albany Law School.
The Legislature also confirmed Rick Mulgrav as director of the Bureau of Corrections. Mulgrav's career in Corrections began in 2006 with the Gwinnet County Sheriff's Office in Georgia as deputy sheriff. He operated in various capacities such as maintenance security, court security, housing units, outside details, shift supervisor, the special weapons and tactics unit and, finally, from 2014 until coming to his present position, as special projects coordinator.
Fire Director Clifford Joseph was also confirmed.
Joseph, a 20-plus V.I. Fire Service veteran, has been serving as acting director since July. He began his career as a firefighter and moved up the ranks to fire corporal in 2003, fire sergeant in 2005, fire lieutenant in 2009, and most recently fire captain, fire marshal in 2012.
A graduate of the VIPD Post Peace Officer/Law Enforcement Training Certification, Joseph is certified in Hazmat first responder awareness, conflict resolution, national wildfire incident command, fire science and a certified responder for weapons of mass destruction, among other qualifications.
The Senate also confirmed Aracelis Bermudez-Walcott to the Gov. Juan F. Luis Hospital Governing Board. Bermudez-Walcott has held an array of V.I. government positions over a career spanning 1966 through 1999 and served as assistant commissioner of Health from 1994 to 1999.
She has a bachelor's degree in psychology from Catholic University, Ponce, Puerto Rico, and a master's degree in health administration from the University of Puerto Rico and Clark, Atlanta University.
Senators approved Oran Bowry to the University of the Virgin Islands Board of Trustees. In the 1990s, Bowry held several administrative positions in the V.I. government, in the Labor Department and Human Services Department, and held the post of chief labor negotiator from 1995 to 1998. From 1999 to now, Bowry has worked for Banco Popular de Puerto Rico, and is currently senior vice president and division manager for the Virgin Islands region. He holds a master's degree in business administration from UVI and a bachelor's degree in labor relations from Rutgers University in New Brunswick, N.J.
Joyce Dore-Griffin was approved to a post on the V.I. Taxicab Commission. Dore-Griffin is also a member of the West Indian Co. Ltd. board and sister-in-law to Gov. Kenneth Mapp.