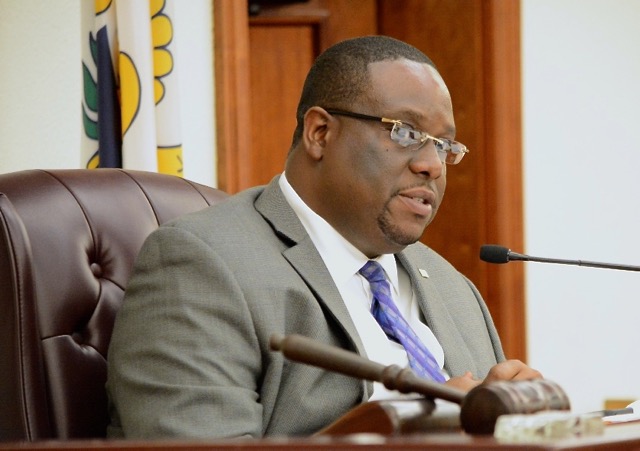 Senators will no longer be able to hold up another senator's bill anonymously, if legislation sponsored by Sen. Kenneth Gittens becomes law. The Senate Rules and Judiciary Committee, which Gittens chairs, sent the measure on Monday for a final vote before the full Senate on Tuesday.
Senate President Neville James introduced the measure, saying it would amend a rule of the 31st Legislature first approved when it took office earlier this year. The rule was carried forward from previous legislatures.
The proposed new rule would say the Legislature's staff must disclose to the preempted senator the name of the preempting senator, and vice versa, James said. Because bills are posted on the Legislature's website, "it is not about secrecy, but to allow senators to work together," when preempted on bills.
Several senators said the existing rules created frustration.
Sen. Janette Millin Young said the bill "would promote openness."
Sen. Jean Forde said the status quo creates frustration. He said he has "had a number of bills that were preempted" and was "frustrated by not knowing by whom."
Sen. Justin Harrigan agreed, saying he felt "victimized" and "disturbed by not knowing who preempted" him. "I can only see good coming out of this bill," Harrigan said.
The issue of secret preemption was raised in the public eye after pay raises for the Senate and governor were passed in 2006, and then efforts to roll them back were preempted anonymously. In that case, the anonymous senator preempted other legislation to roll back the pay raises but never introduced his or her own measure, effectively blocking the legislation. (See 'Pay Raises Could Be Repealed During Next Session, Sen. Nelson Says' in Related Links below)
Since that time, the Legislature's website began making every bill available through a search engine on its website, if the bill has been drafted and if one can come up with the right search terms.
Voting in favor of the measure were James, Forde, Harrigan, Gittens, Millin Young and Sen. Novelle Francis. Sen. Nereida "Nellie" Rivera-O'Reilly was absent.
The Rules and Judiciary Committee also sent on eight other measures.
The Casino Control Commission, the body that regulates the territory's sole casino at Divi Carina Bay Resort, will be reduced in size from five members to three members, if legislation heading to the Senate floor this week is enacted into law. The measure was tacked onto a bill appropriating $15,000 for renovations to the V.I. Olympic Committee's offices when that bill was heard in the Finance Committee. It would also change the quorum of the commission from three to two members. The Casino Control Commission is the only full-time V.I. regulatory commission with salaried members.
James, the bill's sponsor, recounted the history of the commission, saying it was created in 1995 as part of an effort to promote casino development on St. Croix. But in the 20 years since its inception, there had only been one casino. The commission costs money to run and needs qualified candidates, he said.
With the change to the commission, "we are dealing with some money issues as well as policy," James said.
The commission currently only has three members, so the immediate, practical impact of the measure would be to make it easier for the commission to make its quorum. Currently all members must be present to make quorum and act on any matter, while under the proposed change, two of the three members could meet and act.
Another measure sponsored Sammuel Sanes puts unlicensed possession of assault rifles in the same category as machine guns and sawed-off shotguns, and prohibits probation, parole or reduced sentences for those caught with them.
Sanes recalled several recent shootings in the territory while introducing the bill.
"Given the fact that in recent weeks we have seen an uprise in crimes dealing with these types of weapons … I think it is prudent and timely," Sanes said. While it will not eliminate violent crime, "we can consider it a tool for law enforcement," he said.
The committee members strongly supported the proposed law.
"This [bill] seeks to strengthen our local laws here," Gittens said. "However, what's really puzzling, especially in our community, is how so many of these types of weapons are coming into our territory. This isn't the time for a blaming game, but it is certainly the time for all of us, federal and local, to get together collectively and get a handle on this situation," he said.
Millin Young said, "This adds to the cache of strong laws that we have to figure out a way to keep people from taking each other's lives."
Chief public defender Samuel Joseph testified against the new law when senators first debated it in November.
"To remove the discretion currently afforded to judges will have a devastating impact on our community," Joseph said in November. "The trickle-down effect results in fatherless and motherless homes and further serves to cripple our community."
"If the purpose of the proposed bill is to curb gun violence, removing discretion to help individuals who have not been engaged in gun violence is not the answer. The proposed bill in its current form will have ramifications that do not foster the growth of our community," Joseph said in November.
The committee also sent on a bill from Sen. Marvin Blyden to allow government employees to bid on used government vehicles when they are sold at auction. The bill would limit any one bidder to purchasing no more than two vehicles at any one auction.
Francis introduced the bill and said the legislation is a mechanism to dispose of vehicles and "possibly raise a small amount of money." He said he felt it "would be prudent," for individuals to refrain from purchasing vehicles being sold by their department.
James suggested amending the bill in session Tuesday to disqualify government workers from bidding on vehicles in their own department.
Voting for the bill were Forde, Francis, Gittens, James and Millin Young. Harrigan and Rivera-O'Reilly were absent.
Also sent on was a bill from Sanes and Sen. Kurt Vialet to establish a daytime curfew for school-aged children. The measure would stiffen fines for truancy, raising them from $25 to $100 for the first offense and $500 for subsequent offenses. It would enable police to hold a child until his or her parents came to pick the child up. And it would enable police to turn a child over to the commissioner of Education. It contains exemptions for home-schooled children.
The committee also approved a bill sponsored by Sen. Neville James, appropriating $35,000 from the Casino Revenue Fund as matching funds for a USDA grant to help support farm-to-school education training.
The funding will pay for a two-year training program for farmers and teachers on food handling practices and farming education.
The Rules Committee also approved:
– a bill sponsored by Harrigan to require the V.I. Fire Service director to determine occupancy levels for businesses and to require businesses to post the occupancy limits prominently;
– a resolution to honor and commend Irvin "Brownie" Brown for over 50 years of radio broadcasting service. Brown has broadcast on air on WSTA radio for 50 years.