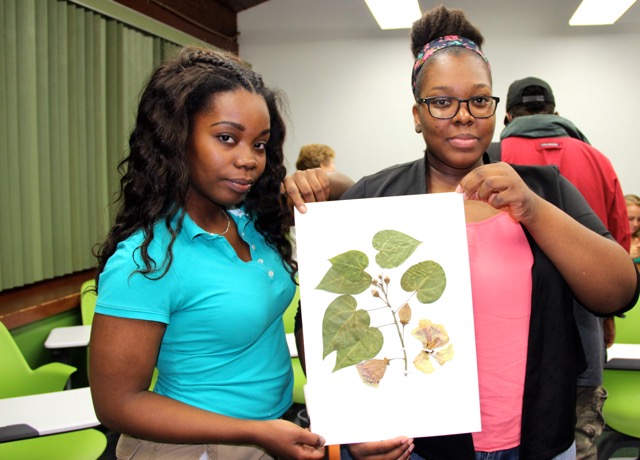 On Monday evening students in an ethnobotany class at the University of the Virgin Islands presented first-of-its-kind research for the territory that explores the relationship between its diverse plants and people. The project is helping build momentum for more research of this nature in the islands.
Ethnobotany is a cross between ethnology, or the study of culture, and botany. It largely centers around how humans value plants, drawing on beliefs, culture and language. Working together as a group, the 28-person class collected local plants, developed research questions, interviewed local elders and completed a literature review.
"This is the first time this type of research has been done on this level in the V.I." said the course's professor, Sandy Wyllie-Echeverria. According to him, the objective of the class was to acquaint students with the theories and methods that set ethnobotany apart as a unique science.
A few other works have been written on plants and their uses in the V.I., namely
Traditional Medicinal Plants of St. Croix, St. Thomas and St. John by Tony Thomas, as well as Herbs & Proverbs of the Virgin Islands by Arona Peterson, but they haven't been done in a scientific format like the student-led research.
For the project, the students randomly selected five plants – aloe vera, pigeon pea, genip, hati, and worm grass – all of which grow in the V.I. but are of African origin. Choosing African species allowed students to understand the cultural ties that former slaves must have had to them when they brought the plants to the Caribbean.
From there, the students collected samples of the plants from around the UVI campus in order to create dry plant pressings on paper, which preserve their look and color. The students scientifically described each plant's anatomy, noting things like the shape and color of leaves, stems and flowers.
"When you're pressing plants, it's an art. People do this for a living, because they want to preserve it for future generations, to keep it for years to come," said Krislen Tison, a senior studying biology and genetics.
The students carefully designed the interview questions per guidance from an ethics review board that advised the students on how to write open questions that don't probe the person being interviewed for a specific answer.
The pressings were then shown to elders in the St. Thomas community who where chosen because of their knowledge of local plants. All the plant pressings were laid out on a table in front of the interviewees while they were asked questions like, "What do you call each plant you recognize" and "How is this plant used?"
One student in the class interviewed his grandmother, who recognized the pigeon peas right away. She said they generally grow along fences and she knew about them, since she prepared them in soups before. Her advice about genips? "Don't eat too much, they'll back you up," she said.
"It seems like a lot of the information has skipped a generation, since many of the students spoke with their grandparents and not their parents," Wyllie-Echeverria said.
Another interviewee identified aloe and said it was good for everything like hair, burns and stomach issues, while noting pigeon pea is effective at treating mouth sores.
A literature review rounded out the project, with students finding that there haven't been any ethnobotanical academic papers written on the V.I. and that more Caribbean-focused academic papers have been published since 2000, an indication of the growing interest in the field.
"When this special topics class opened, we all rushed to sign up for it," said Tison. "The content was phenomenal and all the theory we used has real world application," she added.
Jamisha Francis, a junior studying biology, said she enjoyed the class, since it was relative to her culture. "We also learned about cultural relativism and why it's important to have respect for all viewpoints," she said.
Antonio Farchette, a senior studying marine biology, said what he learned in the class will help him in his career. "I can see using the plant pressing method if I collect and study marine plant species," he said.
Working with the students, Wyllie-Echeverria plans to turn this research into an academic paper. He also hopes to continue doing ethnobotanical research in the V.I. and to hold a public discussion on the subject in early 2016.
"I really think there's an opportunity to build on this research and learn more about the history of the people of the territory's relationships with plants," he said. "I'm immensely proud of my students for what they accomplished together."