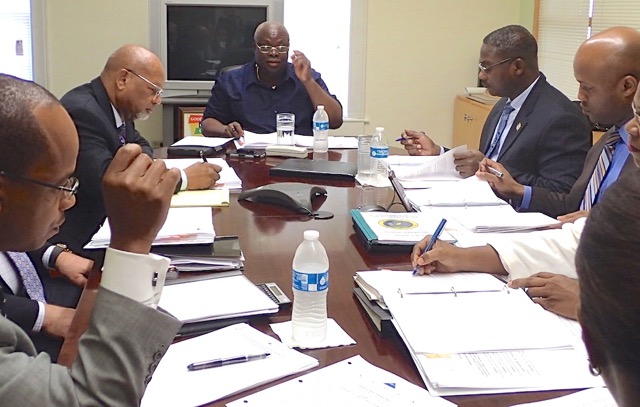 Gov. Kenneth Mapp, in his role as chairman of the Public Finance Authority, postponed pursuing a $500 million debt restructure proposal at a meeting Wednesday at the PFA Christiansted office, saying the territory will have an operating agreement next week for new owners of the shuttered Hovensa refinery.
"We are going to have a significant change in the financial situation of the government and not to the negative," Mapp told PFA board members.
PFA Executive Director and board member Valdamier Collens and PFA financial adviser Andre Wright described a plan to engage Morgan Stanley financial services to craft a way to save $55 million a year and add a $100 million cushion, or "liquidity" to the government's budget.
Simplified, the idea is to refinance debt over a longer period of time – as long as 20 years – increasing cash flow by $55 million annually and free up funding for capital improvements, according to Wright.
Collens said the cost to replace the short-term debt with long-term debt would be about $43 million.
The actual debt numbers were not given. In fact, Mapp cautioned Wright more than once against stating the amount.
"I do not want you blurting that number out," Mapp said twice.
After determining that the proposal involved hiring Morgan Stanley to put together a debt restructure plan and then implement it for a fee, Mapp advised waiting until the next meeting because the territory's "view … may be different in the next 10-12 days.
"You have more to lose if you wait," Wright cautioned.
The board agreed with Mapp not to take any action.
Collens and Wright also presented information about issuing $102 million of Grant Anticipation Revenue Vehicle (GARVEE) bonds to fund roadwork throughout the territory. Interest rates are low and the bonds received a Standard and Poors "A" rating, they said. The board approved the bond issuance and $58,000 in payment to Standard and Poors for rating services.
Mapp said, "This means that beginning early 2016, we will begin major road constructions projects. Fifty-one million of this sum is slated to be spent on the island of St. Croix."
GARVEE bonds are backed by federal highway grants and not V.I. government revenues, he added.
Also approved was a contract for Architect William Taylor for up to $36,000 for design and supervision of improvements to Government House in Christiansted and Frederiksted. Mapp said the $300,000 in improvements, already approved, will include roof repairs, historic lighting replacement, insulation of air conditioning systems, and replacement of broken and chipped bricks.
At Collens request, the board approved a contract for Ernst and Ernst of Puerto Rico to continue providing audit services and a $250,000 marketing contract to advertise the V.I. Next Generation Network for another year.
Several government agencies requested funds that were approved by the board: the Finance Department will receive $500,000 towards renovations; the Bureau of Corrections will get $275,000 for exhaust fans for the prison; and $175,000 was approved for repairs to the Frederiksted waterfront, Veterans' Park and the Vincent Mason pool.
During a discussion about payment to the Gaffney Cline, energy consultants to the Virgin Islands, for the Hovensa sale, Mapp said the fee will be paid at the closing unless the transaction collapses.
"As of this morning, there is no collapse in sight," the governor said. " We hope to finalize the agreement this weekend and announce it next week."
Board members attending the meeting were Mapp, Collens, Nellon Bowry and Keith O'Neill Jr.