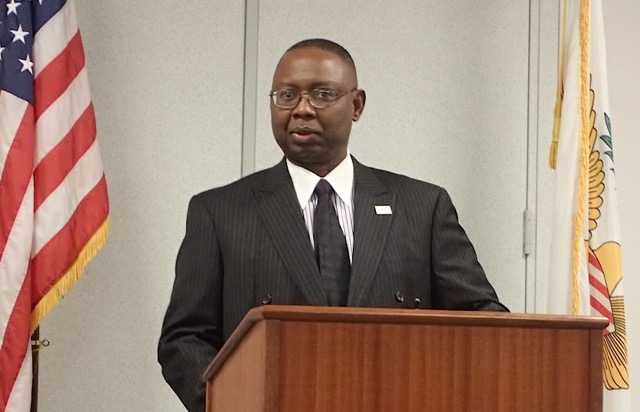 The Gov. Juan F. Luis Hospital board and administrators held a press conference Wednesday morning to elaborate on changes in top management announced at the board meeting Tuesday night.
The former chief executive officer, Dr. Kendall Griffith, assumed the top position in January 2013. He managed the facility on an interim basis until September 2014, when he was given a one-year contract.
During his tenure, Griffith managed the hospital through dire financial crisis and a threat of decertification by the Center for Medicare and Medicaid, the federal agency that reimburses hospitals for its subscribers' patient care.
"As a result of his indubitable and unfailing tenacity, Dr. Griffith averted decertification by CMS and led JFL as it embarked on a journey of radical change," said Troy de Chabert-Schuster, board chairman.
The new acting CEO, Ken Oranefo Okolo, the hospital's chief operating officer from January of this year until Wednesday, has an education and experience in health care management.
Okolo, who has helped implement some of the changes required by CMS to regain certification, said he plans to fulfill the mission outlined in the hospital bylaws to provide compassionate and quality care for residents and other patients.
"The goal to provide compassionate and affordable care will drive all our decisions," he said.
Passing a CMS inspection is the first looming task, and Okolo said he looks forward to it so JFL can move forward.
The federal agency requested an extension of the hospital's systems improvement, Okolo said, and inspectors should show up before Dec. 31.
Okolo has submitted his resume to be considered for the permanent CEO position and said he has already made plans and laid strategies. He told the Source he will focus immediately on attracting quality physicians, physician assistants and registered nurses so there is enough staff to provide quality health care.
He said he will follow the hospital's five-year strategic plan and will follow a leadership plan for managing the St. Croix hospital.
"I subscribe to what is called participatory leadership in which you seek input from your support team and ultimately make a decision," he said. "The buck will stop with me."
With input and guidance from the executive team and staff, Okolo said he will make decisions using "mission-centered" not "person-centered" methods.
"So my activities will be guided by the strategic plan," he said, adding the formal five-year plan will be available to the public and media soon.
Because the facility is more than 20 years old, Okolo said, the infrastructure will be evaluated comprehensively for necessary repairs and renovations.
Okolo graduated from Lagos University, Nigeria, with a degree in chemical pathology. He earned a master's degree at Trinity University in San Antonio, Texas, and a Ph.D. at Century University in New Mexico. He is board certified in health care management.
Before he took the position as JFL's COO in January, Okolo was a senior director/vice president of clinical affairs at Network Health – a subsidiary of Cambridge Health Alliance – an affiliate of Harvard University Medical School.
Okolo also held positions as COO at Mount Vernon Hospital in New York and was the director of quality oversight at the Bureau of TennCare, the state of Tennessee's health care program.
He has served as adjunct professors at the Meharry Medical College in Nashville, the New York Medical College in Valhalla, N.Y., and the University of Tennessee in Knoxville.
According to de Chabert-Schuster, the process to fill the full-time position of CEO has begun and more than 40 applications have been received. He said the board hopes to have someone hired and in position by Mar. 15, 2016.