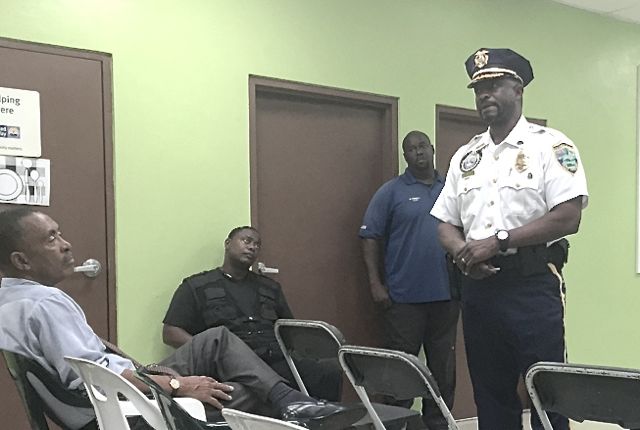 Officers of the V.I. Police Department's Crime Prevention Bureau appealed to residents of Savan on Thursday to help them get a handle on crime in the neighborhood, which they said has been rising recently after a decade in decline.
The officers met with the community at a town hall style meeting Thursday evening at the Romeo Malone Center near the Savan basketball courts.
According to Officer Maxwell Carty, co-operation and communication between Savan residents and the VIPD's Crime Prevention Bureau helped dramatically decrease crime in the neighborhood from 2002 to 2012. During this period, Carty said, crime fell so much that VIPD officers even stopped discouraging tourists from visiting Savan, one of St. Thomas's most historic areas.
"But now Savan is kind of getting out of hand again," said Carty.
According to Carty and his Crime Prevention Bureau colleague, Officer Michael Turnbull, a decrease in resources at their bureau is partially to blame for the resurgence in crime in Savan.
During the years in which Savan's crime rate decreased, Turnbull explained, the neighborhood had the nearly exclusive attention of five officers in the Crime Prevention Bureau. Now that bureau consists of only three officers in the St. Thomas-St. John district, and one is assigned only to St. John. While Carty and Turnbull remain committed to Savan, they say, they also have other communities under their jurisdiction including Tutu High Rise and Smith Bay.
But Carty said another issue is that Savan residents have not been as forthcoming with information as they were in the past.
"I think we're laxing a little bit because the information we used to get is not coming forward like before," he said.
Special Assistant to the Commissioner Kenneth Blake agreed that crime in the area is being underreported. He said that despite Savan residents saying they are being terrorized by constant gunfire, the police only have records of four reported gunshot incidents between April and June of this year.
Feedback from Savan residents at Thursday's meeting suggested that number does not reflect the neighborhood's reality. Resident Viusa Powell reported she has three bullet holes in her roof and she's seen school children in Savan playing with bullet shells they find during recess.
"The playground is full of shells," she said.
Carty and Turnbull suggested that their bureau's decrease in manpower is resulting in a lack of police visibility in Savan, and this in turn is leading to a decrease in faith in law enforcement.
But multiple residents said that many people are not reporting crimes because they fear retaliation from criminals.
"I had an incident one time where I reported to a police officer that certain guys in the area of Savan were doing certain things," one resident recounted. "One day I was walking down the street and a guy said to me 'you're a snitch, I thought you were a Savanero.'"
Powell said, "Everybody in here knows what's going on but they're afraid to say." Powell said her son was murdered two years ago. "My neighbor got robbed the other day. To me they fire these shots to intimidate us to keep our mouths shut."
Nadine Marchena Kean, who often works in the neighborhood in her role as director of the Enterprise and Commercial Zone Commission, mentioned a recent incident in which she and another individual both made calls to police to report suspicious activity only to find that no officers responded.
Eugene Alcindor, acting deputy chief of St. Thomas, appeared to be shocked by Kean's story and said that the office of the chief would be very interested in hearing about incidents of that sort.
Savan resident Edith Cameron said gunfire is particularly bad in the neighborhood on New Year's Eve, when shots are fired in celebration at midnight.
"It is so bad that many of us refuse even to go to church on Old Year's Night because we're scared to come home. The shots are dropping on the church roof," said Cameron.
Alcindor said Cameron's concern was very valid because bullets fired carelessly in the air can cause loss of life. He said the VIPD has recently invested in a technology called ShotSpotter, which will help officers better detect the exact location from which shots are fired.
Blake also said he wanted to correct a false rumor at the meeting. He said he had heard it being said recently that the security cameras the VIPD installed around Savan are not functional, an assertion he said is completely false.
"All of these cameras are working. Every last one of them," he said.
The overwhelming message officers had for residents is to not be afraid to communicate with the VIPD. Reports to the police, they said, are kept as anonymous as possible and it is the only way the department's resources can be used to best effect.
"Policing comes with a relationship between the community and the officers," said Turnbull.
Residents concerned about criminal activity in their neighborhoods are encouraged to call the VIPD's Crime Prevention Bureau at 776-1525 or the Criminal Investigation Bureau's hotline at 714 -9849.