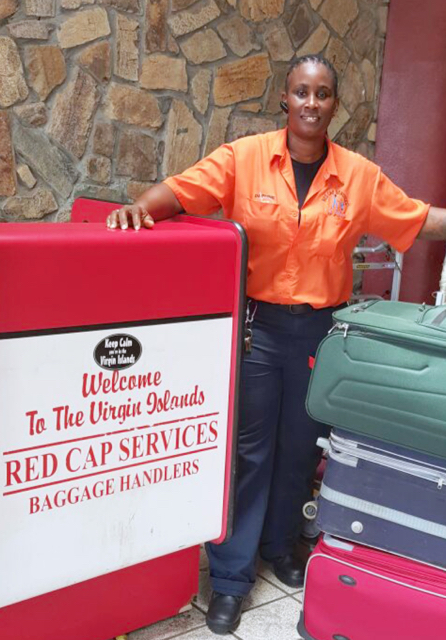 Looks like half the hotels on St. Thomas simultaneously emptied their rooms into the airport terminal; the power went out at home before you could print your boarding pass; there's not a blank Customs form in sight and the wheels of your roll-aboard just broke.
This is a case for Daphne.
For almost 18 years, Daphne Thomas has worked at the Cyril King Airport as a Red Cap baggage handler. Tall and muscular (she works out regularly,) she can maneuver numerous suitcases at once, making hulking luggage look like old fashioned hat boxes.
"I am strong, I'm very strong," she acknowledged.
But it's not the heavy lifting that makes her a stand-out in her profession. It's the care she takes with her clients and the confidence she instills.
"All my life I've worked with people" the St. Thomas native said. "I used to work in the hotel industry."
Her time in hotels included stints at Lime Tree Beach Resort, Sugar Bay Resort, Secret Harbor and Sapphire. Then she joined her father Ralph Thomas, with the Red Cap Service.
"I don't like to sit down in an office," she explained. "I like to move."
She enjoys her job, she said, partly because she likes to meet people.
Over the years, she's met a lot of them, including some of the Rich and Famous. It takes her a moment to recall some of the names, but they include Natalie Cole, Lionel Richie and Cedric the Entertainer. There have been TV stars, singers, comedians and pastors, too many to remember.
"Some of them, they know they're famous so they want to treated famous. Others are down to earth," she said. "I treat everybody the same. I try to take care of everybody the same."
Things can get hectic. In season, there are 10 or 12 flights on major carriers a day during the week and up to 15 and more on weekends. Normally Thomas works from 6 a.m. until 3:30 or 4 p.m., depending on the flight schedule.
"I have dealt with four or five groups at a time," she said. "It just depends on how they come."
Juggling her customers, getting each of them through the series of lines that characterize air travel today, Thomas appears unflappable.
"I do get nervous travelers," she said. "I talk to them. I just say 'don't get nervous, relax.'"
Sometimes she has to counsel them not to take their anxiety out on airline staff.
"You have to tell them 'Don't argue with the agent.' "
It probably doesn't hurt that Thomas knows most of those agents, and in fact most of the other airport workers.
"I know about 85 percent of them," she said. "We still get new people coming to work at the airport."
For the last 10 years, Thomas has been getting calls annually from a man to arrange for Thomas to meet and assist his family. He always identifies himself as the man whose wife is a nervous traveler, she said.
"By the time we get through, she relaxes," Thomas said. "She trusts in me."
She does have a lot of repeat business, people who call ahead to be sure she'll be available.
"I handle mostly departing," she said. "I do have passengers who want me to meet them on arrival. I try my best to accommodate and help them out, so if I can't do it, I try to get someone else" to handle the job. "I feel good when I can make people feel good when they're traveling," she added.
Thomas can be reached by phone at 340-473-6563.