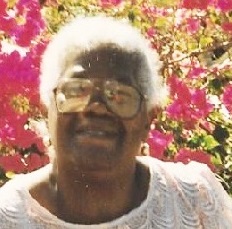 Doris Evelyn Simmonds-West died on July 25, at the age of 92. She was born on Dec. 9, 1922, on St. Thomas, V.I. She was employed at the Knud Hansen Hospital Lab and later, the Nazareth Bay High School. Doris Simmonds-West, known as "Simmonds" to most, was a world class cook and baker. Her red peas soup, bread, sweet bread, tarts and green tamarind stew were everyone's favorite.
She is survived by her sons: Alfred A. Turner and Leonard B. Francis Jr., Esq.; daughters: Eleanor Turner Thomson, Karen L. Turner and Joyce Francis Edwards; sister, Alma MacFarlane; sister-in-law, Dorothy Adina Joseph; brother-in-law, Bassanio David Jr.; adopted daughter, Patricia Batiste; son-in-law, Leroy Enrique Edwards; daughters-In-law: Yvonne M. Phillips and Rodrene Turner; grandsons: Luis Rosado, Louis Smith, Walter Thomson, Michael Thomson Nyere Francis Sr. and Jermaine John; and granddaughters: Linette Thomas-Tyler, Cheryl Thomson, Norma Parsons, Juliette Smith, Charmaine Venzen, Monique Turner, Shawna L. Francis, Kishma S. Francis and Dr. Kula Francis-Hendrickson.
She is also survived by great-grandchildren: Alexis and Darnell (Thomson), Jenita and Jiot Rosado, Jannel Rosado-Fleurilus, Shaniqua Parsons, Sheryll Martin, Joy and Lavern Turner, Joseph France, Terrence and Terrell Tyler, Daryl Jr. and D'Meca Homer, Rashim and Elijah Smith, Makeba Dorival, Mehkai Francis, Caissa-Victoria, Cemi-Leila and Jordan John, Nyere Jr., and Madison Francis and Knala Hendrickson; great-great grandchildren: J. Jackson; and nieces: Deloise Turner, Coreen Rodgers-Reed, Cheryl Hermon, Glenora, Glenda, Linda and Glencia Joseph.
Other survivors include nephews: Glenroy Smith, Bassanio III and Lauritz David, Steven A. Rodgers, John "Johno" Trotman and Morales Trotman; special cousins: Laura Monsanto and Carl Birch; goddaughter, Conchita Benjamin; godsons: Lew Henley and Warren Claxton; special relatives: Mervin Dorival, Carol Mestemaker, the Hermons and the Patch family, the Monsanto family, the Benjamin family; as well as many other relatives and friends too numerous to mention.
The viewing is scheduled for 8:30-10 a.m. with a service following at 10 a.m. on Friday, Aug. 7, at New Herrnhut Moravian Church. Interment will be at Brookman Cemetery.
In celebration for a well-lived, full and productive life, the family has requested that everyone wear festive colors.
For online condolences and directions, please visit www.hurleydavisfuneralhome.com
Funeral arrangements are under the direction of Hurley Funeral Home – (340) 774-1464.