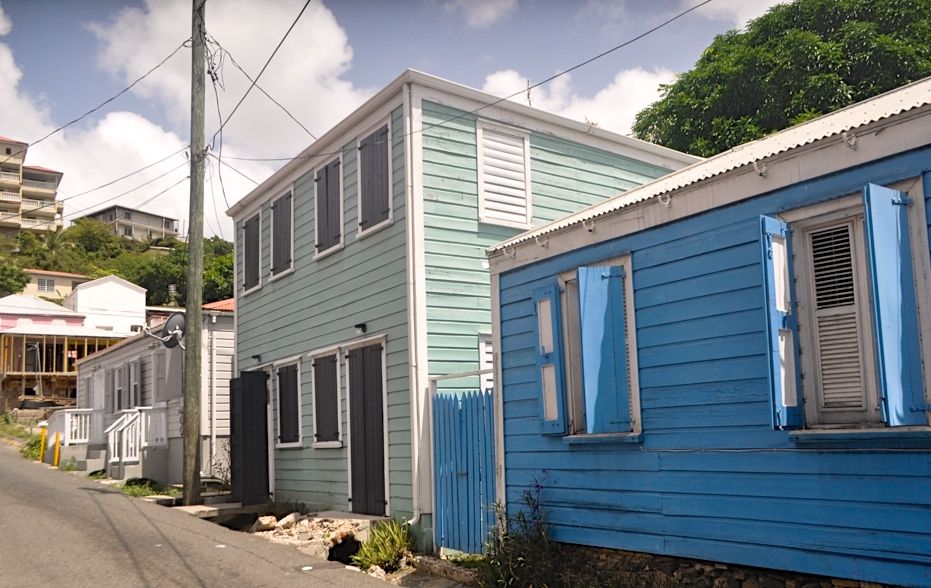 Just days after community organizations publicly launched initiatives to address the issues of crime and urban blight in Savan, the push for the neighborhood's revitalization continued Thursday with a historical tour led by Nadine Marchena Kean, director of the Economic Development Authority's Enterprise and Commercial Zone.
Approximately 40 people, including a large group of young people from the Christchurch Methodist Church Summer Camp, joined Kean for the tour, which began at Market Square and wound through the backstreets of Savan before ending near the neighborhood's old Jewish cemetary. The tour was designed to raise awareness about the historical importance of the neighborhood.
In addition to Kean, attendees heard historical perspectives from Sen. Myron D. Jackson, Historic Preservation Commission Chairman Felipe Ayala, Leonard Richardson and intern Fidel Pena.
In addition to being the area of Charlotte Amalie set aside for free people of African decent before emancipation in the Danish West Indies, Savan was also known for its religious pluralism, a place inhabited by Jews and Catholics at a time when the Lutheran Church was the official church of the islands.
Sites along the tour route emphasized this multifaceted history. The ruins of Charlotte Amalie's old Catholic hospital, the island's oldest Jewish cemetary, and streets lined with vernacular houses built by the Free Coloured community all pointed to Savan's culturally diverse inheritance.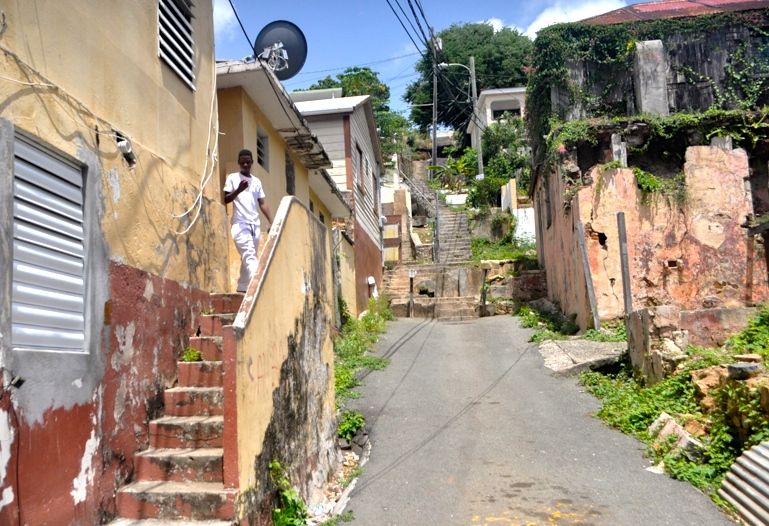 Kean said that the neighborhood of Savan was laid out by Danish planners in 1764, although the history covered by the tour began many centuries earlier.
Speaking in front of the Sanderilla Thomas Bungalow in Market Square, Jackson placed the beginning of the area's history at the arrival of indigenous people from South America and other Caribbean islands, who he said were part of a network of communities that existed throughout the Virgin Islands and Puerto Rico by the time Columbus encountered the islands in 1493.
Jackson recounted how archaeological work done in the Market Square area in 2013 unearthed significant evidence that the neighborhood now known as Savan was a hub of human activity long before the arrival of Europeans. He said modern day Virgin Islanders have inherited not only linguistic and culinary elements from the cultures of these earlier inhabitants, but also, in many cases their DNA.
However, the key to the importance of Savan to modern V.I. culture, Jackson and others agreed, is its pattern of development from the late 18th century to the mid-20th century. During that stretch of time, Kean and her fellow tour guides said, the neighborhood had no equal in the amount of prominent politicians, athletes, musicians, doctors and scientists it contributed to St. Thomian society.
"The Savan neighborhood is the mecca for our heritage, our famous people," said Pena, who said he'd recently had the chance to interview prominent Savaneros. "It's a great example of no matter where you come, no matter how small your neighborhood is, you can always grow up to be somebody great in society."
Pena cited two former governors (Roy L. Schneider and Charles Turnbull) and a V.I. Supreme Court Justice (Ive Swan) as important living community members who were raised in Savan.
Despite its proud history, sections of Savan now show signs of blight: illegal dumping, buildings undergoing demolition by neglect and the occasional graffiti tag. Felipe Ayala said that this is far from the Savan that existed a half-century ago.
"If you look at this historical photo there's no trash, barely a leaf; it's flawlessly clean," said Ayala, showing an early 20th-century image of Savan to youth from the summer camp.
Ayala said that Historic Preservation Commission has made efforts to ensure the preservation and restoration of many of the neighborhood's structures.
"There are five buildings here," said Ayala, pointing to a line of houses along Gamle Gade. "They're all wooden vernacular buildings, all beautifully painted and restored."
"It disproves the myth that a lot of people feel, that these old buildings are not worth it, that they have no value, and we should just tear them down and build something modern," he said.
Ayala explained the layout of the neighborhood's row houses, which he said were inhabited by multiple families at the same time, and the streets' stone gutters, which he said still work when they are properly cleared.
"Savan is a fabulous neighborhood. I live here. I'm quite proud of it. To show that pride, you just have to take care of it, as you take care of this entire town," he said.
Kean also said she was proud of her Savan heritage. At one point on the tour she stopped to speak about her ancestors who lived in Savan.
"My four-times great-grandmother and her son lived right here," she said. Two years after slavery was abolished in the Danish West Indies, Kean said her ancestor and her family, who were French-speakers, owned four properties in Savan.
"In Savan you can hear languages from all kinds of countries. You could hear Dutch because you have those coming from Curacao, Aruba and Bonaire. You could hear English. I'm sure the enslaved spoke their native languages amongst those who were from the same tribes. My ancestors spoke French."
Near Jane E. Tuitt Elementary School, Kean explained that the Barnaba Well was not only the community's water source but also something of a soapbox for community members to give public lectures on issues of the day.
As the tour came to a close, Kean said the most important thing to take away from Savan is the tight-knit "village model" the neighborhood followed well into the 20th century. She said that that legacy was the secret to the historical successes of Savaneros and one to promote as a part of V.I. cultural heritage.
"What you should know about Savan was that it was a place where people really worked together as a community and that, even if they had a small house or a big huge house, they shared. They competed with each other in academics and sports; they sought to improve themselves," Kean said.
"That is what is important about Savan. Everybody could come together no matter who you were, where you came from, no matter how wealthy or how poor you were, within this community you were one," she emphasized.
Thursday's Economic Development Authority tour was organized in partnership with the organization Community Action Now!, the group behind this month's Savan cleanup and restore project, which will be holding events in Savan until July 25. A hike of Savan Ghut is planned for 8 a.m. Friday.