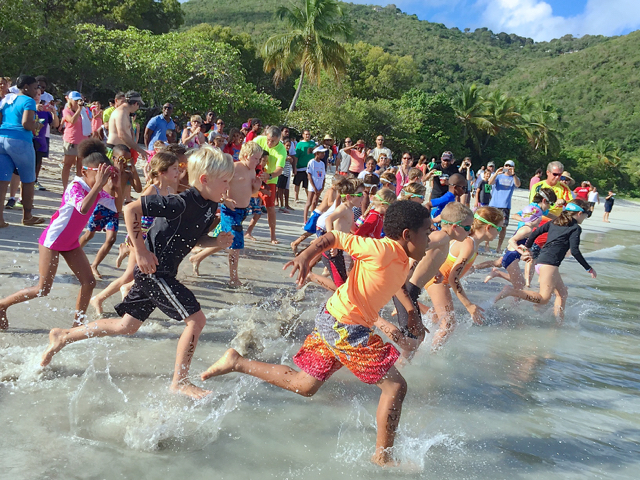 For Flyn Hughes, who celebrated his birthday over the weekend, Saturday's win in the Rotary Club of St. Thomas Sunrise Kids Triathlon team relay couldn't be any sweeter.
"It's an early birthday present," he said, throwing his arms around best friends, Aelan Elder and Paul Magree, who picked up the running and biking portions in the boys 5-8 relay. Together as team "Crushers," the trio said they relied on one another's strengths to get through a 25-yard swim, half-mile bike ride, and quarter-mile run in just 7:14.
"We won because of this little fella' here," Hughes said, affectionately rubbing Elder's head. "He's a fast runner, that's why he did that section, and Paul is the best on the bike. We've been friends a long time, two years maybe, and we have lots of fun together and we thought this would be fun to do together, too."
Teams like the Crushers were all around Saturday's triathlon event, which wrapped up a fifth year on St. Thomas. A major fundraiser for the Rotary Club of St. Thomas Sunrise, the event is held at Magens Bay Beach and gives participants from age 5 to 15 years a chance to compete individually or in teams on a swimming, biking, running course that organizers put together. This year 109 youth took part.
The event not only encourages fitness, but teaches the youngsters good habits, including partnership and achieving goals.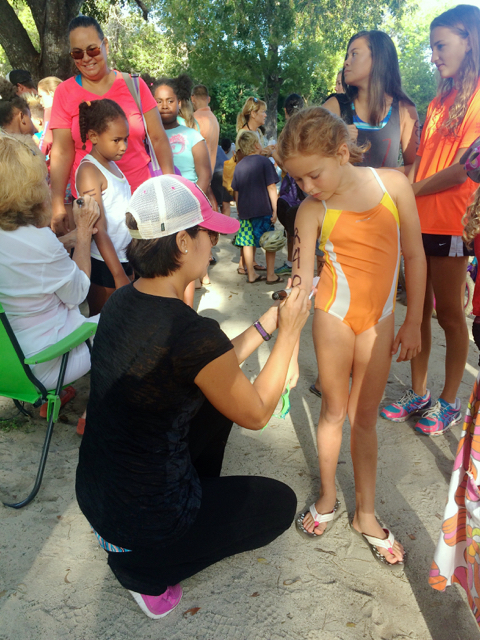 Practicing teamwork was also a major benefit touted Saturday by everyone from parents to volunteers.
"I think this is a great team-building experience," said Nina Cohen, whose daughter Maya has been competing since the age of five. "It has given Maya a lot of self-confidence and now that she is eight, it has turned into a fun competition that she can do with her friends."
A part of Team Fox, Maya Cohen, along with Lana Greenberg and Dylan Greenberg, finished the 5 to 8-year-old course in 7:32, which won them third in their category.
"We didn't really practice," she admitted shyly. "It was kind of last minute. But we will next year, so we can beat the guys and come in first."
The friendly competition generated by the event is something several volunteers said Saturday has helped to bring more teams to the beach and, in turn, more local schools.
"We've seen a lot of teams start to develop over the past four years, which is great, because then a lot more of the schools have come out and begun to represent themselves," volunteer Sean Georges said Saturday. "That's definitely a great way to build the event and hopefully there will be even more support from the students next year."
According to organizers, 15 different schools participated this year: V.I. Montessori School and Peter Gruber International Academy (which won the award for the schools for the most participates,) Antilles School, Home School, Lockhart Elementary, Joseph Sibilly Elementary, Jane E. Tuitt Elementary, Wesleyan Academy, Yvonne Milliner Bowsky Elementary, All Saints Cathedral School, Ulla Muller Elementary, Calvary Christian Academy, St. Peter and Paul Catholic School, Moravian School, Gladys A. Abraham Elementary and Good Hope Country Day School.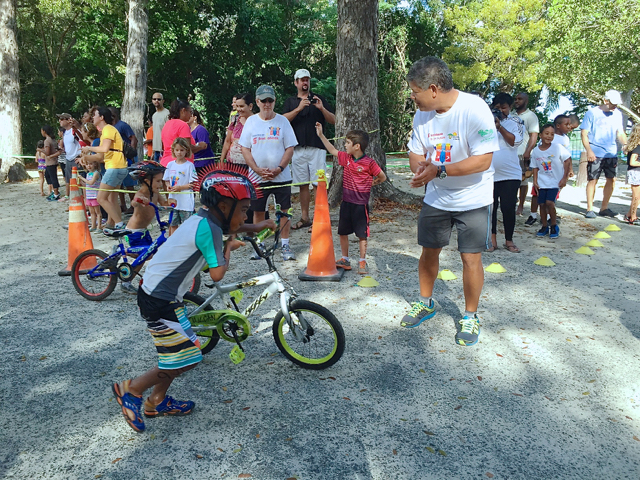 Of course, Saturday's event also gave the community's junior athletes a chance to shine. While this year boasted many repeats, there were also several newcomers to the course, including Fion Hughes, Flyn "the Crusher's" little sister, who picked up first place in the girls 5 to 8 category with a time of 8:28.
"It was awesome," she said, still excited after the finish. "I've never gone out there before but it was a great experience. It might have been a little rough for me at first, but it was worth it."
Fion Hughes was met, and scooped up, at the finish line by proud father Sam.
"This is an amazing event for the island and we're so happy to be a part of it," he said. "All four of our kids are in it this year, but it was the first for Fiona and I was just so proud to see her finish. She swam, she biked and she made it all the way to the end. It was just amazing."
A repeat competitor, Taber Helton also brought in a first place win, this time in the boys 9 to 11 category, which took athletes on a 100-yard swim, one-mile bike ride, and half-mile run.
"This year I was a little nervous – I've won in my division five years in a row, so I didn't want to mess up, but I just came out here and tried to have fun," the now 11-year-old Helton said. "That is the best part about the event, you can come and have fun and I try to always get as many kids as I can to come out and participate, too."
Building the teams in the 12 to 15 categories is the next challenge for organizers, who said Saturday they will also begin work soon on next year's event in hopes of bringing out event more participants.
"We had fewer of the older kids out here than we did in the past, but the ones we did have were just fantastic," Rotary Sunrise President Shaun A. Pennington said.
Pennington, who brought the idea for the event to her club five years ago, added that Rotary Sunrise members will be looking to set a date for next year's event within the next month or two, then will follow up with clinics to keep the interest up within the community throughout the year.
"We started this initiative for good health in our community, to introduce children to fun competition without any kind of pressure and they always finish," Pennington said. "That's the crazy part, a lot of these kids have never done a triathlon before and yet they always finish, they push through and it's just a beautiful thing to see. So, we're going to be starting earlier the next time around with getting them out there, and we'll continue with this wonderful event, which has become a major fundraiser for us and helped us do a lot of great things in our community."
Every year, the Rotary Sunrise Kids Triathlon is backed by a steady group of volunteers and sponsors. Sponsors this year were: Scotiabank (signature sponsor,) Innovative, Theodore Tunick and Company, VI Source, Schneider Regional Medical Center, The Water and Power Authority, Fortress Self Storage, Choice Communications, Merchants Commercial Bank, V.I. Orthopedics and FruitBowl.
Organizations volunteering this year were: Rotary Sunrise, the Interact Club and staff from the VI Montessori School and Peter Gruber International Academy, the CFVI Junior Angels, the Rotary Club of St. Thomas, the Rotary Club of Charlotte Amalie, Scotiabank, UVI Rotaract Club and Team Georges.
This year's winners are:
Age 5 to 8: 25 yard swim, ½ mile bike ride, ¼ mile run
Boys Age 5-8:
First Place, Connor Erickson, 7:54
2nd, Benjamin Caillovet, 8:24
3rd, Boarden Gonzales, 8:27
Girls Age 5-8
First, Fion Hughes, 8:28
2nd, Zindzhi Ottley,10:41
3rd, Abella Maynard, 11:52
Team Age 5-8
First Place, Crushers, 7:14, (Flyn Hughes, Paul Magee, Aelan Elder)
2nd, Blue Diamonds, 7:25, (Andrew Bornn, Amelie Zucker, Santiago Brunt)
3rd, Team Fox, 7:32, (Maya Cohen, Lana Greenberg, Dylan Greenberg)
Age 9-11: 100 yard swim, 1 mile bike ride, ½ mile run
Boys Age 9-11
First Place, Taber Helton, 11.40
2nd, Tristan Feddersen, 12:07
3rd, Christian Belcher, 13:35
Girls Age 9-11
First Place, Kaia Anspacher, 12:35
2nd, Haley Belcher, 12:56
3rd, Kiana Quetel, 16:41
Team Age 9-11
First Place, 3 Amigos,12:29, (Diego Villegas, Max Wilson, Teagan Kappel)
2nd, Splash Flash Dash, 13;09, (Gabriella Brunt, Lindsay Barr, Fairley Maltby)
3rd, Mini Zippers, 13:41, (Maia Aqui, Ava Jayne Parfitt)
Age 12-15: 200 yard swim, 3 mile bike ride, 1 mile run
Boys Age 12-15
First Place, Dominic Pugliese, 24:30
2nd, Sean Hughes, 28:19
3rd, Skyler Anspacher, 33:27
Girls Age 12-15
First Place, Erin Hughes, 31:22
2nd, Michelle Olive, 40:45
Team Age 12-15
First Place, Play Masters, 24:28, (Carter Maltby, Ammiel Maynard, Axel Bartsch)
2nd, The Green Girls, 26:55, (AnaPia Brunt, Aviela Maynard, Marissa Bornn)
3rd, Pretty Tough, 32:19, (Isabel Villegas, Karen Gauriloff, Maya Ethridge)