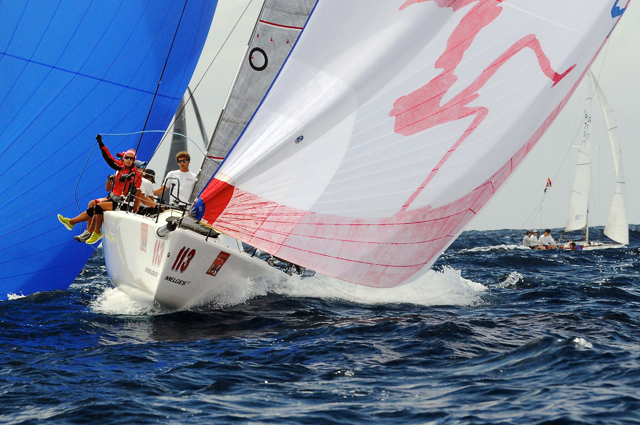 Yachts from the Caribbean, U.S. and Europe cast off Friday in the 42nd St. Thomas International Regatta, presented by TAG Heuer.
Hosted out of the St. Thomas Yacht Club from Friday through Sunday, the regatta boasts a fleet of 62 boats ranging from 60-foot super high-tech sport boats to 16-foot beach cats.
Up for grabs is the prize of TAG Heuer Aquaracer Caribbean Limited Edition watches awarded to the skippers of the yachts that win each of the regatta's eight classes, according to the organizers' news release.
"Sailors love our regatta and come from all over the world to sail here because we offer truly excellent racing," regatta director Bill Canfield said. "Our race committee are pros. They don't make mistakes, so time is spent out racing rather than in redress."
Two of the STIR's eight classes, the one-design Melges 32s and IC-24s, are expected to be the most competitive and most exciting.
"The same four Melges 32s that raced last weekend in the Puerto del Rey Sailing Challenge will be racing this weekend, and last weekend it came down to the last leg in the last of six races to determine the winner. It was that close," said Puerto Rico's Jaime Torres, who helms his Smile and Wave. "The long windy downwind race to Charlotte Amalie on Friday is ideal for the Melges 32s and it's a great way for us to start this regatta," he said.
A record 20 IC-24s are racing, with teams from the U.S. Virgin Islands, British Virgin Islands and Puerto Rico. The IC-24 is a locally-modified version of a J/24.
"We are really excited about this being a record class for the ICs," said Puerto Rico's Marco Teixidor, who will be driving Cachondo. "There will be tough competition and that will make it a lot of fun. If we win, that will make it even better."
In other classes, CSA 1 will be a two-horse race between two speed machines: Spookie, a Carkeek HP 40 sailed by Heidi and Steve Benjamin of Norwalk, Conn., and Conviction, a TP 52 owned and driven by Clint Brooks and his team from Barbados.
The racing starts at 11 a.m. with the course set to Charlotte Amalie harbor. In the afternoon, the Jump-Up Party kicks off from 5 to 11 p.m. at STYC. The John Gazi Band plays from 3:30 to 5:30 p.m., with the rhythms of the Ah We Bank taking over from 7 to 11 p.m.
On Saturday, racing is off the southeast side of St. Thomas. Music by Flip Switch plays at STYC from 3 to 6 p.m. Then from 6 p.m. to midnight, the action will be at the STIR's Yacht Haven Grande Party.
Sunday is the last day of regatta competition. Music by Full Circle will greet the fleet from 2:30 to 5:30 p.m. The Regatta Awards Ceremony starts at 6:30 p.m. on the STYC beach, followed by the Final Fling party with Spectrum Band playing from 7 to 11 p.m.
Weather Routing Inc. is the official weather provider for the STIR and will provide forecasts by 6 a.m. daily during the regatta. These forecasts are available at www.wriwx.com/clientproduct.php?id=4759. Weather maps and products specifically created for this event are also available at this link.
More information about the St. Thomas International Regatta and real-time results will be online at www.stthomasinternationalregatta.com or www.yachtscoring.com/emenu.cfm?eID=1219. Those interested can also follow the action Facebook at www.facebook.com/stirvi and Twitter @stycvi.
The St. Thomas International Regatta, presented by TAG Heuer, is sponsored by Cruzan Rum and Presidente, distributed by Glazer's Premier Distributors; Yacht Haven Grande; Little Switzerland; Switlik; the U.S. Virgin Islands Department of Tourism; The Moorings; and Sunsail.