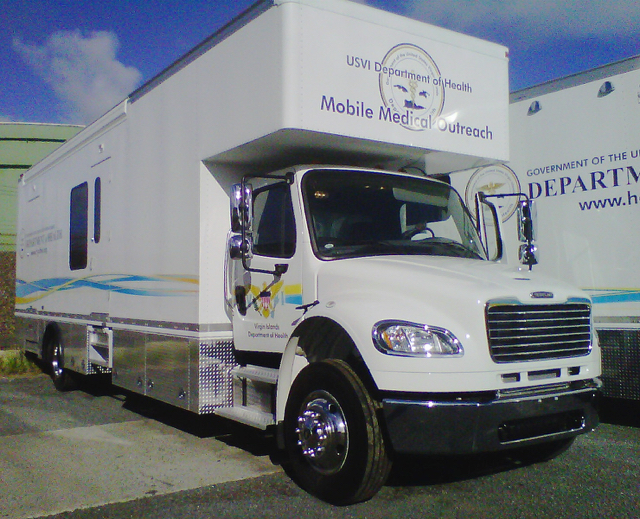 Since their debut in September, the Health Department's two huge mobile clinics have covered a lot of ground across the territory. So far, they've made appearances at public events including the Agriculture Fair on St. Croix and the Homeless Connect event on St. John, where they delivered basic health services free of charge.
The department plans eventually the mobile units will be a routine part of the medical services offered by the government.
"We're creating a schedule for 2016," said department spokeswoman Astia LeBron, allowing residents to know when a mobile van will be in their area.
Roughly the size of a semi-truck, each vehicle is furnished with medical equipment enabling basic health screenings such as breast and testicular exams, HIV-AIDS testing, drawing blood for lab tests, and measuring blood pressure and cholesterol levels. There is also the capability for delivering vaccines.
In general, "outreach is all preventative" care, LeBron explained.
"They're ADA-compliant" she said, referring to the American with Disabilities Act that mandates accessibility for the disabled. The units have wheelchair lifts. There also come with generators, plenty of storage, a refrigerator, restrooms and indoor plumbing, two treatment rooms, a small waiting area with two chairs, counter space and even an awning. They also have Wi-Fi so medical staff can check a patient's medical records, and they have security cameras.
The whole idea is to bring health care to people who need it but who may have difficulty accessing it.
In some cases, it may be a lack of money holding them back, or it may be a language-barrier, said Eleanor Johannes, director of federal grants at Health.
Seeing the need to reduce disparities in health care, Johannes started working on the project years ago. In 2010, the territory was successful in its application for a federal grant of $693,000 for the units and to equip and operate them. The money came from the Health Resources Services Administration of the U.S. Department of Health and Human Services.
Then the local government contracted with Life Line Mobile, Inc., a company based in Cincinnati, Ohio, with extensive experience in building medical vans. Johannes said she learned a lot as she and others worked to supply Life Line with the proper specifications for the Virgin Islands. She got a lot of guidance from the Virgin Islands Territorial Emergency Management Agency and both vehicles were designed to handle mountainous terrain.
Johannes said the department even was involved in choosing the tire size, whether to go diesel or with gasoline (it decided on gas) and picking a color scheme – gold and blue, with the VI government seal "and I specifically wanted the V.I. flag" on the vehicles.
At 38 feet in length and with a height of 13 feet, the vehicles are cumbersome on St. John, she said, but they have been traversing the two larger islands. The Division of Community Health has direct responsibility for the outreach program.
All together, including bureaucratic delays, "it took four years" to get the mobile clinics from idea to reality, she said.
"When they finally landed down in the container port, I was happy," Johannes said. But "the great accomplishment" will come when there is sufficient staff to operate them daily. "For that, I'm researching" for more grant money.
In the meantime, LeBron said, the department is partnering with the nursing program at the University of the Virgin Islands and with the physician's assistant program of Barry University to augment the mobile outreach staff with medical students.