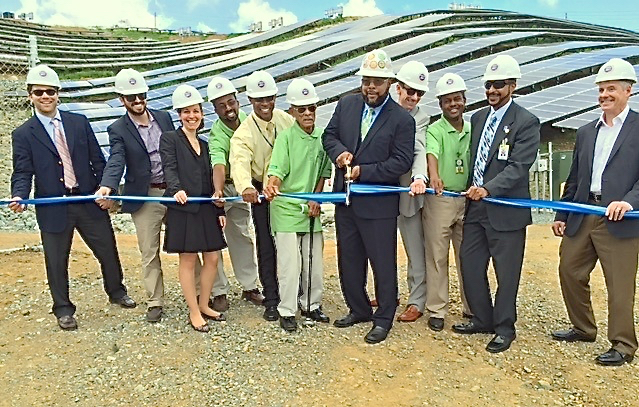 The V.I. Water and Power Authority dedicated its 4.2-megawatt solar facility on St. Thomas Wednesday during an emotional ceremony held on the site in Estate Donoe.
WAPA employees came dressed in green, which Executive Director Hugo Hodge Jr. said symbolized the authority's continuous efforts to put "green power" on the grid.
"What you see behind you is historical," Hodge said during the event. "We are now one of the first Caribbean islands that can say we're no longer 100 percent dependent on fuel oil."
In the summer of 2013, WAPA celebrated the groundbreaking of its first 4-megawatt solar facility in St. Croix's Estate Spanish Town. Ground was broken on the Estate Donoe facility in May. Hodge said Wednesday that plans are in place to put another 6-megawatts on the big island, along with another four on St. Thomas.
"It's a big future we have planned for the territory in the renewable arena," Hodge added.
In 2012, WAPA publicly signed power purchase agreements with Toshiba International Corp., Lanco Virgin Islands and Sun Edison LLC to provide a combined 18 megawatts of solar energy between the two districts. Main Street Power, in conjunction with Morgan Stanley, later took over the St. Thomas project, which put thousands of solar panels on 33 acres of land that many project facilitators, engineers and WAPA officials said Wednesday was "challenging" to build on.
Despite the rough terrain, however, many were excited Wednesday to celebrate the completion of a "safe build" that put a total 17,960 panels on the ground.
Wednesday's ceremony was also a personal one for many WAPA employees, who Hodge said were coming off a weekend of hard work – involving the movement of additional propane storage tanks through the Sub Base area to a site above Krum Bay – and personal losses.
Hodge asked for a moment of silence during the ceremony in memory of Jama Rhymer, an employee within the Water Division, who died in a car accident over the weekend. Rhymer is the son of WAPA's Chief Operating Officer Gregory Rhymer, who Hodge said was still out supervising the propane tank move while dealing with the loss.
"We have a lot of pain in the family," Hodge said Wednesday, as he spoke about another employee who lost her daughter but came to work the next day to "serve the people of the Virgin Islands."
"I don't know that the public understands the dedication of our employees," Hodge said, turning to authority staff sitting in the audience. "But to all of you in green, I love you, from the bottom of my heart."