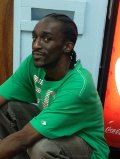 Anthony Leslie Charles Sr., also known as "PussMan," died on Jan. 31.
He is survived by his mother, June R. Warner; father figure, Lesroy Tanner; son, Anthony Charles Jr.; daughters: Ashira, Anesha, Ashayla and Ah'Bella Charles; brothers: Kenneth Warner, Kevin Lascaries, Alvin Charles, Selwyn Charles, Michael Charles and Kenneth Charles; sisters: Lelia Christopher, Barbara Williams, Karen Warner, AnMarie Charles-Dunwell, Angela Charles and Michelle Charles-Williams; uncles: Ralph Henley Sr., Wilfred Charles, Clifford Charles and Edmond Joshua; aunts: Geraldine Benjamin, Celestine Marsan, Antonia Mulraine and Crecencia Nunez Sewer; and other family and friends too numerous to mention.
The first viewing will be held from 5-7 p.m. on Friday, Feb. 27, at the Celestial Chapel at Hurley Funeral Home. The second viewing will be held from 8-9 a.m. and the funeral service at 9 a.m. on Saturday, Feb. 28, at Lutheran Church of the Reformation. Interment will follow at Western Cemetery No. 2.
Arrangements are under the direction of Hurley Funeral Home.