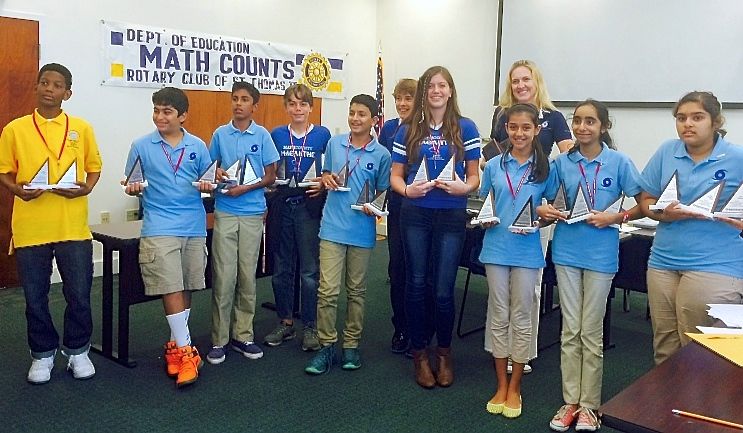 For another year, Antilles School's mathletes took the award for top team at the St. Thomas-St. John District Mathcounts competition, but the V.I. Montessori School and Peter Gruber International Academy (VIMSIA) came in a close second, with eighth-grader Axel Bartsch also taking first place in the individual competition.
All four members of the top team will advance to the territorial competition on March 26, along with the top six individual mathletes. Joining Antilles' Sharan Chawla, Divyesh Grunani, Harshitha Naidu, Amisha Mirchandani, Rhea Rhupani and Azad Daswani on the district team will be VIMSIA's Bartsch, Skyler Anspatcher and Karen Gauriloff, along with Anthony Etienne from Bertha C. Boschulte Middle School.
Addelita Cancryn Junior High School also fielded a team during this year's district competition, which is sponsored each year by the St. Thomas Club of Rotary II.
Coaching the St. Thomas-St. John team for another year will be Antilles math teacher Michele Humphries, who usually also takes the territory's team on to nationals in Washington, D.C.
"I'm really happy that all the top 10 students from all the schools get to go," Humphries said after the winners were announced. "And I can't wait to coach all 10 of them going into the territorial competition."
"Now, we'll definitely be continuing soon with our Saturday practices, with lots of pizza and lots and lots of math problems – harder ones this time – in preparation," she said.
Each year, the competition has students working individually and in teams to puzzle out complicated problems in algebra, probability, statistics and geometry. This year, like most others, the students quickly outpaced their parents and friends in the audience and worked hard to best one another, sometimes not even letting the announcer finish reading the question before buzzing in with the answer.
Naidu became a crowd favorite during the countdown, or lightning, round, which has no bearing on the final standings. Starting out in last place, Naidu was the only student that made it through all 10 rounds. She faced Bartsch in the final countdown round and was initially down by two questions, but quickly rebounded before Bartsch gave the final correct answer.
"She's going to be kicking herself for getting that last question wrong," Humphries said after the round was over. "She's worked so hard for the competition, always texting me and emailing questions, so she really deserved to get this far and to be recognized for her hard work."
For Bartsch, a repeat Mathcounts competitor, taking the top prize in the individual competition was also the result of practice and hard work.
"Last year, I didn't perform my best and our team didn't either on a whole, partly because our coach was sick, so we were worried and not prepared mentally and, this year, I've learned more in regular math classes that have helped and just put in more practice hours," he said.
"I've gotten better at it, and I think we also did a great job working together, both preparing for the competition and answering the questions today," Bartsch added.